About Google Classroom
Google Classroom is a cloud-based learning management system that is a part of Google Apps for Education. It is suitable for academic institutions only. Google Classroom enable students to access the platform from computers, tablets and smartphones. Users can create Google Docs to manage assignments, port YouTube videos and attach files from Google Drive. It enables users to provide feedback through comments on the documents. Teachers can create online classrooms for sharing the learning materials for downloading and viewing. Online assignments can be created to keep the track of students' progress. The interconnectivity of Google products such as Google Docs, Google Spreadsheets and Google Slides allows students to submit their assignments easily. Google Classroom can be accessed via mobile apps available for iOS and Android.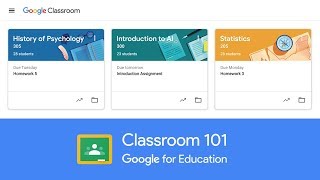 Google Classroom has a free version. Google Classroom paid version starts at N/A.
Pricing Details:
Google Classroom is free for all schools and is included with subscriptions to G Suite for Education.
Alternatives to Google Classroom