About Google Classroom
Google Classroom is a cloud-based learning management system that is a part of Google Apps for Education. It is suitable for academic institutions only. Google Classroom enable students to access the platform from computers, tablets and smartphones. Users can create Google Docs to manage assignments, port YouTube videos and attach files from Google Drive. It enables users to provide feedback through comments on the documents. Teachers can create online classrooms for sharing the learning materials for downloading and viewing. Online assignments can be created to keep the track of students' progress. The interconnectivity of Google products such as Google Docs, Google Spreadsheets and Google Slides allows students to submit their assignments easily. Google Classroom can be accessed via mobile apps available for iOS and Android.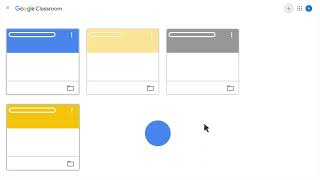 Google Classroom has a free version.
Alternatives to Google Classroom
Industry: Information Technology & Services
Company size: 2-10 Employees
Used

Daily

for

2+ years

Review Source
---
Simple and Easy solution for Online Teaching/Learning
After the pandemic, most schools have started teaching online. As our company has some schools as clients - we have suggested Google Classroom as one part of online schooling. It's not a complete Learning Management System (LMS) but is a powerful and easy-to-use tool that makes the online teaching and learning process easier. I highly recommend Google Classroom to anyone looking for a simple application to make the online teaching-learning process easier but one shouldn't expect it to cater to all needs.
Pros
The best thing about Google Classroom is that it's free. Another great thing about Google Classroom is that it belongs and so is connected to Google Ecosystem thus making sharing documents or classroom slides easy through Google Docs and Google Slides etc. We can also import files directly from Google Drive. Another good thing about Google Classroom is that it's accessible from any device - iPhone, Android, Laptops - Anything as its website is responsive and fits easily in any display size. Also due to its simple and intuitive User Interface (UI) - it's easy to start using it even if one doesn't have a tech background. I also like that announcements, homework reminders, etc are emailed to students automatically.
Cons
The only thing I don't like much about Google Classroom is its completeness. Google has created many software which are exceptional at what they do and offers all features that one might need while using its software. But that's not the case with Google Classroom as its not a complete Learning Management System (LMS) like Blackboard. Google Classroom is usable on any kind of device however, I have found that some features aren't available in the mobile application (Android) but that's okay as its the same with almost all softwares
Reasons for Switching to Google Classroom
Google Classroom is free and some teachers were already familiar with Google Classroom.
Industry: Education Management
Company size: 501-1,000 Employees
Used

Daily

for

2+ years

Review Source
---
Google Classroom best platform for Distance Learning
well, I can recommend google classroom for teacher who use for distance learning with student during covid situations. teacher not require high knowledge to use google classroom. also student are able to get their lesson and material faster than moodle.
Pros
- fully integrated with the Google Features such as video, lesson, track answer, integrated to assignment as well.
- work on all devices, smart phone, laptop, chrome book etc. easy for student to use.
- Integrated with meeting as well for live training.
- Live record with meeting and integrated to google classroom.
Cons
- less features than moodle, moodle can customized the detail features than google classroom.
Reasons for Choosing Google Classroom
because moodle need alot of customization and training for teacher to use, and also the bandwidth is limit as well for hosting, but with google classroom so fast because google have alot of CDN worldwide and costless as well, affordable price.
Reasons for Switching to Google Classroom
First related to the cost, and also the management interface google is more simple than other product, and fully integrated with their featues such as meeting, video, etc. Another option because google has caching server in local ISP that have enough banwidth not slow even though there have alot of student surfing the same lesson.
Industry: Professional Training & Coaching
Company size: 2-10 Employees
Used

Daily

for

2+ years

Review Source
---
Best app for training courses
It's the only platform I use for my business. I used to use Edmodo, but they've shut off operations and I thought it was a bit cluttered.
Google Classroom is just easier to use and very straight forward without many features that just confuse students. It's really perfect.
Pros
Easy to deploy (anyone with a Gmail account can join); The UI is really great; It's very easy to use and understand how it works; Ease of communication between the students and the instructor; Easy to share any type of file. Great integration on Mac, Windows, iOS and Android.
Cons
I haven't been able to find anything I don't like about it yet.
Alternatives Considered
Edmodo
Reasons for Switching to Google Classroom
It's a lot easier to use, to join and to concentrate the work there. Other platforms I find very cramped with a lot of features that confuse a lot more than necessary. Google Classroom is straight forward and focus on the task at hand, which is what matters.
Industry: Consumer Services
Company size: 5,001-10,000 Employees
Used

Daily

for

2+ years

Review Source
---
Learn Things Using Google Classroom
If I can just personally thanks those people behind this software, I will do. This software made me able to finish my K12 since the pandemic starter. I learned every lesson virtually, and I can say that, I am drinking the knowledge virtually and also safe because I am not going outside.
Pros
I like the most here on Google Classroom is that, it became a way to each and everyone that even though they are on their home, they got to learn lessons and trainings using google classroom virtually. It is very handy because even people who do not have their own laptop or desktop can just actually use their mobile phone to attend class or training.
Cons
None, I like this software very much. It's been a huge help for me when I was just 18 years old and studying.
Industry: Education Management
Company size: 10,000+ Employees
Used

Daily

for

2+ years

Review Source
---
A Review about Google Classroom of a University Education Student
Pros
What I like the most about this application or website is how easy for us to use as a student and as a teacher, since I am able to navigate it as a teacher sometimes as a part of our activity before in a course that is related to educational technology. It has a beginner friendly interface that is why even those people who are not that tech-savvy can actually handle it. Since I also know professors that are even already seniors but having no problem using google classroom. Also, I like how google classroom is integrated with different google software that help us a student to survive in our study. There is this google calendar that helps us to manage our time, google email which helps us to get reminded about specific announcements, google drive where we store our documents and by just sharing its link to google classroom helps us pass requirements, and many more! Lastly, having an access to this application for both mobile and laptops are helpful too!
Cons
Actually, google classroom is almost perfect application for me. However, I think there are some features that they may add so that the learning experiences of students and the teaching experiences of teachers will be seamless. First recommendation is that they should have something like in Canva which shows the students their progress in the course like maybe a percentage. Lastly, there should be also a tab where we can see the overall grades in the course since we students are in need to read back everything just to keep track of our grades.