About Teamwork
Teamwork.com is the only project management platform built specifically for client work. Deliver work on time and on budget, eliminate client chaos, and understand profitability in one platform. Teamwork's customers track and manage their projects with a suite of integrated solutions such as helpdesk, collaboration, knowledge sharing, and customer relationship management add-ons, enabling Teamwork.com to be the 'one-stop shop' solution for business owners. Teamwork.com is trusted by over 20,000 companies worldwide with a global team of over 350 employees, making project management more straightforward, efficient, and impactful with our project planning software, integrated with all the tools you already use. Teamwork.com makes it easy for everyone to see what they're working on, who they're working with, and what comes next — whatever size your team is. Reducing the level of complexity in collaboration gives you and your team the freedom to work the way you want. We believe that work and project management are more than just getting the job done. It's about delivering results. Teamwork.com gives users every advantage to stay on track and deliver work on time, collaborate effectively, and achieve high-performance results. Our products work together to support your team with improved collaboration, seamless communication, and faster project delivery: - Teamwork.com: a work and project management tool that helps in-house and remote teams improve collaboration, visibility, accountability, and ultimately results. - Teamwork Desk: a central place for shared mailboxes like support and contact so that you can manage client requests, support, and project communications with more visibility at scale. - Teamwork Chat: a messaging platform that helps teams make decisions through improved collaboration and productivity. - Teamwork CRM: an easy-to-use sales CRM software that gives you everything you need to manage your sales pipeline, organize your processes, and get critical insights on accelerating your growth. - Teamwork Spaces: a modern, intuitive content collaboration workspace with intelligent features like required reading and live widgets - helping your team to become more engaged and accountable when it comes to company content. Teamwork.com is a solution built for all client services teams; with a flexible platform, you can customize what you need and want: - Human Resources: Create a centralized hub for your client services team to work alongside HR to collaborate on projects across the organization efficiently. - SEO: Teamwork.com enables SEOs to manage all your tasks without hassle - Marketing Design Agencies: Teamwork.com helps you plan and track your projects, so you have more time to develop creative ideas that wow your clients - Architects: Take control of your architect projects by efficiently collaborating with your clients - Consultants: Teamwork.com directly helps consultants improve collaboration, control scope creep, and resolve client issues faster - Agencies: Manage multiple complex client projects with ease, Never miss a billable minute, Unlimited free access for your clients, Scale into a platform with everything you need to run your agency - PMOs: Teamwork.com helps project management teams deliver better projects in less time. - Product Teams: Easily manage and execute product requirements from concept to completion. - Marketing Teams: From campaign planning to content production, the right project management software can take your marketing team's work from done to delightful. Teamwork.com is, ultimately, the last project management tool you'll ever use. Get started working together beautifully with Teamwork.com today using our 30-day free trial, or schedule a demo with our team.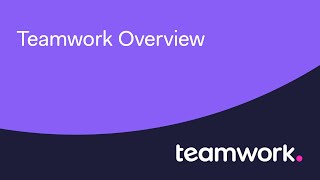 Teamwork has a free version and offers a free trial. Teamwork paid version starts at US$12.50/month.
Starting Price:
US$12.50/month
Industry: Internet
Company size: 51–200 Employees
Used

Daily

for

2+ years

Review Source
---
An Easy-to-Use Project Management Tool
Overall, Teamwork is a great project management tool for teams that need an easy-to-use solution. It has all the essential features, and the user interface is quite intuitive and straightforward. The free plan is limited, so users may need to upgrade to the paid plans to get the most out of it.
Pros
Teamwork is an easy-to-use project management tool that allows teams to manage their projects with ease. It has intuitive features that make it simple to assign tasks, track progress and communicate with the rest of the team. The user interface is straightforward and intuitive, making it easy to navigate and find what you need.
Cons
One of the downsides of Teamwork is that it's not as robust as some of its competitors. It lacks advanced features such as resource management, reporting tools and automated workflows. Additionally, the free plan is limited in terms of features, so users may need to upgrade to the paid plans to get the most out of it.
Industry: Accounting
Company size: 51–200 Employees
Used

Daily

for

2+ years

Review Source
---
Easy to use
Overall, I am very satisfied with Teamwork and would recommend it to anyone looking for a reliable project management system.
Pros
By utilizing Teamwork for our project and task management, we have seen a dramatic increase in our efficiency and flexibility. It is simple to set deadlines and assign tasks to our team. We use Teamwork mainly for creating tasks, assignments and projects, and are then able to monitor them all through the platform, ensuring that they are all completed on time. We can set priorities, and Teamwork helps us to keep track of them. At the end of each month, we can easily generate reports to show how many tasks have been completed by each individual, allowing the manager to easily view the progress of their team.
Cons
I think this is very good application i did not have any dislike feature
Industry: Information Technology & Services
Company size: 501–1,000 Employees
Used

Daily

for

2+ years

Review Source
---
A Feature-Rich Project Management Platform: Teamwork
All in all, Teamwork is a great project management platform that has a lot to offer. It's great for those looking for a comprehensive solution that allows them to manage their projects with ease.
Pros
Teamwork is an incredibly comprehensive and feature-rich project management platform. It has everything you need to collaborate with your team and keep up with tasks. It's easy to use and it saves time by streamlining many of the most common project management tasks.
Cons
While Teamwork is great for those looking for a comprehensive project management platform, it can be a bit overwhelming for those with less experience. It's also a bit pricier than some of the other options out there.
Industry: Computer Software
Company size: 201–500 Employees
Used

Daily

for

1+ year

Review Source
---
Teamwork is very effective in managing projects efficiently
Teamwork provides all the modules a business needs to manage all tasks on the move, and it lets us work on our projects properly and effectively while we're away from the office. In addition, it provides us with a comprehensive understanding of the abilities and limitations of each person, which is invaluable for assigning tasks.
Pros
Our company has found Teamwork to be the most useful and convenient web program for managing both projects and teams. The aforementioned software suite is what we utilize to plan and execute all of our projects, no matter how complex or numerous they may be. Our company has implemented a new system for assigning tasks and estimating how long they will take, as well as for approving those tasks, generating reports, scheduling employees, and rescheduling meetings.
Cons
The project management needs of my company and I have been completely satisfied by the collaborative software we have been using.
Industry: Computer Software
Company size: 51–200 Employees
Used

Weekly

for

2+ years

Review Source
---
Easy to use
My overall experience with Teamwork was great. The platform was easy to use and I was able to quickly get up and running with my project. There were many features that allowed me to easily collaborate with my team members, assign tasks, track progress, and get feedback.
Pros
Teamwork is one of the most important aspects of any task or project. It allows people to work together to achieve common goals and objectives. I particularly like how teamwork encourages collaboration and communication between different individuals. Everyone has different strengths and weaknesses, and when working together it can be beneficial to share ideas, knowledge, and resources. It also helps to build trust and respect within a team, which can boost morale and productivity.
Cons
I haven't found anything I have disliked about Teamwork