About Teamwork
Teamwork is a cloud-based project management solution that provides businesses functionalities to manage different operations of a project. Features include task lists, time tracking, file uploads and messages. Teamwork helps teams manage group objectives, communicate and establish business processes. Teamwork's project scheduling feature allows project managers to define project tasks, assign them to people and track in-progress assignments. The solution also features document management, which allows users to share documents within the team through an online portal. The client billing feature allows users to generate invoices based on hours worked and expenses incurred. Dashboards provide visibility into project objectives, while project collaboration features enable communication through mobile devices so team members and project managers can oversee project execution remotely. Teamwork can be integrated with applications such as FreshBooks, Dropbox, Google, Box and more. Services are offered on a monthly subscription basis that includes support via phone, email and FAQs.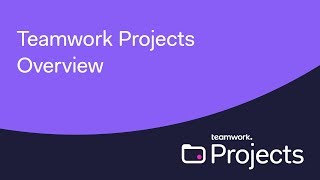 Teamwork has a free version and offers a free trial. Teamwork paid version starts at US$10.00/month.
Starting Price:
US$10.00/month
Pricing Details:
A 30-day free trial is available, after which Teamwork pricing tiers are: Free Forever: $0 (for 2 projects and up to 5 users) Deliver: $10/user/month billed annually (or $12.50/user/month when billed monthly). Grow: $18/user/month billed annually (or $22.50/user/month when billed monthly). Enterprise: To receive accurate pricing information, contact Teamwork directly.
Used

Daily

for

1+ year

Review Source
---
Productivity in full effect
Pros
Teamwork is great for not only a team of people, but for the individual user as well. I run a small accounting business and I'm my only employee. Teamwork allows me to set up tasks and projects that are both one-off tasks and regularly reoccurring tasks. As I check off the tasks that need to be done today, I can look forward to the rest of the week and get a good reminder of what is coming up. It also allows me to invite clients into the tasks so they can see the status of where I am at in a project we have agreed upon. They can upload documents, make comments. I can use a basic time-tracking tool to make sure I'm not estimating my time spent incorrectly. The extra time I have to spend upfront to get the tasks and templates created is well worth the time when a new client comes along. I don't have to recreate the wheel, or think extra hard at remember what I did last time. I can simply apply a template of tasks for any given project that is needed and we are set and rolling! This is one of the best tools I've discovered for running my practice.
Cons
For tasks that are set as reoccurring, their display of the tasks isn't the best. I click the task as complete and it immediately populates the next instance of that task right below the one I completed. I have to pay special attention to the tasks for this reason when checking stuff off. I have often checked the next month's task off after clearing the current one. When I uncheck the following month's task as actually not completed, it does not remember the future events that were created, thus making my task list look much larger than it actually is.
Response from

Teamwork.com

Hi there,

Thank you for the review of Teamwork Projects.

Kind regards,
Nancy at Teamwork.

Replied 22/05/2019
Industry: Marketing & Advertising
Company size: 11-50 Employees
Used

Daily

for

1-5 months

Review Source
---
Working Well for our Project-Based Company
The overall experience has been pretty positive, with most team members adapting quickly to Teamwork. There has been a slight learning curve, since we were going from a very basic system in Trello to this more fully-featured tool.
Pros
The best part about teamwork is the birds-eye-view that it gives employees and managers over everything that is going on within the company. We really appreciate having our time tracking system tied directly to the tasks within a project because it makes it much easier to log time and to see how much time was spent on each area of the project.
Cons
We have not yet developed a clear process, and Teamwork doesn't seem to have one built in, to account for tasks that are waiting on outside input such as a client approval. Most of our clients are not using our Teamwork software, so when we are waiting on a review there is not a great way within the software to distinguish that apart from a task that is actually late.
Reasons for Choosing Teamwork
We needed integrated time tracking and better control over a large number of simultaneous projects.
Reasons for Switching to Teamwork
Integration with quickbooks, time tracking, the ability to create templates and recurring tasks, reporting features
Response from

Teamwork.com

Hi Sara Olive,

Thanks for your review of Teamwork! It's great to see Teamwork has helped with your task and time management.

I've passed your comment onto the support team to look into these issues further.

Kind regards,
Karen at Teamwork

Replied 01/02/2021
Industry: Information Technology & Services
Company size: 11-50 Employees
Used

Daily

for

1+ year

Review Source
---
Teamwork: Great tool for Project and Program Management
Is great to work with Teamwork, very oriented for teams working together in multiple projects. They have an outstanding user experience, mobile application, site customization option and resources management features.
Pros
The integration between all their modules/functionalitys such as file attachments, Teamwork Projects and Teamwork Chat. Also the many formats they offer to navigate between tasks (list, board, grid, Gant Chart).
Cons
I liked least the reports options. They do not offer many options of reports besides sprint burnout, completed tasks, etc.
Reasons for Choosing Teamwork
I needed a cheaper option to work with my projects, web format, with mobile app available and with the flexibility to look in KANBAN format.
Reasons for Switching to Teamwork
The many ways/options to display tasks, show completion and due to site integration.
Industry: Marketing & Advertising
Company size: 11-50 Employees
Used

Daily

for

6-12 months

Review Source
---
Great for tasking, mediocre to terrible at everything else
Teamwork excels at tasking and basic project management, but don't count on it for any company or portfolio insights and/or big picture views.
This is a good tool for small teams that worry about pipeline and traffic control but not for large interconnected teams that require account management, efficiency evaluation or budget oversight.
Pros
The UI is very intuitive and clear.
Actions around tasks have short paths to complete and work well.
The features for tasking are useful and easy to work with.
The knowledge base covers almost every topic and support is responsive, friendly and helpful.
Cons
The reporting tools are basically non-existent and any historical evaluation of data almost impossible.
Teamwork does not distinguish or allow to filter for late tasks historically, which means once a task/milestone is completed it becomes impossible to tell if that task was late or on time.
This makes tracking efficiency and employee performance impossible as we do not know if tasks are on time in general and where the bottleneck lie.
Similarly not being able to construct dashboards and manipulate data around time, late tasks, etc. for teams rather than projects hampers decision-making.
Compared to something like Celoxis or even Jira which for example allows to compare any data with custom scripts etc, Teamwork feels incredibly inflexible and dated to have to export excel sheets to manipulate and evaluate data.
Our account managers are not able to find out if they are doing good or not on a specific account as data can not really be filtered and displayed that way either.
Reasons for Choosing Teamwork
Tool incompatible with teams.
Reasons for Switching to Teamwork
Cost and team buy-in
Response from

Teamwork.com

Hi Sophie,

Thanks for your review of Teamwork.

We apologise for the issues you have experienced with our product. Could you email us at [email protected] so we can try resolve these problems?

Kind regards,
Karen at Teamwork

Replied 29/01/2021
Industry: Human Resources
Company size: 1,001-5,000 Employees
Used

Daily

for

2+ years

Review Source
---
My first project managemt tool that made me love planning
Teamwork is one of the task management tools I use (probably, I run just 20% of task in Teamwork). Previously, it was my top and the only service for managing my projects.
Pros
I started using Teamwork more than 6 years ago and then it was probably the best solution in terms of price and features. Now I still have my account for Teamwork, but this is just one of the Project management tools I use for both my personal and business projects. Honestly, I think it is a matter of habbit now, I just got used to Teamwork. This service has a long history and most of my colleages know it well so we can easily collaborate. To be more precise, I like new design, customization options, price and free account (which more than enogh for personal use)
Cons
Most of my time in the office I do not use Teamwork (there's another corporate tool within our company). If compared I think Teawmork has much to improve for its mobile app. Another thing is security. I did not noticed any 2FA warnings when signing from new devices. That's an issue, because projects and tasks may contain some sensitive info. Teamwork should pay more attantion to is these days.