About Fishbowl
Fishbowl is the #1 manufacturing and warehouse inventory management software! Its powerful inventory control system gives your small or midsize business the exact tools needed to transform your inventory management and scale your business. Fishbowl reduces the number of steps in your manufacturing process and seamlessly integrates with some of the most popular business solutions such as QuickBooks, Amazon, Adobe, Shopify, Salesforce and more. Customers appreciate Fishbowl's inventory control, material requirements planning (MRP), job shop floor control, work order management, barcoding, raw materials management, manufacturer orders and bills of materials (BOM) and ability to predict inventory requirements based on sales trends. Simplify your business' processes, improve efficiency, and save money with real-time inventory updates with Fishbowl's manufacturing and inventory software.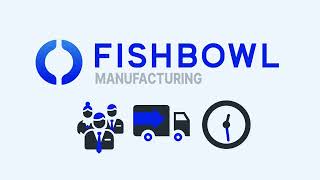 Fishbowl does not have a free version but does offer a free trial.
Industry: Information Technology & Services
Company size: Self Employed
Used

Daily

for

2+ years

Review Source
---
Great Extension for QB userrs
It provides more than enough capability for small & medium size manufactures & distributers with fraction of cost of regular ERP. If you are QB users and you have inventory, order or purchase management, this is what you need.
Pros
This software is easy to use and easy to deploy. Great extension for QB users. It can also connect Shopify, Amazon, Ebay, Shipping management such as Shiprush, etc.
Cons
In Inventory, you have 2 types of materials: Part and Product. This is somehow confusing.
Industry: Internet
Company size: 201–500 Employees
Used

Daily

for

1+ year

Review Source
---
A Comprehensive Inventory Management Tool
I have been using Fishbowl for several months now and I am very happy with the results. It's a comprehensive inventory management tool with a wide range of features and options. The user interface is intuitive and easy to use, and customer support is quick and helpful when needed. The pricing structure can be a bit complex, but overall, Fishbowl is an excellent choice for inventory management.
Pros
Fishbowl is an incredibly comprehensive inventory management tool. It has a wide range of features and options that make it easy to keep track of all the items in your inventory. The user interface is intuitive and easy to use, and the customer support is top-notch. I highly recommend Fishbowl for anyone looking for a reliable inventory management solution.
Cons
Fishbowl's pricing structure can be a bit confusing, and it can be hard to determine what the best option is for your particular situation. Additionally, the customer support could be improved, as there is sometimes a long wait time for help. Overall, though, Fishbowl is a great option for anyone looking for a reliable inventory management solution.
Industry: Sporting Goods
Company size: 11–50 Employees
Used

Daily

for

1+ year

Review Source
---
Functional but Complicated, Expensive but Unrefined, Capable but Rigid.
Overall, the Fishbowl program is decent. It is capable of doing almost all of what they claim, but the day-to-day usability is clunky and unrefined. It is as if they only stay on the development/conceptual side of things and never test their product daily. If they were to address the issues that I outlined that relate to the user experience, I would more confidently feel that this product would be more worth its large price tag. Until then, It remains difficult to recommend this product to others.
Pros
I like that this program allows your company to do a lot, as long as you know how to do it. It has also helped our company create more rigidity and procedure (Whether we wanted to or not).
Cons
I do not like that we have paid over $30,000 for a program that has basic functionality issues. We experience issues with basic things like scanning products, typing in fields, synchronizing inventory with our online store, etc. Also, their kitting function is what we were originally sold on, but we have now completely stopped using the function because it has fundamental issues. They are not always detrimental, but the accumulation of these small issues results in a program that you wouldn't believe costs what it does. Quite unfortunate.
Another common issue that we face is the program's habit of freezing constantly. From what I have learned from support, the program does this on purpose to protect the database from data loss, but what it results in is our Sales guys needing to restart our POS program CONSTANTLY. Literally, on almost every transaction, their "Checkout" program freezes and they need to force quit and reopen. Our purchaser has also often been in the middle of a large PO, and the program freezes, requiring a restart and loss of that whole PO.
Speaking of the POS side, their "Checkout" program is not great at all. It experiences all of the aforementioned issues but is also just a program that feels like they don't work towards improving at all. On top of that, they don't even integrate with any other POS programs or companies that work for basic retail applications, so we currently don't have an alternative.
Reasons for Switching to Fishbowl
We chose Fishbowl because it the functionality and capability that they claimed to have, as well as their unique kitting feature.
Industry: Information Technology & Services
Company size: 51–200 Employees
Used

Daily

for

1-5 months

Review Source
---
High Powered Inventory Management Software
Fishbowl is a powerful and complete inventory management software which help us to manage our inventory, sales, purchasing, and manufacturing processes easily. It will also allows you integrate third-party applications to produce effective solution in inventory management.
Pros
It's a very efficient to provides features that helps businesses to manage their inventory effortlessly. The software is very easy to use and offers great features like Inventory management, Sales and purchasing, Manufacturing management, etc.
Cons
It's little bit hard to fix problems without having support from their team. Other than this I didn't have any issue with the software.
Industry: Apparel & Fashion
Company size: 11–50 Employees
Used

Daily

for

2+ years

Review Source
---
A Great All Around Product For Inventory
Fishbowl has helped us save money by being able to control everything from inside and not having to hire multiple 3rd parties to make connections. Fishbowl continues to add and upgrade the software to what consumers ask for.
Pros
Fishbowl software is easy to use. I like that you always have step by step instructions and some videos to help guide you. If you don't find what you are looking for, all it takes is an email, and support helps you as quickly as they can.
Cons
The only negative issue I have while using Fishbowl software is with the reports. Even though they have multiple reports to choose from, I feel as some of them can be upgraded to include more than one product a t a time. Example, when searching for a product that was sold on a particular day, and you have more than one size of the same product, it would be nice to be able to select as many products as you want to look at versus one at a time.
Response from

Fishbowl

Thank you so much for this review, Michelle. We appreciate you taking the time to provide your feedback. We are happy to hear that your experience has been satisfactory and will take your suggestions into consideration while we continue to make improvements.

Replied 17/03/2022