About Zoho CRM
Zoho CRM is a cloud-based business management platform that caters to businesses of all sizes. It offers sales and marketing automation tools with helpdesk, analytics and customer support functions. Zoho CRM helps users respond to customers across channels in real-time. Zia, Zoho CRM's AI-powered sales assistant, can predict an appropriate time to contact customers. It scans emails for urgency and can display relevant statistics or documents when performing searches. Users can integrate with G Suite, WordPress, MailChimp, Evernote, Unbounce and other third-party systems. Zoho CRM's software development kits provide tools to build custom functions to add to the CRM. Zoho CRM is available on monthly or annual subscriptions and support is extended via phone, email, documentation and other online measures.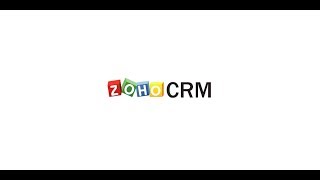 Zoho CRM has a free version and offers a free trial. Zoho CRM paid version starts at US$20.00/month.
Industry: Marketing & Advertising
Company size: 51-200 Employees
Used

Daily

for

6-12 months

Review Source
---
Zoho CRM fixes all the lead disposition issues
Zoho CRM integrates with ad platforms and makes it easy to generate and store leads safely. The sales teams can have full control of how the marketing automation should be and acts as a catalyst to convert leads. CRM tool is a must for businesses who are running lead generation campaigns and look no further and go with Zoho CRM.
Pros
Our clients use Zoho CRM since the day we started lead generation service for them. The integration of this CRM is pretty basic and similar to any other CRM tool. Lead management has become very easy since all the details are in a single place and it becomes easy for the sales team to follow up with the leads. Sales tracking and automation is also a great feature that makes this tool stand out and helps the business convert leads.
Cons
the pricing of Zoho CRM is a little high for the features it offers. They should rework their pricing models.
Industry: Marketing & Advertising
Company size: 2-10 Employees
Used

Weekly

for

2+ years

Review Source
---
Zoho CRM is very good, but it's not brilliant.
It's very good at delivering against the key tasks of CRM, but it's not amazing. Also, it's a lot more expensive than it used to be (approx 100% more expensive now, than when I first started using it).
Pros
It's relatively cheap (approx $40 per user). It does everything I need from CRM (Contact Management / Sales Pipeline Management / Sales Order Management / Invoicing) relatively well.
Cons
The interface always has been (and seems like it will always be) a bit clunky. I've also always hated that those arriving at the early stage of the sales process (Leads) cannot automatically be moved to 'Contacts' / 'Prospects'. I find this infuriating.
Reasons for Choosing Zoho CRM
Zoho CRM better at the tasks i required. Easier to learn on the job. Zoho is quite simple to use, especially when compared to Microsoft Dynamics.
Reasons for Switching to Zoho CRM
Zoho much simpler than Dynamics to learn and use. Zoho much cheaper than Hubspot, which have an amazing knack of 'not having the tools you need (within the current package you pay for!).'
Industry: Computer Networking
Company size: 201-500 Employees
Used

Daily

for

2+ years

Review Source
---
User account
Bad experience with users belonging to difference domains.Zoho is not able to manage them
Pros
The CRM application is good but Zoho try to systematically sell its whole suite where the level of quality is not the same on all their module.
Cons
The same user cannot authentication between different domain.Once users of your organisation subscribe to ZohoOne. The whole company users have to subscribe ZohoOne either they need one app. That makes the Zoho solution too expensive
Industry: Hospital & Health Care
Company size: 51-200 Employees
Used

Daily

for

6-12 months

Review Source
---
A good Product Where Everything is Limited for You to Upgrade
It was a very neutral experience. Be sure to have big bucks to spend when migrating to this software because everything they own are bespoke; you want something you have to buy it. And its neverending for them to keep pushing you to the highest plan.
Pros
It is similar to SalesForce. Easier to use when you can just plug and play certain things and features. Their customer service is good though. Helped me a lot when i go through certain blocks of work that needs to be done.
Cons
You got to keep spending a lot of money for every features that you wanted to customize. The sales will keep ask you to buy the higher package for you to fulfill basic requirements.
Reasons for Choosing Zoho CRM
To explore a product that has similar features and functions like Salesforce and cost effective. Plus we were looking for all in one package for Marketing and Sales including Customer Service.
Reasons for Switching to Zoho CRM
We were promised that Zoho CRM can do the stuffs that lacks in our previous product used (Leadsquared). Apparently for us to use the said features we never knew that we had to subscribe for a higher subscription to get what we really wanted. Its too late as we have migrated to Zoho CRM
Industry: Writing & Editing
Company size: Self Employed
Used

Weekly

for

6-12 months

Review Source
---
An inexpensive yet powerful, feature-packed CRM
Zoho CRM is made it so much easier to capture leads, and manage them properly in one space, leading to sales more often. I have no need to get another mail client or funnel, or spend time trying to add all leads from different platforms into one use boards and spreadsheets.I am very impressed with Zoho CRM and what it can do.
Pros
Zoho CRM is very easy to use, and also easy to customize to your liking. Features I like the most are the 1. lead/contact dashboard showing all activity for each contact and where they are in the sales pipeline. 2. Integration with Zoho mail and social media for immediate posting and communication, one-click calls and meeting schedules in the dashboard, 3. segmentation according to follow-up actions or campaigns and reporting.Integration with the rest of the Zoho Suite makes it so easy to use and set up everything with no third party software needed.
Cons
Zoho CRM is integrated with the rest of the Zoho Suite, which might add to your monthly subscription bill depending on what you are looking for. However, you can get an all-inclusive rate as well.Even though it is straight forward, there is a learning curve as with most software, but the tutorials really help a lot in this regard.