About Windward System Five
Windward Software's Windward System Five helps small to midsize businesses manage their operations by providing an integrated point of sale and accounting solution with real-time inventory management. Windward System Five is a built-in point of sale application. Among other features, the solution provides a signature capture option that helps minimize duplicate invoices and paperwork, POS barcode support that integrates with most scanners on the market, and the option to add or subtract "soft switches" that allow users to customize the program for their specific business practices. Windward System Five is capable to document inventory movement between store locations, and users can also integrate the program with their online stores via the WeCommerce tool. It is available for a one-time license fee which includes support via phone and email.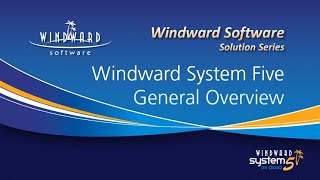 Windward System Five pricing
Windward System Five does not have a free version but does offer a free trial. Windward System Five paid version starts at US$129.00/month.
Starting Price:
US$129.00/month
Alternatives to Windward System Five
Windward System Five Reviews
Used

Daily

for

6-12 months

Review Source
---
A powerful POS with unlimited flexibility, reliable stability, and great support staff.
Saved our company time and money in the ling run. Being able to customize the look, feel, and functions of the application let us implement EXACTLY what our company needed. We evaluated MANY other products before choosing Windward, and nothing comes close. It was one of the better decisions made in our organization, and is a big personal red-feather in my hat.
Pros
- Extremely customizable. Allows you to customize anything from report, to custom price-labels, to customized POS screen (even changing the size/color/look of virtually every button). If you are a little more adventurous, you can even write code that allows you make your own functions.
- Easy to learn. For as advanced as this is, most people can pick up on the majority what thy need in a day. For those who want to do more, their is a complete 'Windward Academy' that you can watch videos and read comprehensive guides.
- LOTS of support. If I ever have a question, there are about ten people I can call. Of-course, they have 24/7 technical support, but virtually anyone in the company is eager and willing to help. I can call my account manager, or any number of others I have talked to throughout the installation process. Even the lovely receptionist is awesome has walked me through issues on more than one occasion.
- Philippines support. You might think this would be under the "Cons" section; but it isn't. The Philippines support is not outsourced like other companies, but they are actual employees working in a Windward office in Cebu. They all speak great English, are EXTREMELY knowledgeable about the product, and aim to please. No matter how frantic I am when I call, they never get upset and are always positive. And they are not going to give up until it's fixed. - You typically don't find this level of customer service in Western support groups.
Cons
- Price tag will be your biggest hurdle. And some features will cost you extra. Having to pay extra to have the software integrate with our merchant account is probably the biggest complaint I have with the company. But even this is vastly outweighed by the Pros. If you want the best, it probably isn't going to be the cheapest.
- There are occasional errors that pop up and random issues. But 90% of these are self-resolving (very intuitive software). For the other 10%, support is right there to remote in and stay with you until it's resolve.
Industry: Retail
Company size: 2–10 Employees
Used

Daily

for

2+ years

Review Source
---
Windward since 2006
Pros
The service from Windward when needing help.
Cons
Missing simple sales reports that we use to use in Great Plains.
Reasons for Choosing Windward System Five
It was DOS and needed to update.
Reasons for Switching to Windward System Five
I looked at many more than the 2 above. But do not remember all I looked at. Was at least 8. Not sure Profit.co is the correct one
Response from

Windward Software

Hi Joellyn,
Thanks for the review! We'll be sure to pass along the note about our service to the Customer Care team. We do have advanced reporting now available with Windward Intelligence. You may want to reach out to your Account Manager to see it in action. Thanks again!

Replied 09/08/2022
Industry: Retail
Company size: 11–50 Employees
Used

Daily

for

2+ years

Review Source
---
Updated: By Far The Worst POS I've Ever Used (Support Included)
I have been disappointed, and remain disappointed. I left a similar review a few months ago, and I was contacted by Windward in an effort to improve matters - which I do appreciate - but, unfortunately, that has not been enough to change my perspective on Windward. For myself, the general ease of use does not make up for the incredible amount of problems this software has. I have been working with various POS systems for over 10 years now, and this is the only one that ever inspired me to go out of my way and leave a review, because it's just so consistently problematic. I have been asked directly by the staff at Windward to update my review, and I do wish it had improved in any way, but I am more convinced than ever that there are much better choices out there.
Pros
In comparison to previous software used, the finalization of the inventory process within Windward is rather straight-forward. The ability to print count sheets with only product in stock - no part numbers with a "zero" quantity, is great and saves paper. However, products often randomly shift into categories like 'financial' which causes the item to remain on the inventory count. I have had to request help from support on this multiple times.
Cons
I have used Windward software all day, every week day, for two years now and I consistently encounter issues in day to day operations. I have had problems with the cash out feature not allowing me to finalize the file and close the day; I am constantly getting error messages, or "unplanned shutdown" messages when an unplanned shutdown has not occurred; there are processing issues with rental invoices that cause the invoice totals to change, after the invoice has been finalized and submitted. This specifically has created MAJOR discrepancies on our invoices that has resulted in us to losing money, and having to issue apologies to many of our major accounts. One of these incidents has caused irreparable harm to our business relationship with our (previously) largest customer.
Industry: Furniture
Used

Daily

for

2+ years

Review Source
---
We've been with Windward since 1994, recent years Windward has really stepped up to the plate...
One of the most recent benefits is the available training in many different areas of the Windward software program. This is an incredible asset to streamlining and improving day to day business practices for us. When we find out things the program can do for us that for years has just been sitting there not being used, we're like a kid in a candy shop....Excited...Wow!!
Pros
Over the years there have been many areas of the program that we never took advantage of. One of the greatest things is with all the recent available training on and off line it has allowed us to find these nuggets that have helped us tremendously to make processes within our business so much easier. This had to be one of the best implementations that Windward has made, keep the training coming!!
Cons
The one thing we dislike about the program are updates. We get very nervous! A few years ago we did an update and it totally messed up the whole program. We had to work offline (paper work) for more than 3 weeks, which was a nightmare after the fact. Though Windward programmers worked for over 6 months to find a fix, they never ever did. So here 5 or 6 years later our Point of Sales Transaction Report figures are still unusable. We recently updated Pervasive and were told it should really speed up the program. Unfortunately it didn't, actually saw absolutely no difference even though it had been several years since we'd done an update, so are looking at other areas now.
Used

Daily

for

2+ years

Review Source
---
it has been great and have found it very user friendly and easy to use
more up to date information and tracking of items with serial numbers, it was easy to set in place policies and see where we lacked and brought in a lot of controls in the company
Pros
the software is easy to use and customizable. we have found a it works well and have not had too many problems. there are a lot of options in the setup and we are able to change if it does not work. the implementation staff was great and the support is great. when ever I have contacted support they responded very quickly and the webinars have helped make the software better
Cons
it takes a long time to get a feature added and a lot of pestering, there are a few things in the software that does not make sense with the labels
Response from

Windward Software

Hi Ketan -- thank you for taking the time to provide us with your feedback. Great to hear that you're pleased with Windward System Five, our Implementation Team, and weekly webinars.

In terms of custom feature development, we record all requests and work diligently to include this functionality (when possible) in subsequent product releases. To learn more about upcoming System Five features, please contact your Account Manager at +1 (800) 663-5750.

Replied 14/11/2017