About Veeqo
Free shipping software that does more than print labels. Cut the cost and speed of fulfilling orders with low shipping rates, automation and powerful fulfillment tools with Veeqo's FREE shipping management software.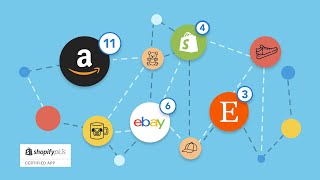 Veeqo has a free version and does not offer a free trial. Veeqo paid version starts at £0.00.
Industry: Internet
Review Source
---
Multi Channel Inventory Management
We have been successfully running an online Golf and Fitness Business across multiple channels for many years, however in 2014 we expanded our channels to include a second Ecommerce website. We have been running a Magento backed Ecommerce site for quite some time and had expanded our business to include a Woocommerce backed Ecommerce website that we needed to be able to run using a singular master stock file. We also sell across the eBay and Amazon channels. We searched for quite some time to find a product in the marketplace that would link with all of our sales channels and allow us to work from one singular master stock file. We were quite surprised when we found that the best fit for our needs was based in our home town!! After having some discussions with Matt at Veeqo we could see the potential in the Veeqo system and after some system testing we signed up and have been using Veeqo since October 2014.
Since this time Veeqo have been working hard at implementing more and more functionality into their products and we have worked closely with them on what we believe to be the best solutions for business in the real world to achieve maximum return from their investment in the Veeqo system.
We would have not been able to achieve our goals without the dedicated support from the team at Veeqo and we thank them for all of their hard work during the rollout of the Veeqo system at Just Sports Online.
Now with the Veeqo system in operation we are able to have cast iron control over our inventory management!
We are looking forward to the rollout of product pushing from the Veeqo system that will allow us to create all of our SKU's in one location and push them through to all required channels with ease!
Pros
Single Master Stock File
Simple Order Management
Multiple channel management
Excellent help desk support
Cons
No product pushing yet!
Industry: Consumer Goods
Company size: 2–10 Employees
Used

Daily

for

1-5 months

Review Source
---
Veeqo Review after 2 weeks
I am able to ship Amazon and ebay items through Veeqo but need to use another shipping site to ship Wal-Mart and woo commerce. I do like not having to change printer types to print packing lists and shipping labels.
Pros
The most impactful features are the integrated shipping. The ability to have all my channels in one place is great and time saving. The product is pretty easy to use. The integration with some of my business channels was a breeze with the integration wizard.
Cons
I feel like the tracking of a shipment is missing or not easy to access. I wish that when you are in shipping and you choose a weight and package size and save it that the system automatically would use those details the next time that same item is sold. Having to enter the weight and package size every time I ship an item it a bit tedious. I am not able to integrate with my woo commerce site and Wal-Mart.
Reasons for Choosing Veeqo
I thought that I would be able to ship all of my channels including Amazon, eBay, Wal-Mart and Woo Commerce. And that this would save me time from having to go into each shipping method separately.
Reasons for Switching to Veeqo
I'm still not 100% sold, but could be when full integration is completed.
Industry: Sporting Goods
Company size: Self Employed
Used

Daily

for

1-5 months

Review Source
---
An useful software for e-commerce
Pros
It is easy to use with a lot of useful features such as Multichannel Fulfillment.
Cons
Inventory sync is not accurate and needs to be improved.
Industry: Wholesale
Company size: Self Employed
Used

Daily

for

1-5 months

Review Source
---
Veeqo could be the next best inventory management, multi-channel and shipping software in one!
I am extremely excited for Veeqo. There's tremendous change in this space and Veeqo could be the "white knight" many of us small businesses need. However, there are some small improvements for wholesale business needed for us to be able to use it.
Pros
Veeqo is very easy to use and get started. The UI is also nice. It does an EXCELLENT job handling multi-channel (Amazon, Ebay, Shopify) orders and inventory.
Cons
There's not enough built out for the Wholesale side. Custom fields should also be available on product and customer creation and these should be visible in reports.
Reasons for Choosing Veeqo
Tradegecko was incredible and a joy to use. They were bought by Intuit and it became Quickbooks Commerce. After one year, they "sunsetted" it.
Reasons for Switching to Veeqo
It ALMOST does everything these other programs do and it's free. It's so close to being superb!
Industry: Retail
Company size: 2–10 Employees
Used

Daily

for

1-5 months

Review Source
---
Fantastic product jam packed with features
Shipping integrations are smooth and the overall experience with Veeqo has been amazing. The team is good from the start as well. Fantastic. keep up the good work
Pros
Overall system is very strong and adequate. Order and inventory management for our E-commerce Bigcommerce store is really strong. The support team is the best out there when compared to other competition on the market.
Cons
The only con at the moment is that you have to refresh the whole page to see new orders. There should be a button on the page that refresh just the internal screen on not the whole page.