About STORIS
STORIS is the leading provider of modern technology solutions for home furnishings, bedding, and appliance retailers. From your showrooms and eCommerce website to your distribution centers, STORIS will enhance the customer experience, increasing revenue across channels, and gaining a competitive advantage in today's dynamic retail marketplace. STORIS' ERP software provides automation and integration of all facets of your retail operation including point of sale, order management, inventory control, merchandising, business intelligence, supply chain management, accounting, and more! To provide your sales associates with a modern selling toolkit, our STORIS NextGen platform is engineered using a state-of-the-art, webbased architecture to deliver Customer Experience Management (CXM) and Mobile POS solutions. Lastly, to support your eCommerce strategy, STORIS provides flexible options through either our integrated eSTORIS platform or via our eBridge Commerce API solution. As a company, we are committed to our product offering. STORIS continuously sets the industry standard for annual Research & Development. Our partnership centers around supporting our clients' success through mutual respect and providing the technology needed to serve customers in today's market. In order to help our clients succeed, we also place an emphasis on a positive employee culture, which helps us retain top talent. STORIS NextGen Platform hosts our CXM and Mobile POS solutions. This modern technology supports home furnishings retailers with evolving their in-store guest experiences. With STORIS NextGen technologies, your retail peers have engaged with more customers, generated more sales orders, and increased revenue. Today's retailers are prioritizing the personalization of the customer experience to increase customer satisfaction, foster brand loyalty, and ultimately drive higher customer lifetime values. Customer Experience Management (CXM) technology enables retailers to seamlessly provide an increased level of personalization by changing the way sales associates operate on the showroom floor. Mobile POS works in tandem with CXM, enabling the sales associate to service their guest from customer introduction through Sales Order completion. As sales associates organically collect information the customer shares while shopping, Mobile POS allows for a seamless transition to checkout. STORIS NextGen technology provides the tools to empower your sales associates to support the evolving in-store guest experience and take your customer service to the next level.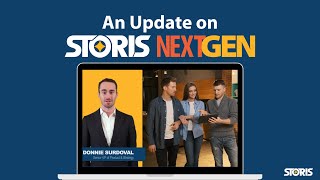 STORIS does not have a free version.
Used

Daily

for

2+ years

Review Source
---
It's a quick and efficient software.
Pros
It has a lot of checks and balances that doesn't allow the user to make mistakes. It also shows the designer custom options they may not be aware of to give their client the best design solution possible. Once you learn the drop-down abbreviations and become proficient you can quickly create a quote for your client. New employees never exposed to the system are able to pick it up quite rapidly as it is extremely user-friendly. Our administrator has the ability to quickly fix any errors we might have made. The reports it generates allow us to give real-time information to our clients. The ability to review clients past purchases when adding items to their home is very helpful and selecting new furniture that will compliment what they have purchased in the past!
Cons
There are times that the software is down. This can wreak havoc on our business. This may not be hey STORIS issue but rather an in-house Ethan Allen issue. We also recently moved locations. This required a new store code. The system was unable to blend the client base from the old store code to the new one requiring searching a customer's information in two different places. Not a significant hindrance.
Industry: Retail
Company size: 2–10 Employees
Used

Daily

for

1+ year

Review Source
---
McRoskey Mattress Company
Good. Once you get everything set up and everyone trained it is straight forward.
Pros
the customer service team at Storis and their tenacity to address issues as they arise
Cons
a little cumbersome for our type of operations but we operate unlike most mattress retailers
Reasons for Choosing STORIS
we stopped manufacturing and SAP Business One was more adept on the manufacturing side and overly complicated for a retail only organization
Reasons for Switching to STORIS
Not enough functionality in the other POS systems based on our business needs
Response from

STORIS

We at STORIS are happy to hear about your positive experience with our software. Thank you for your partnership.

Replied 17/12/2021
Industry: Information Technology & Services
Company size: 1,001–5,000 Employees
Used

Daily

for

6-12 months

Review Source
---
If you want a Time Machine Reminder of the terrible software of the 90's
Awful!
Pros
There are none, except this is the best the furniture world has for software and they worship it. The software is so outdated it's like stepping back 30 years. .Terrible, clunky, slow and just pathetically behind. They say it's because furniture is difficult but I've run logistics and financing before in other organizations it's just that Furniture as a whole is a racket and they exploit customers and STORIS exploits the companies.
Cons
Everything! It is slow, it looks and feels outdated. The company is so overly sensitive if you review them bad they withing days contact higher leadership in a conference call and demand retribution against employees of the organization who spoke out and they are overall. Not kidding had a review posted once and they wanted it taken down and me fired, the Vice president found me on LinkedIn shortly after my review went up. They're that petty cause they know they are slinging terrible and pathetic product. Furniture companies being cheap think they're getting top of the line (similar to what they tell their customers) when in reality they're getting a nice looking package with nothing inside for it to function properly. This product is a LEMON through and through STAY AWAY! Find a start up and invest as a company they will make something 10x better in months!
Industry: Retail
Company size: 2–10 Employees
Used

Daily

for

2+ years

Review Source
---
After Using For 5+ Years...
I have never had a software company be so hands on with their product and offer as much support in training and technical support as STORIS. Sometimes it is easy to take a product for granted when it works seamlessly for you as STORIS does for our business but I am reminded how fantastic the service is every month when our point of contact, Chris, checks in to confirm STORIS is working well for us.
Pros
I began working at Luxe Home Company after STORIS was already well introduced into our routine and immediately I found the software to be incredibly easy to navigate and learn. It is critical that tasks are able to be performed quickly and efficiently in a small business and STORIS has everything laid out in an easy to use, step by step system. For example, if I want to see our outstanding gift certificates - even if I am not familiar with the function - all I need to do is search "gift certificates" and a clearly labeled option comes up and I am guided through the prompts to print a report with exactly the information I need.
Cons
When STORIS is not working properly for whatever reason, I find troubleshooting not very user friendly. Luckily, technical support has always been quick to respond to whatever issue I am having. Specifically, my biggest gripe is when your computer goes to sleep or if you are disconnected from the internet for whatever reason, if you were working on a sales order or purchase order at that time when you go to reload the same page to pick up where you left over, STORIS will not let you in and you need to call to reset the page.
Response from

STORIS

We appreciate your feedback and your partnership. Thank you for taking the time to leave a review.

Replied 18/02/2022
Industry: Retail
Company size: 11–50 Employees
Used

Daily

for

2+ years

Review Source
---
High quality but sometimes challenging to work with
Our company is easily able to be scaled thanks in part to the software. We also have not found a solution to our unique financing model and Storis is the best out there for the time being. We have seen tremendous gains in efficiency and they are highly responsive which is greatly appreciated. We have seen volume increase and efficiency increase which is obviously a strong return.
Pros
Inventory management basic product is incredible. Sales orders are the focus and places high emphasis on this function. Client services help team is phenomenal and they are always trying to push themselves to do better. I also appreciate that their corporate culture is solid and they work hard to earn your business.
Cons
Many aspects are cost prohibitive as their pricing can vary wildly when you need "custom" work. Failure to integrate with other technologies in lieu of developing their own software is a trap a lot of these companies fall into which limits capability and cost. Through the process it is easy to feel like you are too small a company to work with them and you are being nickle and dimed.
Response from

STORIS

We appreciate your feedback and your partnership. Thank you for taking the time to leave a review.

Nancy Figueras
Client Advocate Supervisor

Replied 31/05/2019