About Snappii
Snappii, a leading Mobile Business Apps and Forms company, offering Business Process Automation and Field Reporting Apps used predominantly in Construction, Inspection and Work Order management, has made the digital transformation affordable especially for small and midsized companies. Snappii helps to design, build, and deliver feature-rich business apps and form apps in days versus months without any coding skills. Any business app and form app can be created quickly, easily, and affordably.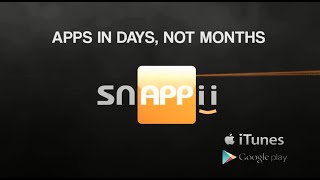 Snappii has a free version and offers a free trial. Snappii paid version starts at US$201.60/year.
Starting Price:
US$201.60/year
Industry: Computer Networking
Company size: 2–10 Employees
Used

Daily

for

Free Trial

Review Source
---
Codeless app platform, mobile apps and forms
Pros
Snappii mobile enterprise app development platform is a real alternative to hiring expensive mobile Apps developers that are hard to find, or outsourcing mobile app development to unknown and unreliable companies.
Snappii offers web service integration and can connect to enterprises' back-end systems for secure data transition.
In addition to do-it-yourself and custom app development, Snappii offers a wide selection of ready-made industry specific apps that are available for download from Apple AppStore and Google Play store. These apps can be 100% customized to meet the needs of a specific business. Over 68, 000 apps have already been built on Snappii codeless platform, with customers range from the largest companies to medium and small organizations and this number keeps growing.
Cons
Hawkwood & Co run an intelligence service for the oil and gas industry. Using the Snappii platform, we have been able to develop an App to support the service. It allows us to deliver reports and geospatial intelligence directly to our clients Smartphones and Tablets, avoiding overstuffed inboxes. We can also ensure time critical information is delivered promptly via a push notification ensuring our
Industry: Hospital & Health Care
Company size: 201–500 Employees
Used

Daily

for

2+ years

Review Source
---
Efficiency = Expansion
We love Snappii! Our field staff is able to collect documents and have them emailed to our office staff and stored in our cloud instantaneously. This has reduced travel back and forth to our office, mailing of documents, and scanning of documents. This has saved our company both time and money. It has enabled us to scale our business at a rapid rate. We have grown quickly enough to be an Inc. 5000 company four years in a row, that wouldn't be possible without Snappii.
Pros
-The ability to easily make changes in guru mode.
-How user-friendly it is out in the field.
-The reliability of the App working properly.
-Support from Sales executive and others has been very quick and helpful.
Cons
-The fact that our custom app is not able to be downloaded through the App store.
-Occasionally the app won't submit documents and we have to refresh the app and then lose the documents.
Reasons for Switching to Snappii
Knowing that we would be able to be trained on how to customize and make changes to the app on our own. Sales executive also sold us on the customer support and they haven't let us down yet.
Industry: Chemicals
Company size: 501–1,000 Employees
Used

Daily

for

Free Trial

Review Source
---
Snappii should be use in every company
overall experience is wow..since it allows free trial version.
Pros
In terms of impact, the most impactful feature of Snappii is its ability to allow businesses to create their own customized mobile apps without needing any codingskills or previous experience. This saves businesses time and money while providing them with a powerful digital tool to improve their operations and customer engagement.In terms of usability, Snappii has a user-friendly drag-and-drop interface.
Cons
below are the some point which can be improved..1.User interface 2.Integration with third party solution 3.better collaboration
Industry: Mechanical or Industrial Engineering
Company size: 2–10 Employees
Used for

6-12 months

Review Source
---
Not for me!
My experience was a waste of money as we have now switched to another provider and the difference is night and day. I wouldn't recommend this provider Sorry.
Pros
Unable to think of anything good to say.
Cons
Tech help poor unless you want to pay them more money to sort issues. DIY platform was tedious and left you stuck and tech help soon get fed up of you and also will ignore you too using the chat facility.
Response from

Snappii

Jeff, thank you for your feedback. We are sorry you had a negative experience with our platform.
Per our records, we had 2 free GoToMeeting sessions with you to address your needs. We do not offer any more free help after we sufficiently helped you in the past. We have free resources all users are welcome to use. If any user struggles after the free session, we do offer a paid training. We are sorry that this didn't meet your expectations. Hope you found a service that works free of charge for you. We do not.

Replied 06/11/2019
Industry: Computer Software
Company size: 10,000+ Employees
Used

Weekly

for

1+ year

Review Source
---
Snappii is fantastic and simple enough for new users to grasp
The application helps reduce the mess on our desks caused by the number of papers we manage in our office. really aids in keeping everything organised and in its proper location for easy locating. I now have a simple and clear method for developing an app for my business. In the world we live in today, mobile presence is crucial. Make sure everything is set up the way you want the programme to be used. Try out your application on paper before submitting it.
Pros
It is simpler to develop and release a basic app without making a sizable upfront expenditure as an alternative to employing pricey apps. The procedure is simple to comprehend, and I had no trouble navigating it. It's also not too difficult to get lost on the website. The fact that it can be utilised offline is its finest feature. all of the Snappii-related features. less costly than employing high-priced app developers. It's a lot of fun and simple to add and delete different app functionality! I adore how adorable and well-designed the software is.
Cons
According to my study, there are occasions when the programme won't store documents, forcing you to submit them again. It was occasionally difficult to comprehend how to add functionality to various parts and the pages occasionally all appeared the same. The program's fundamental colour palette. I would advise using blue tones since they encourage continued usage of the product and awaken and alert the brain.