About Clio
Clio is a cloud-based legal practice management solution suitable for small to large law firms. The platform enables lawfirms and other businesses in the legal industry to track important deadlines, manage client cases and documents, bill clients, and accept payments. The Clio dashboard displays billable hour targets and goals and and tracks performance based on these measures. Clio Payments allows lawyers to receive payments directly into a client's trust or an operating account. The billing feature allows users to create custom bill plans, manage fee structures, carry out automatic or manual time entry, bill via email, and let clients access information via email or the secure client portal. The document management features include document automation, custom field creation, electronic signature capture and more. The Clio mobile app for iphone, iPad and Android allows law firm employees carry out client interactions, document management, billable hours tracking, case management and more, from anywhere. The mobile app also offers push notifications and messaging tools to help users stay connected. Clio pricing varies based on whether law firms purchase the Clio Manage app, the Clio Grow app, or the entire Clio Suite. The Clio platform offers integration with over 200 third party software apps including other law practice management software solutions, marketing tools, payment platforms, and more.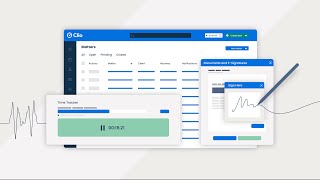 Clio does not have a free version but does offer a free trial. Clio paid version starts at US$39.00/month.
Starting Price:
US$39.00/month
Pricing Details:
Clio pricing per user starts from: $39/month
Industry: Legal Services
Company size: 2-10 Employees
Used

Daily

for

2+ years

Review Source
---
Fantastic Practice Management Solution
Pros
Clio's intuitive design is easy to use for anyone from the tech savy to the "how do I turn this thing on" person. They are constantly adding features and functionality to the software solution making the administrative side of practicing law much easier and less time consuming. Clio's support team is always quick to respond and is always friendly and helpful. The growing list of integrations is definite plus and gives us the ability to extend the already great functionality to the next level. And if you are into coding, you can always create a custom integration to suit your needs.
Cons
Really the only complaint I have about Clio is the reporting capabilities. While it has some great canned reports within the interface, there is no ability to customize reports to massage out information that would be useful to my practice. We make do, of course, but this has been my complaint for some time now. Last time I checked there was a pay integration that allowed for more robust reporting but adding yet another subscription isn't appealing when it would be relatively easy for Clio to add this capability to their platform.
Industry: Legal Services
Company size: Self Employed
Used

Daily

for

6-12 months

Review Source
---
Great comprehensive practice management solution for lawyers
After almost a year with Clio I can safely say I'm happy with my purchase.
Pros
The integration with Quickbooks Online is clutch. While there are still some additional functionalities I would build into it, I love that a transaction in Clio creates a journal entry in QB that I can then link to a bank transaction. Makes bookkeeping way easier.
Cons
I wish that a client could access Clio for Clients and Clio Connect at the same time.
Industry: Law Practice
Company size: 2-10 Employees
Used

Daily

for

2+ years

Review Source
---
Best overall practice management product for legal professionals
I love and hate Clio at the same time. The product is excellent, but there are a few areas that are in dire need of improvement. These include Clio Grow, payment plans (you have to set these up manually), and the inability to use the API to document payments and other bank transactions.
Pros
Clio is one of a few legal practice management software options that incldes an API to integrate with other products. This expands the functionality of Clio greatly, as you can connect your Clio data to outside sources, and vice versa.
Cons
Clio Grow has been a disappointment since its release. There have been promises of improving the product and integration with Clio Manage (these should never have been two separate services), but nothing seems to have happened on that front. Clio Grow is like a toddler. It can do a few things, but it's not ready for the real world.
Industry: Law Practice
Company size: Self Employed
Used

Daily

for

2+ years

Review Source
---
There has to be something better; going downhill for solos
I have been using this since 2012 - at first it fit my needs and was marketed for the solo/small practice firms. It has increasingly become more cumbersome and takes longer to calendar and bill than I would like. The interest feature on the billing can only calculate simple interest. Once you enter the interest formula, there is no way to disconnect it so you are left to manually delete all of the entries. They have changed the billing process from a process that once took about an hour to taking about 3 hours. A bill is generated and placed under the Draft tab, you can view it, edit it, submit it for approval (a waste of time for a solo), or approve it - so I view it, see it needs to be edited, and click on edit, the bill comes up for editing, then once you've completed it, you hit Approve - and nothing happens which is new - you either can hit the go to bills Awaiting Payment link, or click on the Awaiting payment screen -- from there, you are forced to sort through all of your accounts receivable to find your newly edited bill. Once you find the bill, then you can Receive Payment from the trust account - but be careful since if your client has $500 in trust and the bill is $1000, the trust payment will pop up $1000, which you know is inaccurate, so you have to do another edit. Then the bill drops out of view and you either have to return to Awaiting Payment or Paid tabs - search through all of the other bills, find your bill, then you can download it - print it, or save it, and then email it.
If you want to enter a new appointment, you can do so on the calendar, but if you want to create a method to track the new client, you have to go to another tab to set up a matter, you can only input the client's name, not the address, not the phone number, not any other stuff that should appear at this point, in my opinion. Then you add in your number. Then you have to track down the name you just entered and try and add in addresses, phone numbers, email addresses. The process is incredibly time consuming.
Pros: Cost
Cons: Overly rigid, designed for those who have a data processor employee, time consuming, not customer service oriented - was marketed for solos/small practices and this is not the case any longer.
Pros
Web based program and cost.
Cons
Rigid, time consuming process. So many things don't work and the process of finding a work around is cumbersome.
Industry: Law Practice
Company size: 2-10 Employees
Used

Daily

for

Free Trial

Review Source
---
If you're a CIVIL firm, Clio excels with Rules Based Calendaring and has client portal, but no...
Since my firm is a Criminal Defense firm, and Clio would possibly be a good match for a Civil firm that does not care about email syncing and was very concerned with Rules based calendaring, Clio might be a good choice.
Pros
- Rules based calendaring *gotta admit, Clio rules here.
- Workflow creation available.
- Client portal available.
- App is available
- Can create a contact while creating a matter.
Cons
- No email syncing to a matter. If want to link an email to a matter, need to send the email, then go into Sent folder and connect the Sent email to a matter.
- No auto future billing. So if you're a Cim Defense firm and your client needs to be on a payment plan and you want to be able for invoices to be automatically be sent to your client, Clio can't do this, MyCase is the only platform that can do this.
- There's no automatic time-tracking, say, when you start creating an email to send to a client.
- Pricing - Clio has 3 different levels of pricing where you don't get certain features unless you upgrade ($39, $59, or $99/mo). Other platforms like MyCase, PracticePanther or Smokeball, you get all the features without having to upgrade.
Reasons for Switching to Clio
I ended up not choosing Clio.