About Clio
Clio is a cloud-based legal practice management solution suitable for small to large law firms. The platform enables lawfirms and other businesses in the legal industry to track important deadlines, manage client cases and documents, bill clients, and accept payments. The Clio dashboard displays billable hour targets and goals and and tracks performance based on these measures. Clio Payments allows lawyers to receive payments directly into a client's trust or an operating account. The billing feature allows users to create custom bill plans, manage fee structures, carry out automatic or manual time entry, bill via email, and let clients access information via email or the secure client portal. The document management features include document automation, custom field creation, electronic signature capture and more. The Clio mobile app for iphone, iPad and Android allows law firm employees carry out client interactions, document management, billable hours tracking, case management and more, from anywhere. The mobile app also offers push notifications and messaging tools to help users stay connected. Clio pricing varies based on whether law firms purchase the Clio Manage app, the Clio Grow app, or the entire Clio Suite. The Clio platform offers integration with over 200 third party software apps including other law practice management software solutions, marketing tools, payment platforms, and more.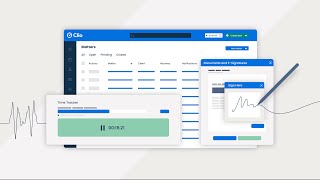 Clio does not have a free version but does offer a free trial. Clio paid version starts at US$39.00/month.
Starting Price:
US$39.00/month
Industry: Law Practice
Company size: 2-10 Employees
Used

Daily

for

2+ years

Review Source
---
Intuitive and Flexible
I am happy with Clio and the support they provide. It's helped keep the firm, as well as our third-party answering service, organized and consistent.
Pros
The ability to integrate other software enable using other software to address aspects of Clio which are good, but not great. As an example, Clio Management's task management is good, but there is not a kanban or gantt feature, but I can easily integrate with Asana, Monday.com, etc.
Cons
Some aspects address needs in a basic manner, but are not as robust as software which is specifically designed for a single purpose. Using the same example as mentioned in the "Pros" - the task management works and can be automated, but it does not have highly specific features such as kanban or gantt.Additionally, the syncing between Clio Grow and Clio Manage could improve. The two do not sync completely - certain items (ex. emails, I believe) do not sync.Lastly, when trying to export specific sets of data, Clio is time-consuming. We had an attorney who left our firm, and providing her the information from her clients required going to each client and selecting "export" for each aspect of the clients' data (such as, emails, documents, contacts, transactions, etc.)
Reasons for Choosing Clio
Cosmolex is not intuitive. It took a long time for me to become comfortable with the system, and it was not worth the time and energy for getting additional people up to speedMyCase was more intuitive, but lacked integrations which could have enabled better automation than MyCase had.
Industry: Law Practice
Company size: 2-10 Employees
Used

Daily

for

2+ years

Review Source
---
One of the first users of Clio and still give five stars.
Overall experience has been fantastic, and I have no intentions of ever-changing software. I will retire using Clio. Clio, along with Clio Grow, has enabled us to develop a smooth process for evaluating potential new clients using an intake questionnaire and customizing a pipeline.
Pros
It's too difficult to describe what is best, I could not manage my practice without this software. It is incredibly user friendly and easy to learn. I use pretty much all aspects of the software on a daily basis and have been using it for more than 10 years. My practice has grown from just one attorney, me, to now four along with paralegals and clerks. Clio has made the growth seamless.
Cons
I don't have any complaints whatsoever. The software has been essential to my practice in all ways.
Reasons for Choosing Clio
I used these at other firms. When I opened up my own practice I chose to use Clio.
Reasons for Switching to Clio
Price, options, versatility, tech support.
Industry: Law Practice
Company size: Self Employed
Used

Daily

for

2+ years

Review Source
---
I've used Clio Manage for 6+ Years and Clio Grow for 2+ Years
I've used Clio since opening my own firm. Overall, I'm happy with their products and feel confident that I can get "at a glance" information on my active cases as well as my leads quickly. And, I can dive deeper into any particular matter or contact easily. I do wish they were a bit more tailored to small/solo firm practice - particularly in terms of the time investment in set-up and cost per license.
Pros
Clio offers nearly comprehensive lead and case management services. Their support staff is responsive and if you engage them in a conversation about your firm's needs - they are eager to listen & learn. Since I began using it, Clio has steadily widened their offerings that are real value-adds. Their annual conference is a great networking & learning event.
Cons
Both products, but Grow especially, are very time-consuming in the initial set-up phase. Both products could be more robust for practice areas that don't involve litigation. Their support staff is readily available but in my experience can only assist in solving my issue about 10% of the time. Often some features I view as key are not available and it's hard to determine how the upvoting process of feature requests actually works. The pricing structure is frustrating and could benefit from adding a different tier for restricted or limited users (like paralegals and admins). While all the features and new additions are nice, as a solo practice attorney I often find myself unable to take advantage of them due to the time involved in learning about & implementing them.
Reasons for Switching to Clio
Interaction with the sales reps and recommendations from fellow attorneys.
Industry: Law Practice
Company size: 2-10 Employees
Used

Weekly

for

2+ years

Review Source
---
A great billing software for my increasingly virtual legal practice
Good software! I find it an indispensable part of my practice these days.
Pros
Our firm had used Timeslips for timekeeping and billing in the past before switching to Clio a few years ago. Timeslips was simply outdated and cumbersome, not to mention that we had no tech support. After having switched to using Clio, I was able to use the software to email clients directly and have the emails come from our firm email account via Clio without always having to involve the office manager for billing my invoices. If the clients have questions, they will know to direct their questions to the office manager, who is otherwise in charge of general accounting matters. Additionally, I love that I can always reach out to Clio's tech support for answers as to user issues or questions, and the services have always been pretty prompt and spot-on.
Cons
I remember there were some data migration issues when we transitioned from Timeslips to Clio. It has been a while, but I recall that at least some of the client data like their addresses didn't look quite right when it was pulled over, and I basically had to start over with entering the information in Clio.
Industry: Law Practice
Company size: 2-10 Employees
Used

Daily

for

1-5 months

Review Source
---
Cleo will solve all your law firm problems
My overall experience with Cleo has been fantastic and has changed how I do my daily job for the better. It has made life at work much easier and less stressful. It has allowed me to free up time that's better spent on creating documents forming businesses etc.
Pros
I loved Cleo from the moment a representative gave us an overview of the software and what it had to offer. After that demonstration I couldn't wait to try the software. I love that Cleo allows you to customize the program to your specific law firms needs. There is an enormous amount of ability to customize clients billing and matters. I've never found a software like this one before nor one that allows you so much freedom to make it your own. There are two sections to Cleo Cleo grow and Cleo manage. Cleo grow allows you to enter potential new clients and track their progress as to whether they hire the law firm get referred out or don't hire the law firm. It has saved me from keeping up with two separate spreadsheets which allows me more time to work on important tasks. Once in Cleo grow you can move a client over to Cleo manage once they hire you. Once in Cleo grow everything about your client and their case is all contained on their own individual dashboard. Within that dashboard you can store communications their documents their payment transactions emails billing their time they're expenses etc. And because of the categories you can customize I'm able to enter the important information needed for their particular case and it's no farther than one click away. I have to say the Cleo support and help section is spectacular and one of the best I've ever come across. They have a clear academy which offers training on specific things you can do in the software.
Cons
The only thing I found so far that I'm not fond of with the software is the flat rate billing. Our Law Firm wants to keep track of the time spent on a case even if it's for flat fee. I'm still trying to find a way to best show this on an invoice and after researching Cleo help section they don't seem to have a real clear method of doing it.