About Jira
Jira Software is a business process management tool used by agile teams to plan, track and release software. Jira Software supports Scrum, Kanban, a hybrid model or another unique workflow. Jira enables users to create project roadmaps to map out all projects in progress. The project board includes a drag-and-drop interface that allows teams to manage every project detail. The system offers functionality to create user stories and issues, plan sprints and distribute tasks across the team. Users also have access to information from thousands of business apps, from design and monitoring tools to source code and productivity apps. A mobile app is available for Android and iOS devices. Pricing is per user per month. Support is available through an online support portal, online documentation and tutorial videos.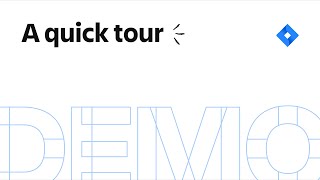 Jira has a free version and offers a free trial. Jira paid version starts at US$7.50/month.
Industry: Financial Services
Company size: 10,000+ Employees
Used

Daily

for

6-12 months

Review Source
---
Jira for project management
Jira is great to look after the status of every issue and the impact on the whole project.
Pros
I love the Jira Query Language for filtering data and the gadget variety is really great.
Cons
Overall is good software, and I have no complaints.
Industry: Higher Education
Company size: 10,000+ Employees
Used

Daily

for

1+ year

Review Source
---
Overall, Jira is a game-changer
Overall, I'm extremely happy with Jira. It's made a huge difference in how we manage projects and tasks, and I would definitely recommend it to other teams. It's a must-have tool for anyone looking to get organized and streamline their workflow.
Pros
I love how it allows me to easily assign tasks to team members, track progress, and see everything in one place. It also integrates well with other tools which makes it even more convenient. Overall, Jira is a game-changer.
Cons
The only downside I've found is that it can be a bit overwhelming when you first start using it. There are a lot of options and features, and it can take some time to figure out how to use everything. But once you get the hang of it, it's not a big deal.
Industry: Information Technology & Services
Company size: 201-500 Employees
Used

Daily

for

2+ years

Review Source
---
No pain no gain
Pros
Since it is the mainstream product in the market and Atlassian has other powerful tools, the integration with first and third parties is guaranteed and are usually pretty good (ex. Confluence, Slack, Gitlab, TeamRetro...)
Cons
After more than 10 years using JIRA for project management I have to say the UX still terrible, the changes and new features took ages to be implemented, and still have too many unresolved issues. If I have to choose a pain point, dashboards are really really painful to craft, and is really easy to face simple limitations that require a paid plugin to allow you to get what you need.
Industry: Information Technology & Services
Company size: 2-10 Employees
Used

Daily

for

1+ year

Review Source
---
There are many programs to manage projects and teams, but they are not Jira
As I already mentioned in the example of use in the Pros section, from the simplest project (a shopping list), to the most complex, the integration of several work teams from different areas and several very diverse projects, You need software that makes work, communication and organization easier.Jira offers us that, simplifying the management, planning and management of issues, without Jira, order becomes chaos.
Pros
I will give an example of how I used it on one occasion and the advantages of having had this software.I was hired by a digital marketing company to improve proprietary applications, internal APIs, creation and migration of landing pages made in WP for our clients, migration of PHP applications to Python, server management, diversity of containers... The DevOps who was doing all that work left the company.An external audit was hired that provided workers spread all over the world, Spain, India, Latam...So we find ourselves with a lot of work, from very different areas, work environments and projects of all kinds and just one person to manage everything.With Jira we all worked under the same environment to organize tasks, but above all incidents and bugs, and with the need to manage the priorities of each new element that entered our work boards.At a glance, I could assign tasks, review code, refactor or modify it, and upload it to the test servers. Review the tickets, with screenshots of the errors or the new results that should be obtained. Keep in touch with everyone from one place and also receive all feedback in Jira.It was months of hard work, without Jira it would have been impossible to manage it.
Cons
Despite having Jira with everything necessary for software development, sometimes it becomes more complex and less visual than if we accompany it with some extras, also from Atlassian. So it is easier for some boards or planning to use Trello, GitHub or Bitbucket for continuous integration, Sourcetree to make the different branches and versions more visual, Composer for team collaboration...
Alternatives Considered
Trello
Reasons for Choosing Jira
It is expensive to maintain and you never get the ease of use and tools of software of this quality.
Reasons for Switching to Jira
It is more complete for incident management, priorities integrates better with other solutions
Industry: Computer Software
Company size: 11-50 Employees
Used

Daily

for

1+ year

Review Source
---
Jira Review
Overall, I highly recommend Jira to any team or business looking for a robust project management tool. It may take some time to get used to, but the benefits are well worth it in the end.
Pros
Jira is an extremely powerful and versatile project management tool that has helped our team stay organized and on track with all of our projects. The user interface is intuitive and easy to navigate, and the ability to customize workflows and add various plugins has been a game-changer for us.
Cons
One downside is that the pricing can be a bit steep for smaller teams or businesses. Additionally, the learning curve can be steep for new users, but once you get the hang of it, it becomes much easier to use.