About QuickBooks Desktop Enterprise
QuickBooks Enterprise is an accounting solution designed for SMBs across different industry verticals such as construction, nonprofit distribution, manufacturing, and retail. With QB Enterprise solution, any business owner can expand business operations using advanced inventory, reporting, and invoice tools, in addition to premium support from Enterprise's CS and Payroll teams. Quickbooks includes inventory management, inventory tracking, expense tracking, payroll management, invoicing, multi-user management, advanced reporting tools, and more. QuickBooks Enterprise offers customizable reporting tools that help users analyze data and make informed business decisions. With over 200+ auto-filled templates and 70 industry-specific reports, this Quickbooks accounting software helps businesses find the QuickBooks data to solve any business issue. Quickbooks advanced inventory tools allow businesses to gain visibility and control over the inventory management process with the ability to track inventory movement, automatically scan and update inventory items, manage any purchase order/sales order from one dashboard, and plenty more. QuickBooks Enterprise also allows businesses to control, customize, and automate financial transactions with job costing tools, batch invoicing, invoice tracking, cash flow management, fixed asset tracking, sales tracking, payment processing, and more. Businesses also have to ability to scan and attach multiple documents including receipts and quotes for multiple accounting tasks. The tool enables businesses to arrange documents into categories and keep track of important accounting files. This solution also maintains a change log to record changes within each document with the proper date and time stamp. QB also offers different QuickBooks software such as QuickBooks Premier and QuickBooks Pro that includes include different functionality and features.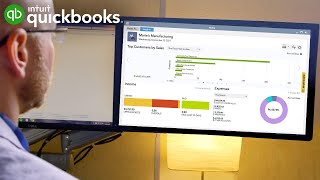 QuickBooks Desktop Enterprise pricing
QuickBooks Desktop Enterprise does not have a free version but does offer a free trial.
Alternatives to QuickBooks Desktop Enterprise
QuickBooks Desktop Enterprise Reviews
Industry: Publishing
Company size: 2–10 Employees
Used

Daily

for

2+ years

Review Source
---
Worth the price tag
I started out learning QuickBooks on the desktop version for a previous job, and the software has come a long, long way since then. The online version is well organized, easy to use, and in the three years I've been using it I've never run into a single glitch.
Pros
QuickBooks online gives me one place to track everything related to money for my small business: income, expenses, taxes, and payroll. It's easy to set up and use, and I like knowing that even when I'm not paying as much attention to some of the bookkeeping as I should, it's still being tracked for when I have time to get to it.
Cons
It's a little pricey and the help/FAQs aren't always that helpful, but those quibbles are greatly outweighed by how easy and useful it is.
Reasons for Choosing QuickBooks Desktop Enterprise
At least at the time I made the switch, FreshBooks didn't support expense tracking or tax software integration.
Reasons for Switching to QuickBooks Desktop Enterprise
One of the things that makes QB worth the price tag is that it includes *everything* a small business needs. Rather than having to track income, expenses, taxes, and payroll in separate places, everything is linked and organized in one place.
Industry: Accounting
Company size: Self Employed
Used

Daily

for

6-12 months

Review Source
---
except for a few restrictions, good for non-profit
If one can discover a technique to prepare end-of-year gift tax statements, it is preferable for small non-profits.
Pros
You can fairly handle non-profit accounting quite smoothly if you understand how to build up the chart of accounts, including utilizing Locations and Classes. Reporting is largely reliable. Entry of data is easy. The functions for export and import are excellent.
Cons
The issuance of end-of-year donation statements comes with significant restrictions. Sales cannot be excluded, nor can the statement content be changed to comply with rules. The assertions are fairly rigid.
Alternatives Considered
Xero
Reasons for Switching to QuickBooks Desktop Enterprise
The support for the UK version of Wave was being discontinued, and it did provide the capabilities that Quickbooks provided.
Industry: Computer Software
Company size: 2–10 Employees
Used

Weekly

for

2+ years

Review Source
---
financial management solution for businesses
I absolutely love using the software called "Quickbooks" for my business. I use it for my invoices and tax declarations quite often
Pros
The financial management software from Intuit offers a variety of features to help users manage their finances effectively and organized.User-friendly interface.Many features, including management of customer and supplier accounts, billing and spending management, and financial reports.Automatic synchronization with bank accounts for real-time tracking of finances.Integration with payment solutions online and payroll software.Online access for users, allowing real-time collaboration with colleagues and financial managers.
Cons
Some advanced features may be costly for users.Technical support may be limited for some users, especially for those using the free version of the software.Some features are not available for international users.There may be some bugs or errors during use of the software, even after updating.
Industry: Hospitality
Company size: 2–10 Employees
Used

Daily

for

2+ years

Review Source
---
Expensive, not written or tested just inflicted on the user base
This product really isn't of merchantable quality, in the UK in probably contravenes the sale of goods act. I'm constantly calling support which is something that I never ever had to do using the desktop version. when you call support about something that they've caused as a result of one of their upgrades you're told basically fix it yourself they take no responsibility support is truly appalling
Pros
absolutely nothing, QuickBooks online is not a patch on the desktop version which was stable and served me well for 15 years
Cons
absolutely everything, is unstable each release or upgrade on their system brings in new bugs and features that you weren't aware of. For example the previous payroll required you to write manual expense transactions in order to get the money from your bank account was the desktop version never needed that. when you're entering a bill or an expense if you over type the code in create a new expense code for you so you end up with multiple codes within your chart of accounts the screwing up your accounting.
Industry: Hospital & Health Care
Company size: 10,000+ Employees
Used

Daily

for

1+ year

Review Source
---
Accounting Solution: QuickBooks Desktop Enterprise Review
Overall, QuickBooks Desktop Enterprise is a powerful and comprehensive accounting solution that offers a wide range of features to help businesses manage their finances effectively. While it can be quite expensive, the software is well-suited for businesses with complex financial needs.
Pros
QuickBooks Desktop Enterprise is a robust and comprehensive accounting software that offers a wide range of features to help businesses manage their finances effectively. It has a user-friendly interface that makes it easy to navigate, and the software is highly customizable, which allows users to tailor it to their specific needs. Additionally, the software is well-suited for businesses with complex financial needs, such as inventory management and job costing.
Cons
One downside to QuickBooks Desktop Enterprise is that it can be quite expensive for small businesses, especially when compared to other accounting software options on the market. Additionally, the software does not have a cloud-based option, which can be a limitation for businesses that need to access their financial information remotely.