About inFlow Inventory
Looking for an inventory and order management system for your small or medium-sized business? inFlow is used in over 90 countries around the world for manufacturing, wholesale, distribution, ecommerce, and more. It's also simple to set up thanks to its cloud-based Windows, web, and mobile apps. With inFlow you'll have the tools you need to track products quickly and accurately. Inventory features allow you to receive, transfer, or fulfill stock in real time—including from iPhone or Android devices. Manufacturing add-ons enable quick kitting and assembly. Built-in barcode generation and label printing make it easy to adopt barcodes for scanning. Customizable access rights provide team members with only the features they should use. inFlow also has everything you need to stay ahead of orders. Ecommerce integrations centralize sales for simpler tracking and reporting. B2B Portals allow you to send customized prices and catalogs to specific customers. And reorder points help your teams submit purchase orders before you run out of stock. Chat, email, and callback support are included with every subscription.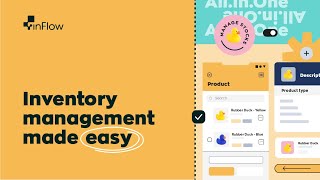 inFlow Inventory has a free version and offers a free trial. inFlow Inventory paid version starts at US$89.00/month.
Starting Price:
US$89.00/month
Alternatives to inFlow Inventory
Used

Daily

for

2+ years

Review Source
---
Sales & Purchase made simple
Software is one of my favorites for companies with no purchase order system.
Pros
Great for small companies who need sales and purchasing. Sales has records of customer quoted sales and purchases can see what to order.
Great way for a company to keep track of purchases and data can be exported to third part software. Purchasing software even has serial column for warranty verification of products. Was great for HVAC and appliance repair company.
Great software for company with no purchase order system. Can make everything paperless and user's can view inventory, content and prices with no license. User license is portable.
Cons
Software lacks year end inventory count reset. Reports could be better to show year to date expenses. I had a tough time getting year to date reports.
Industry: Cosmetics
Company size: 2-10 Employees
Used

Daily

for

2+ years

Review Source
---
Practical
It has all the we currently need in terms of order management and inventory management, and such basic functions are enough so far. But the SQL engine tends to jam very often... it is annoying yet not a cause to discard the software yet.
Pros
Easy to use, easy to deploy and configure
Cons
Unstable, tends to lag frequently. Consumes too much resources. Must be restarted once per day
Industry: Computer & Network Security
Company size: 11-50 Employees
Used

Daily

for

6-12 months

Review Source
---
Fully adaptable, simple Inventory Management System
Pros
Able to use to suit the amount of information you want to work with. Functioned with bare minimum to allow bare bones set up which can then be added to as you decide to improve with more functions as yoou have time to do.
Cons
Would be good to have a holding goods in location where items automatically store and then have process for putting items into their location.Label integration other than dymo.
Very intuitive, and such an easy entry into the world of bar-coding.
I went to the internet with a need, and that was to get our small business bar-coded, since the old words-only tags were taking so long to process at the point of sale, ie. hand written receipts and all, causing lineups that were too long at times and likely costing us business. I found your book offer "Bar-code Your Business" and ordered a copy. It was well written, very concise, and of course, led me to purchase Inflow.
What I REALLY like about Inflow is how intuitive it is. I didn't need to take a course to figure it out, as it feels very Windows-like. I purchased a no-name bar code gun online, devised a model code scheme for our products, and was up and running in no time. Thanks.
On the "not so shiny" comments side, I can't say I liked the upgrade from v2 to v3. The original v2 did everything I needed, and required less explanation to my helpers as to it's function. Suddenly with v3, we now had to hit Save, Fulfill and Mark Paid, all of which ended up with me having to fix this by cheating the date on my computer and closing orders after the fact, when the helpers didn't do it the first time. I was also broadsided one day when on the job, Inflow v3 just froze up on me and I didn't know what to do, exactly when I needed it the most. Well, it turns out that I had to be connected to the internet to use it, obviously so Inflow could monitor licensing/usage status. This was not good, although your customer service was quick to help me with this. If you could find another way to police the licensing, that would be nice. And finally, the one thing that drives me nuts (did again yesterday) is the fact that if I fill in the "customer name" field AFTER having filled in the sales order details, any discounts applied off original price get erased. This has on a number of occasions caused me to inadvertently overcharge customers, and is extremely embarrassing when it's they who notice it first and think I'm trying to "pull a fast one" on them. PLEASE fix this! (although I'm outside of my customer support time window, you can spare others the same issue).
Once again, I must compliment your customer service (hen it still applied to me) for their very prompt responses to any query I ever had.
Peter
Industry: Automotive
Company size: 2-10 Employees
Used

Daily

for

2+ years

Review Source
---
Inflow Inventory is my go to product
10/10 would recommend. Keeps track of orders, customers , and inventory in one stop shop.
Pros
I like the user friendliness of this software. Being a small business it makes life a lot easier.
Cons
Sometimes I have trouble uploading price sheets.