About HotSchedules
HotSchedules is the hospitality industry's most widely adopted intelligent scheduling software. Managers can cut their scheduling time down to 45 minutes or less with the intuitive drag and drop interface while maintaining federal, state, and local labor compliance with automatic and configurable scheduling rules. But a scheduling provider is just a glorified spreadsheet until there's data behind it. Powered by Fourth Intelligence, HotSchedules integrates with your POS to generate labor and sales data so your managers schedule the optimal number of employees every shift. Historical data, weather, events, and more are all considered! When you're ready, publish the schedule and all employees will be notified via our app, rated the #1 business app for 5+ years. Employees love how easy it is to swap and release shifts, message co-workers, and request time-off. Their schedules also integrate with Google calendar! We'll also ask them to rate their shift on a scale of 1-5 when they clock out, giving you much-needed insight into employee satisfaction levels. Larger organizations will also love the Above Store Console giving admins a bird-eye view into the performance of multi-location operations. And for a deep dive, there's a myriad of reports available, the most popular including labor snapshots, OT alerts, and even the average time managers take to approve shift swaps. Our support team will help you uncover what reports are most important to your business and can set up automatic delivery on a cadence of your choosing. Further empower operational excellence with our digital Logbook allowing you to maintain control of your brand's communications and operational procedures. Create mobile-first tasks lists, delegate to-dos, and assign follow-ups (use our 70+ pre-built templates if you're not sure where to start). Eliminate communication breakdowns and Post-it note nightmares with digital store logs and staff journals, allowing you to easily store important information like store deposits, complaints, and employee incidents (great for performance appraisals!). And finally, ace health inspections with food safety compliance measures including recording wireless temperature readings and time-stamped verification of all compliance tasks. HotSchedules Time & Attendance solution ensures payroll accuracy, further maintains labor compliance, and reduces processing time. Equally important, it will prevent early clock-ins (also called time theft or buddy punching). Just with enforced punctuality and overtime alerts, HotSchedules saved a store .5% in labor costs, putting an additional $17,500 per store back into the restaurant! HotSchedules is also equipped with employee surveys, health checks, and many customization capabilities. Your team will not only be equipped with the industry's most widely adopted scheduling software, but 24/7 support. In the spirit of making your lives easier, not harder, your onboarding process will include live trainings, an implementation team to set HotSchedules up for your unique needs, and a dedicated customer success manager who will never upsell you, only support you.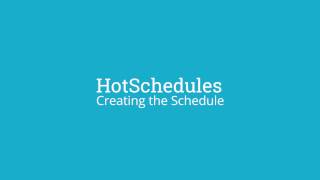 HotSchedules does not have a free version but does offer a free trial.
Alternatives to HotSchedules
Industry: Food & Beverages
Company size: 2-10 Employees
Used

Daily

for

2+ years

Review Source
---
The Software That Changed Scheduling
HotSchedules is so much more than just a mere scheduling software for companies. It is a way to empower your employees by giving them the ability to switch their shifts around in the event that something happens abruptly in life and you can't help but miss a shift. It has eliminated the anxious feeling you get wondering if the person you asked to cover your shift is going to follow through or not by opening the shift up to all employees to pick up for themselves if it fits their schedules.
Pros
This software was game changing from the very first moment I used it in the restaurant industry. In the past, I had found myself in situations at work where I had thought I had another teammate's spoken word that they would switch shifts with me and that would be enough to clear my name in the event that something went wrong and they didn't end up showing up. Little did I know that would not be the case and I am going to be held responsible instead of getting into a petty battle of he/said she/said with my coworker. Enter HotSchedules, a software aimed at eliminating that prospect from happening in your workplace again. Not only does this software put the power of controlling your schedule if you have a last minute emergency, it also carries that message of the switching of shifts to the highest form of management. It's an intuitive and life changing software that I wish every company would implement for its employees.
Cons
I honestly am trying to rack my brain for anything I felt was negative throughout my experience using HotSchedules and I can truthfully say that not once did this software let me down. People picked up shifts because they actually wanted the extra work and it eliminates the need to single out a coworker and put the pressure on them and opens the shift up for the possibility of any team member to pick it up.
Industry: Food & Beverages
Company size: 5,001-10,000 Employees
Used

Daily

for

2+ years

Review Source
---
Your Schedule On The Go!
Wonderful! I can easily access using the app from my phone a comprehensive view of todays roster and more! Helping me as a director plan a shift before I even get to work. Especially important to plan in my business because surprises arise frequently and daily. I can also easily request time off needed through the app, call, text, or even email my staff if needed to. Hot Schedules saves me and my company time, money, and helps our business to stay productive!
Pros
I really enjoy the convenience of being able to view your work schedule remotely and anywhere for that matter! Set up an email or a Gmail account and it's delivered right to your inbox! Gone are the days of having to call your employer or having to drive to your place of employment to view it on paper. "Your" time is valuable and let's be honest, none of us want to go to work on our days off for any reason!
Cons
I really and truthfully speaking have nothing negative to include with Hot Schedules. It's been a great software addition to our store and team! If someone did tell me that I had to pick out one feature that I don't care for, I guess it'd be the "How was your shift?" feature that pops up when logging on. That said, it's such a minor dislike and isn't really worth mentioning.
Industry: Restaurants
Company size: 201-500 Employees
Used

Daily

for

2+ years

Review Source
---
General Manager and partner
It is very difficult to get responses from customer support. It will take a day and up to 3 to hear anything back and that is in several different support groups. Also, the fact that you get shuffled from one type of support to another is quite frustrating. When you start you have 1 person that owns the majority of the experience.She was great! But once you get passed on to customer support it feels like you are lost.
I also have an issue with the scheduling functionality. It is impossible to view an entire day of a schedule either in the schedule or the template. There used to be a button at the top of the schedule that allowed you to see the entire day, who was scheduled in each station, all at a glance. The new functionality makes it incredibly difficult to manage the level of staff on a shift.
Pros
The logbook feature, the advanced floor maps (which are an additional cost..), and the messaging feature.
Cons
Again the scheduling software is not very user friendly. Clearly there were some adjustments made that helped with writing a schedule, but not being able to view it as easily is frustrating.
Response from

HotSchedules

Hey Carisa!

Thank you for the feedback. We apologize for the frustration you've been experiencing with our product and customer support services. Here is an article to an overview of the new scheduler that might be helpful.

https://help.hotschedules.com/hc/en-us/articles/218408118-HS-New-Scheduler-Overview

Please reach out if you are continuing to experience difficulty with the software.

Replied 09/02/2017
Industry: Restaurants
Company size: 51-200 Employees
Used

Daily

for

1+ year

Review Source
---
This software is easy to use and a great way to communicate.
The largest benefit was time management. I have a lot more time to do other things that improve our guest's experience, which is the bottom line of my job.
Pros
The communication side of it is great. I have less meetings now that I can send out mass messages. The scheduler itself is top notch. I can move shifts around quickly using the quick keys and copying schedules is a snap. Having the freedom to do my schedule anywhere and being able to approve or deny schedule changes from my phone makes those decisions more informed. We use it to document all incidents good and bad on employees, so when an evaluation comes around you have all that information at your fingertips. It makes a great reservation scheduler. The roster report is the first thing I print out in the mornings to make sure everyone is here and where they are supposed to be and if they are not I have all the phone numbers on that sheet. The fact that it gives you the number of hours for everyone helps with creating budgets for the week.
Cons
My biggest complaint is that part of the expense for the is put on the employee. I know it's very little but some employees don't have a bank account or credit card and have trouble making the purchase. It seems to me that the revenue generated by that could be built into the cost of the software on the employer side.
Industry: Food & Beverages
Company size: 11-50 Employees
Used

Weekly

for

2+ years

Review Source
---
Restaurant Must have
As a former manager at a Texas Roadhouse, I was familiar with this software, and eager to bring it to my new venture. It immediately eliminated the use of paper schedules, and the chaos of employees switching shifts without making management aware. This increased both labor costs, and morale.
Pros
It's easy to use, built for high volume restaurants. I took a restaurant that was still relying on paper, emailed schedules, and converted them to Bot Schedules. This eliminated issues of shift coverage changes, where we expected one employee, but another showed up, and all the associated communication issues.
Cons
It was much more difficult to order and install that I previously remember. Customer service in the sales department was definitely lacking just a touch. Once we got the ball rolling it was fine, but the initial sale was a bit rocky to start.