About KORONA POS
KORONA POS provides point of sale software, inventory management, and CRM services for all types of retailers, such as convenience stores, liquor shops, and QSRs. The POS software also caters to museums, theme parks, and wineries with its ticketing and membership features and integrations. The cloud-based solution can scale with businesses to serve multi-location and franchise operations. It can automatically calculate commission and franchise royalties. All business operations through the point of sale can be completed on-site or remotely. Newer KORONA POS features provide advanced product analysis with ABC inventory grading, detailed sales reporting, automated reordering, stock notifications, theft prevention, and employee management tools. Most features are fully customizable, including gift cards, promotions, discounts/sales, staff permissions, menus, reports, and more. KORONA POS is payment processor agnostic, leaving the choice up to the retailer. The software runs on Windows, Linux, and MacOS, and on either mobile or stationary hardware. The software also supports all peripherals, including all modern forms of payment. There are no contracts or commitments and included 24/7 support.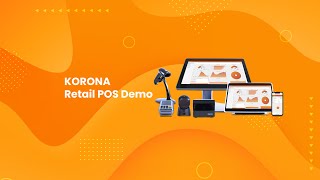 KORONA POS does not have a free version but does offer a free trial. KORONA POS paid version starts at US$59.00/month.
Starting Price:
US$59.00/month
Alternatives to KORONA POS
Industry: Wine & Spirits
Company size: 11–50 Employees
Used

Daily

for

6-12 months

Review Source
---
Best business decision!
I had such an antiquated system before, implementing Korona has been a huge game changer for my overall profitability. Implementation was seamless and painless! The support staff is great and always ready to help. Had I known it would be this easy, I would have made the switch sooner!
Pros
Korona makes it so easy to manage my business remotely. I can easily update pricing, enter stock receipts and view all my sales data from the website. All the POS features are customizable based on your business and the reporting is pretty endless.
Cons
My only "want" at this point is more features available from the mobile version of the back office.
Reasons for Choosing KORONA POS
Running reports and accessing the data I need to make business decisions was a nightmare. The software was not web-based and does not run on a Mac computer. Working in that system was so time consuming.
Reasons for Switching to KORONA POS
I ran a custom software development company for 12 years prior and the second I set up a demo account, I knew the interface would meet my high expectations. My account executive got right to the point and answered all my questions. There was no "selling" me, which I loved. The software did that already, working with a team like Korona is exactly what I was looking for!
Response from

COMBASE

Thanks, Kristen! We're always working on improving the product and service, and the mobile side of the back office will have new features soon. We'll keep ya posted!

Replied 27/04/2022
Industry: Wine & Spirits
Company size: 11–50 Employees
Used

Daily

for

1-5 months

Review Source
---
Great POS and Support Team
We transitioned multiple software solutions looking to find something that would fully integrate while also helping us dig deeper into our sales data and manage our inventory more closely. Korona has provided solutions for all of those things and made it so much easier to manage our business uniformly across all three tasting room locations as well as managing our Wine Club and online store.
Of all the software solutions we transitioned to this year, Korona greatly exceeded the customer service of all others. While other solutions were hard to get in contact with (especially with a real person), Korona was always easy to reach, extremely personable, knowledgeable, and quick to help.
Pros
The reporting you are able to do in Korona is amazing. It helps us make decisions about store hours, staffing, products to re-order, etc. much easier. We liked being able to customize the buttons in a way that made the most sense for our business and staff. It is much easier to train new staff members on Korona compared to our previous POS software, which is great!
Our favorite part of the software would be the Support and even Sales team though, they made the transition so easy and continue to promptly assist us with any issue or concern that arises. They work with us to ensure we are happy with the way things are operating and are just AMAZING overall!
Cons
We have struggled with getting the Quickbooks integration to work correctly for us. We also purchased a tablet from them that is extremely slow and frustrating to use the software on.
Reasons for Switching to KORONA POS
The pricing and features available from Korona was better than the others we had previewed. Plus the ability to adjust the quantity of POSs we have active seasonally to fit our business needs.
Response from

COMBASE

Thanks for taking the time to leave us a review, Oniqueh. We're proud of our customer service, so that's really nice to hear :) Call us with questions anytime!

Replied 24/07/2019
Industry: Leisure, Travel & Tourism
Company size: 2–10 Employees
Used

Daily

for

Free Trial

Review Source
---
KORONA Review
Pros
Software was good and features designed
Cons
Cost to much should have cheaper price for people
Response from

COMBASE

Hi Steven, thanks for the feedback. Glad to hear that you liked our product, but sorry to hear that it wasn't in your price range. We strive to provide reasonable prices for each of our POS software solutions.
KORONA's software-as-a-service always comes as a flat monthly rate with no extra fees or expenses. Often, "cheaper" solutions end up being more expensive once all fees are added on.
Please don't hesitate to reach out again if you're interested in setting up a demo with your free trial so you can see each of the features that KORONA comes with. Our support and customer service team members are pretty great :)

Replied 12/08/2019
Industry: Retail
Company size: 11–50 Employees
Used

Daily

for

1+ year

Review Source
---
Really excellent POS system
Extremely positive. The software interfaces correctly and well with all of the equipment we need it to, the reporting is extensive, the inventory management works well, and the customer service is the best of any of our vendors.
Pros
How fully featured it is. There's nothing I've needed to do that Korona couldn't handle one way or another, which cannot be said for literally any other POS I've used in my career.
Cons
The user interface leaves a good bit to be desired. It's not unusable by any means, but it does feel as though the UI was designed by developers, not designers. Can be confusing and unintuitive at times.
Reasons for Switching to KORONA POS
Natively supports everything we needed it to.
Response from

COMBASE

Thanks, Greg! Let us know about any specific features that seem a bit clunky. We're always trying to make the product as seamless as we can.

Replied 27/04/2022
Industry: Wine & Spirits
Company size: 2–10 Employees
Used

Daily

for

1+ year

Review Source
---
Korona POS for Liquor Store
Overall a great product for retail POS system. Integrates with my credit card machine so cuts down on the potential for human error. End of Day reporting is excellent. Employee time clock is great as well.
Pros
Value for the money is excellent and the customer service is the best I have experienced.
Cons
No ID scanning and no "Legal Birthdate" that shows on the POS screen.
Reasons for Switching to KORONA POS
Cost and cloud based so I could use my own hardware
Response from

COMBASE

Thank you, Stephen! Hopefully, we'll have those extra widgets for your dashboard sometime soon.

Replied 27/04/2022