About monday.com
monday.com is an award-winning work and project management platform that helps teams of all sizes plan, prioritize, manage, and execute their work more effectively. The platform offers solutions for a wide range of use-cases such as marketing, sales, operations, IT, HR, and more. It's no-code/low-code, fully customizable, and has 200+ ready-made templates to help every type of user quickly get started. The visual and intuitive interface creates a collaborative environment where team members can assign tasks, create project plans, set dependencies and due dates, communicate in real-time, share files, and more. monday.com offers a variety of productivity features designed to simplify workflows, improve cross-team collaboration, and optimize time-and resource management. No-code automations eliminate repetitive tasks, integrations centralize every app and tool in one place, and advanced reporting helps users make data-driven decisions. Multiple view options such as Gantt charts and Kanban let teams easily navigate projects from start to finish, and visual dashboards help managers track progress, timelines, and budgets at a glance. The platform is ideal for managing everything from simple to complex projects or workflows and is equally suitable for in-house teams and remote workers. monday.com integrates with 37+ commonly used apps and tools such as Outlook, Microsoft Teams, Zoom, Excel, Gmail, Google Drive, and Dropbox. So users can easily continue working with any software they already know, within the platform. In addition to the standard platform, monday.com also offers these dedicated solutions designed to answer the needs of specific industries and use-cases: monday work management monday marketer monday sales CRM monday dev monday projects monday.com has four price plans: Basic Plan, Standard Plan, Pro Plan, and Enterprise. Support is available 24/7 through the monday.com support team, the online knowledge base, and video tutorials.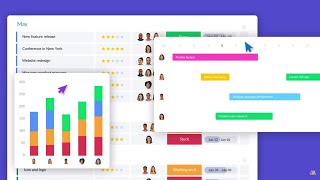 monday.com has a free version and offers a free trial. monday.com paid version starts at US$8.00/month.
Alternatives to monday.com
Industry: Human Resources
Company size: Self Employed
Used

Daily

for

Free Trial

Review Source
---
Is Monday.com the Perfect Solution for Collaboration and Productivity?
Monday.com is a powerful and user-friendly project management & collaboration platform that offers a wide range of features and capabilities. Some of the features that I have used so far have had a very positive impact on increasing the efficiency of managing small-mid size projects.One of the best options that I use extensively is to create custom dashboards with a variety of widgets, such as charts and maps, and to track the progress and analyze data in real-time.Internal communication within teams is another feature that can help large teams spend less time using other modes of communication. Integration with other tools is a feature which I did not yet utilize, but it has a large library of data connectors that allow users to integrate the platform with other tools. Another fantastic option available is to use the mobile app that allows users to access the platform and collaborate with their team on the go.Overall, Monday.com is a comprehensive and user-friendly platform that can greatly improve the efficiency and productivity of teams and organizations.
Pros
One of the stand-out features of Monday.com is the customization options that it allows its users. There are a variety of customization options, including the ability to create custom fields and tags, to tailor the platform to the specific needs of the user.
Cons
Although Monday.com is one of the best tools in its category, the two drawbacks that I consider are that it may have a steep learning curve for some users, particularly for those who are new to project management or collaboration platforms. The second cause of concern about it is that it may not be the most cost-effective option for all users, particularly for those on a tight budget. While Monday.com offers a free version of its platform, the paid plans can be expensive, especially for larger teams.
Industry: Marketing & Advertising
Company size: 2-10 Employees
Used

Daily

for

1+ year

Review Source
---
Best tool for project management needs
It is easy to navigate, and the interface is straightforward and visually appealing. I have never experienced any issues with the platform, and customer service has always been responsive and helpful. Overall, I am very pleased with my experience with monday.com and would recommend it to others.
Pros
I use Monday.com for the last two years and it has been a valuable piece of my Project management and Operations processes. I have used many online tools over the years, but none of them compare to the productivity and efficiency of Monday.com. It is easy to use and it keeps me organized. It really helps me manage my projects and tasks. I also like the reporting feature because it helps me determine which projects I'm working on are the most profitable and which ones I should prioritize over the others. This tool is great for small businesses and enterprises alike.
Cons
One potential difficulty with Monday.com is the initial setup of your boards and automation. If you are not familiar with the tool.
Reasons for Switching to monday.com
There are a few reasons why I chose monday.com over the alternatives.First, monday.com is extremely user-friendly and easy to use.Second, monday.com offers a lot of features and customization options. And third, monday.com has great customer support.Overall, I think monday.com is the best option for project management.
Industry: Education Management
Company size: 1,001-5,000 Employees
Used

Daily

for

2+ years

Review Source
---
It's Just Okay
Pros
The system does help you organize projects and tasks. I loved all the integration options.
Cons
My biggest complaint has been downtime. It seems like the system goes down often. I have numerous complaints from the field regarding uptime or integrations/automations just not working.
Industry: Nonprofit Organization Management
Company size: 11-50 Employees
Used

Daily

for

1+ year

Review Source
---
Good Tracking System
At first it was a great tool to play around with to figure out the best way to track our event and who was working on what portion. The quick look at the colors to see the progress was great. There was a place to put notes and mention people in posts to let them know there are tasks waiting for them. However, the customization was not the best. If you added one column to a section, it added it in for all sections. I did not have the time to take a deep dive but maybe if we got a higher package we would have more functions to organize. It was encouraging/discouraging to see the progress of the event and held people to be accountable for their portion. However, having to update this daily as we got closer to our event got too laborious to do. In concept, it's a good tool, but was not the right fit for my company and I.
Pros
That I was able to see what my co-workers were working on and their progress with the task. They used easy-to-view color-coded options.
Cons
You are able to clearly see the progress of your co-workers, however, it is hard to make updates or edits to the task. There is an area to make notes, however, it is not in the front for people to see right away. You need to click in to the whole task. Also, when you make a column for one section it creates it for all. Some columns are not necessary for each section and can be confusing when updating.
Industry: Accounting
Company size: 201-500 Employees
Used

Daily

for

1+ year

Review Source
---
Monday.Com for advice tasks
Very positive experience and we have deployed it throughout our Organisation
Pros
Simple to set up and import existing lists. Easy to set up automated tasks and reminders
Cons
Slightly costly as it works on a per user basis to get the most out of the software. Would be useful to be able to have a master database to read data into - so various lists can be linked
Reasons for Choosing monday.com
The Excel sheet was dead in the sense that it was not actively reminding staff of deadlines and it does not allow multi user collaboration
Reasons for Switching to monday.com
Whilst a lot of products provide task management, Monday.Com was the closest to Excel with added benefits