About Bitrix24
Bitrix24 is an online workspace for small, medium, and large businesses. It features over 35 cross-integrated tools, including CRM, tasks, Kanban board, Gantt chart, messenger, video calls, file storage, workflow automation, and more! Switching to Bitrix24 eliminates the need to be subscribed to a bunch of different SaaS solutions. You get all you need in a single package — all at a flat rate. With over 12 million users, Bitrix24 is one of the most popular business software solutions in the world. Bitrix24 is a client management solution that provides a platform for businesses to organize and track interactions with potential or existing clients and partners. The software allows users to log and manage client interactions, capture and store lead data, generate sales reports and perform segmentation of target audiences. Leads received from a user's website (for example, from an order or feedback form) can be fed directly to the CRM. Users can then create message templates, send individual or group emails to leads and contacts, capture notes on client interactions, schedule meetings and assign tasks. Users can create personalized invoices for clients by automatically inserting client information and sending them directly to the client's email address. Bitrix24's sales funnel functionality offers an overview of sales transactions in progress and their respective stages. With the sales dashboard, sales agents can see how many deals they've won, how many clients haven't been invoiced yet and an agent's rating in comparison with other sales team members.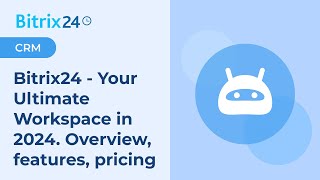 Bitrix24 has a free version and offers a free trial. Bitrix24 paid version starts at US$61.00/month.
Starting Price:
US$61.00/month
Industry: Internet
Company size: 5,001–10,000 Employees
Used

Daily

for

2+ years

Review Source
---
Reliable CRM platform
We have a great experience deploying Bitrix24 as our main platform to organizing and managing our customer related service. We also use the task management tools provided as our alternative task management platform and to manage my basic daily task.
Pros
Bitrix24 has almost everything that a "Customer Relationship Management" needs and it is very easy to implement this platform to work flawlessly with our current system. It has a very good tool for contact management that we use to manage our employees profile, customer ticket and contact details.
Cons
There are some report details that are left out in the report generated that are very important for us to have a clearer analytics and insight. They should also fix the integration feature, as some of the integration is not properly integrated and no data are shown in the software after it is connected.
Industry: Computer Software
Company size: 51–200 Employees
Used

Weekly

for

1-5 months

Review Source
---
Experience after 6 months of use Bitrix24
Bitrix24 is a CRM program that can outperform other lead management software in its class. With an all-in-one CRM platform, users can develop and manage leads, manage projects, provide customer support, manage internal communications, and even construct websites.
Despite having such an extensive range of services, Bitrix24 offers incredibly cheap costs when compared to other channels, making it easier to develop a skepticism. Offering a set monthly pricing for an unlimited number of customers is also uncommon among small and medium-sized businesses.
Like media and social networks, it has an easy-to-use interface. When users register with Bitrix24 CRM, they instantly see the activity stream (Activity Stream) - this feature is similar to the interface used by Facebook. Users can upload files, events, processes and more to share with their colleagues. Finishing the project without explicit directions and being a little picky about the needed stages takes a long time.
Furthermore, the Professional package allows for an infinite number of users, allowing Bitrix24 CRM to readily handle quickly developing enterprises. However, it is not well-liked by entrepreneurs.
As a result, Bitrix24 is best suited for mid-sized businesses prepared to devote a significant amount of time in studying how the program works and educating staff on how to utilize it.
Bitrix24's disadvantage is that it requires more steps than comparable CRM platforms such as Zendesk and Freshworks, but at a significant
Pros
Lead generation and management :
The lead management function of Bitrix24 gives consumers more opportunities to generate leads by using demand creation software. Content marketing, media advertising, online forms, and live chat widgets are a few examples. It assists them in identifying prospective and high-converting consumers.
Bitrix24 can also assess how many fresh leads are received and what proportion of those leads convert into paying clients.
Cons
Analysis of sales data
The CRM analytics solution from Bitrix24 enables customers to examine sales trends, assess lead conversion rates, and properly estimate sales. However, errors frequently occur as a result of difficulties caused by poor handling of virtual parameters.
Lead source analysis capabilities show customers which channels are producing the greatest results for them in terms of lead sourcing. Assist them in determining which marketing or advertising platforms they should prioritize. Done, like other channels, contains faults since reviews are frequently fabricated or have very little owing to the anonymity element of the reviewer's identity.
Their website, social media advertisements, physical events, and Google AdWords are all potential consumer source channels. There will always be channels that fall short of expectations.
Alternatives Considered
Odoo
Reasons for Choosing Bitrix24
After hearing about the integration with Bitrix24's Zendesk application, I did some investigation and discovered that Bitrix's price was significantly lower than it is now. Although several phases are more involved and need more time to teach in the firm, our utilization is somewhat better than when we were utilizing Zendesk.
Reasons for Switching to Bitrix24
Because the cost is cheaper. In addition, our partners in Singapore also often use this platform and they have requested to work on it. So, during the project, we completely changed our team's old tools to fit the job.
Industry: Automotive
Company size: 10,000+ Employees
Used

Daily

for

2+ years

Review Source
---
All-in-one platform, organize daily work and improve collaboration.
Bitrix24 made a difference me unravel issues related to separate whereas working with a few accomplices and colleagues from other cities or nations, I can effectively share and track any assignment related to our company. We utilize Bitrix24 at work for everything, it is our entry to communicate, send records, video calls, chats, it too has numerous highlights and devices for successful CRM, such as the Gantt chart to screen assignments and their advance. We utilize it over all divisions to make strides execution and collaboration. Bitrix24 is making a difference us oversee our lead era pipeline and makes a difference us analyze and venture income from distinctive trade channels, it too makes a difference computerize certain forms inside lead era.
Pros
It is simple to utilize and explore, it is an amazing collaboration instrument that permits you to bunch all your ventures, records, assignments, contacts and messages, I am astounded with the speed and accuracy of the AI (manufactured insights) chatbot that permits you to make errands , reminders and notes with fair some clicks. As a group pioneer, this program has made a difference me organize my group way better and made a difference us get our assignments done speedier. Its interface is exceptionally simple to utilize since it is like our inner social arrange, which makes it energetic and simple to utilize, records and archives are sent and transferred rapidly and video calls are perfectly capable of being heard and see exceptionally clear. The truth that it is within the cloud makes everything effortlessly open and our computer does not get over-burden with data.
Cons
In some cases the program can feel a bit overwhelming, maybe it could be a computer issue or a terrible configuration when installing the computer program, in spite of the fact that it could be a fairly total program, it seem utilize a few other integrative so that everything is within the same program . The client interface is the worst, it is simple to utilize but after you have experience in comparable computer program since it really isn't as natural as I would like. No matter how long you employ it, you'll still conclusion up befuddled attempting to discover diverse alternatives over stages, furthermore the analytics isn't simple to utilize and design.
Industry: Staffing & Recruiting
Company size: 11–50 Employees
Used

Daily

for

1-5 months

Review Source
---
Bitrix24 - Team Lacks Sensitivity on Custom Reports - Highly Irresponsible Team
Bitrix24 has strong potential but sad to express, they are not a serious organization with its product development module is of still old age. Definitely Not at all a matured technology with the failure to understand basics if it comes to the custom tab. Humble request please understand and Learn the basics of sales, what is important aspects to measure in every organization in sales is employee performance and lead management efficiency,
The customer service you keep on banging your head but their support is like if they want they will give else you keep on reminding
Hope you understand and trust your customer's hard-earned money, understand their problems, help them grow with the right kind of solutions, rather than just with your patient reply, "SORRY we don't have this feature right now, new development request has been created."
Pros
When you are working on a sales CRM, the team's performance report is of utmost importance. I have been doing follow-ups for the last month and the reply is that as of now there is no such report in their system.
We are using it for our service industry. Just a disaster system, 2 years the money is sheer loss of money and more than that loss of trust and respect towards this brand who is least serious in considering the basics of employee daily/weekly/monthly performance report.
Cons
You check for any basic report you will not get. Their system cannot give reports based on your custom fields and thus the entire system fails to adhere to basic sales processes.
Their employee performance report is just an eyewash, they don't have an employee reporting structure at all, what the biggest disappointment.
Bitrix24 lacks sheer understanding of the basics of the sales process
Before any sales deal happens there are various stages towards that success first it begins with lead validation, if the lead is not validated then it's a sheer waste of time, effort, and energy.
So after lead validation, the mail is sent after that follow-up begins then its success or failure
Everyday sales team have to work on this process but sad to say No reporting structure at all
-Employees Lead Management (the chart is showing but not working in CRM ANALYTICS)
-Custom field tab reporting not there at all
-If you want to see entire sales employee's daily activities Bitrix24 does not has it at all
like how many leads validated, email sent, call made, task scheduling
-Employees time spent on Bitrix24 is not there on the std module, these are bare min basic features
-If you have dismissed an employee from an organization or any employee has left, you cannot remove that person from Bitrix24
-They don't have birthday greeting features for leads, it is only possible when they have done deals this is just a weird example.
-Your email bounce back no reports
Industry: Hospital & Health Care
Company size: 5,001–10,000 Employees
Used

Daily

for

2+ years

Review Source
---
Functional and collaborative communication tool
It improves work flow by enabling secure, remote online communication. This solution uses professional-grade tools to satisfy all needs, from collecting team opinions to monitoring financial operations and trade.
Pros
Tasks, projects, and pipelines are Bitrix24's best features. It helps manage project roles. Functions can also classify members. It defines workflow management, project organization, and scheduling skills.
Cons
It is thorough and straightforward to integrate into business, so far. It's simple and customizable to your company's needs.