About Agile CRM
Agile CRM is a cloud-based customer relationship management (CRM) solution designed for small and midsize businesses. It offers contact management, telephony tools, appointment scheduling, marketing automation, project management, a landing-page builder and knowledge base functionalities. The contact management module lets users record and access customer data such as contact information, interaction records, social-media accounts and lead scores. The software also offers email integration, which allows users to sync data with email services including Gmail, Microsoft Exchange and Office 365 and IMAP services. Users can track website visitors to analyze customer behavior, and marketing automation tools help users create marketing workflows with a drag-and-drop interface. Users can also send automatic reminders based on time and contact options. Agile CRM also includes task management functionality. Users can drag-and-drop tasks in lists, sort tasks, add notes and update task status. Social media integrations allow users to publish and respond to posts on social channels such as Facebook, LinkedIn and Twitter. Pricing is per user per month. Phone and email support is available.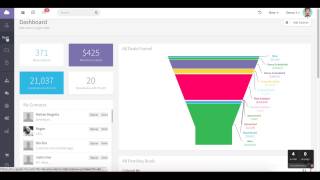 Agile CRM has a free version and offers a free trial. Agile CRM paid version starts at US$8.99.
Alternatives to Agile CRM
Industry: Media Production
Used

Daily

for

6-12 months

Review Source
---
The CRM that packs a punch and delivers the lead every time deserves some of the spotlight.
Pros
Agile is a diamond in the rough so to speak. It feels like the tech world is a giant popularity contest and the few formed a club and left some of the better players out. Agile may not be listed alongside the trendy inner circle but good for them they stand in a place of their own and the customer is made better for it. When I found Agile I was enticed by their Free plan- not trial but free plan with a good amount of flexibility for a startup to fully integrate the CRM for zero out of pocket. The product will scale with your growth and they have several paid levels so as you step up your monthly plan will step up with you and not kill your cash flow. I really appreciate the email automation and landing page builder inside the CRM. The landing page function is easy to use and makes quick customized landing pages. The other CRM systems are priced much higher and offer similar functionality to Agile and Agile is a fraction of the cost. Now, as with any CRM the learning curve may be high and indeed this was the case for my use of Agile.
Cons
Agile is not an easy product to just pick up and go. It will require some basic knowledge and a willingness to learn the program. The great news is that Agile offers webinar trainings and onboarding at no extra cost as well as they host a huge assortment of training modules and videos.
Industry: Cosmetics
Company size: 51–200 Employees
Used

Daily

for

6-12 months

Review Source
---
Agile CRM is by far the most versatile and efficient option on the market
I am thoroughly impressed with Agile CRM and would highly recommend it to any business looking to streamline their customer relationship management. The amount of features offered is unmatched and the ability to automate many of the repetitive tasks has been a lifesaver. I feel more organized and in control of my customer interactions than ever before.
Pros
Agile CRM has been a game-changer for my business, providing a one-stop-shop for all of my customer relationship management needs. The user-friendly interface and intuitive navigation make it easy to stay organized and on top of my customer interactions.
Cons
I have had some technical difficulties with the system at times, but their 24/7 support team has always been quick to resolve the issue.
Industry: Retail
Company size: 2–10 Employees
Used

Daily

for

2+ years

Review Source
---
Good CRM but with some major ongoing bugs that they will not resolve
I have been using since 2008 - connecting JSON nodes to read data directly from Google sheets. I know more about Agile then most of their own staff. I have brought this exact issue many times.... and no change.
So beware of this company, and the stupid bugs they refuse to fix.
Pros
Emails are cheap to send -- JSON node is very powerful allowing high levels of integration and automation.
Cons
Bug when trying to "copy" a campaign.
It just gets stuck after adding the word "copy" to the start of the campaign name, and a pop up saving "saved" does not show. If you don't realise you did not see the popup, then you then think it has made the copy.... but you are still working in the old campaign. Many times this has lead us to overwrite our original campaign.
Right now, I simply need to copy the campaign so send another our email for Black Friday.
After 30min trying everything, including restarting my computer. I still have this bug and cannot complete a very simple task --- which now is proving very costly.
Reasons for Switching to Agile CRM
Hubspot is very expensive, and most thing you can do in Agile -- and Agile is "agile", if you know how to use the tools they have like the JSON nodes.
Response from

Agile CRM

Hi Tom,
We are really sad that you had a bad experience with Agile CRM. We have always been a customer focused company and constantly endeavor to deliver the best services. Our product team also focuses on regularly rolling out more advanced and robust features. However, in this process, there remains certain features which are more complex to operate or have a bigger learning path. I recommend you to contact our customer success team for a personalized training so that you can get a better understanding on how to use them more efficiently.
Thank you

Replied 18/12/2020
Industry: Financial Services
Company size: 501–1,000 Employees
Used

Weekly

for

2+ years

Review Source
---
Fantastic and HIGHLY customizable
Agile is a highly customizable CRM platform for someone (or team) who wants detailed customization of not only the pipeline management but also automated (or semi-automated) email, phone/text integrations also.
Pros
This is one of the most highly customizable CRM's I have found. the customizations and integrations are fantastic. Integrations of 3rd party software appears to be growing and is still a bit lacking but the key integration of google contacts sets if far apart from the competition.
Cons
It can be a bit on the tedious side to customize and set up. It is not simple enough for many would-be users and does require some above-average computer skills. On the plus side, the ability to customize so much more than other CRM's is also what sets it far apart from the competition.
Industry: Marketing & Advertising
Company size: 501–1,000 Employees
Used

Daily

for

1-5 months

Review Source
---
Agile CRM: Pros and Cons Complete Review
Pros
Agile CRM appealed to me because it is an all-in-one customer relationship management (CRM) platform that includes a wide range of features and tools for more effective customer relationship management. It includes contact management, sales automation, marketing automation, customer service, social media management, and other features. It also has an easy-to-use and understand interface. Furthermore, it provides excellent customization options, allowing users to tailor their CRM to their specific needs.
Cons
The lack of customization options is the least liked aspect of Agile CRM. While it is simple to use, customizing the look and feel of the interface is not always simple. Furthermore, some users have reported that customer service is slow or unhelpful.