About 3CX
3CX Phone System is an open standards communications solution, suitable for any sized business that wants all the features of an advanced contact center at a fraction of the cost. 3CX can take your business communications to the next level, helping to improve collaboration, boost productivity, increase mobility and enhance the customer experience. Installation and maintenance can be handled effortlessly by anyone, whether installed on-premises on Windows or Linux on an appliance or server, or in the cloud.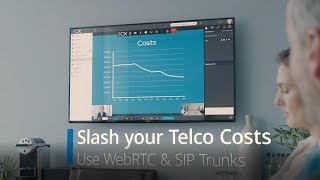 3CX has a free version and offers a free trial. 3CX paid version starts at $0.00/month.
Starting Price:
$0.00/month
Industry: Information Technology & Services
Company size: 11-50 Employees
Used

Daily

for

2+ years

Review Source
---
The best VoIP phone system for small businesses
We had a customer that had 3 different companies within the walls of the building. We were able to configure each company separately so that their rules, hours, and each had different SIP providers that needed to be configured up properly. Each had their own digital assistant and the system setup took only a few hours to complete with all the complexity that was involved. Technical support was outstanding in assisting with the troubleshooting and setup.
Pros
The 8 concurrent call Standard License is free to all companies. This makes it a perfect solution for churches, small businesses, and as the small businesses grow into medium sized businesses, the annual cost for the license with higher concurrent calls is nominal. When companies switch from the POTS lines, they need to figure out a good solution for VoIP. 3cx is lower cost than RingCentral and 8x8 as well as many other competing VoIP softwares.
Cons
Putting in supported APAP adapters is great, but when a customer has a non supported adapter, it usually works, but doesn't play nicely with the software as far as configuring it easily.
Response from

3CX

Sincere thanks for your feedback.

Replied 29/11/2019
Industry: Computer Networking
Company size: Self Employed
Used

Daily

for

2+ years

Review Source
---
phonesystems do still excist and usability ontop
3cx is small or big companies the best option possible also customers not wanting to use cloud telephony 3cx still provides option to have on-prem solution
Pros
full featured phone system with no extra costs. possibility to have cloud deployed, private cloud or even on-premise!
Cons
some features are still in beta but they are already active and communication when issues rice is closely followed by support to have them asap out of beta.
Reasons for Choosing 3CX
to many bugs and price
Reasons for Switching to 3CX
for calling 3cx and in full lockdown and performance issues with 3cx we went for zoom for the online meetings
Response from

3CX

Hello Andreas! Thank you so much for taking the time to share your feedback with 3CX. We're delighted to hear you found 3CX to be of great use for your business during the lockdown.

Replied 11/07/2022
Industry: Computer Software
Company size: 11-50 Employees
Used

Daily

for

2+ years

Review Source
---
A good job partner
Pros
i like the ease of use and the quality of the service, i never have call problems
Cons
The installation is not clearly, the chrome extension crash many times and the UX and UI is old
Response from

3CX

Hello! Thank you so much for taking the time to share your feedback with us. We're delighted to hear you found 3CX easy to use and have no problems!

Replied 02/01/2023
Industry: Food & Beverages
Company size: 11-50 Employees
Used

Daily

for

1-5 months

Review Source
---
Call me.......The best phone system
The transfer (number port) from our old company was extremely smooth and hassle free, the business wasn't impacted at all.
Pros
The phone system appears to be reliable, and the new handsets we had installed, are very easy to use, with features such as touch screen and one button voicemail (no typing in a sequence of numbers) The display is large, and you can automatically see who is "speaking" as their name appears in red on the screen. The touch screen display can show in excess of 25 extensions numbers at a touch, no more entering extension numbers.I am also really pleased with the reports I can generate, such as the calls each employee has taken in a day, all sent via email at a time specified by you, and so easy to set up.The administration features, such as setting bank holidays, Christmas day is so much more user friendly than my old system.So far, I am very impressed, there are features I haven't even explored yet.
Cons
One major issue we found was, you cannot rewind the voicemail by seconds, you can only skip to the beginning. We have very large orders left on the voicemails, and we need to be able to jump back to hear one product. You can log on via your PC, however for us this isn't the best option.We have added a ticket and hope the feature can be included.
Response from

3CX

Hi Simone, thank you for your wonderful review! It's great to see that you have had a positive experience so far in such a short time! We also appreciate your feedback and your raised ticket will be reviewed.

Replied 10/11/2022
Industry: Computer Software
Company size: 11-50 Employees
Used

Daily

for

1+ year

Review Source
---
Serves small businesses very well for free.
In my opinion, it is a very good tool and hardly ever had problems, because the tool is very stable and with a very good usability, serving very well small businesses.
Pros
• It is free.
• Assists in the company's internal communication.
• It is always updated with improvements.
• Ease of receiving and transferring calls.
• Ease of configuration and installation by the end user.
Cons
• We used the trial version quietly for 1 year, but due to technical problems due to a codec, it caused a major internal problem where we stayed 3 days without a phone. For this reason the support of the company that provides the service asked us to change the application.
Response from

3CX

We are sorry to hear that you had codec issues. Can you explain which codec was used and what issues it created?
Codecs work using the SIP Offer - Answer model - a standard in SIP used for the update of session dialogs. This means that when a codec is offered by one endpoint (phone), and the receiving endpoint answers "no available codec" then a codec exchange occurs where both endpoints try to find one common codec (language) to use for their media. Like this every call is serviced and has more chances to get 2 way audio. It is important to tell us which codec you tried to use. Because firstly, we might have an issue to investigate or we might also give you an alternative codec you can use. We support all major codecs so I am surprised how the company that serves you recommended that you change the whole app.

Nonetheless, thank you for your feedback. I will forward this to the development team.

Replied 20/01/2020