About 1000minds
1000minds is conjoint analysis software designed for anyone who wants to make good decisions or is interested in its customers' or stakeholders' preferences. You don't need to be familiar with Multi-Criteria Decision-Making (MCDM) or Conjoint Analysis software already, our integrated help tutorials and expert advice will get you up to speed quickly and easily. 1000minds has won or made the finals of eight awards, and contributed to five other awards.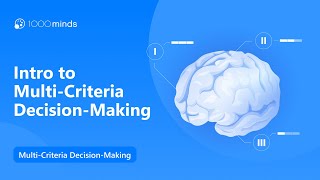 1000minds has a free version and offers a free trial.
Alternatives to 1000minds
Industry: Nonprofit Organization Management
Company size: 51-200 Employees
Used

Weekly

for

1-5 months

Review Source
---
Incredibly powerful software
Pros
- Simplifies incredibly complicated analysis to insights usable for students - nearly impossible for us to do conjoint analysis without it!! Just so much useful information to be gleaned from a single set of surveys.
- High flexibility and customisability
- Easy to set up mailing list/get and track survey respondents through the pipeline
- Simple survey interface for respondents
- Awesome support and expertise from the 1000minds team (Paul!)
Cons
- Sometimes a suboptimal user experience for administrators/analysts (naturally, given the complexity of the analysis...) and survey respondents (sometimes slow or progress is ambiguous) -- for us, setting up was made significantly easier by customer support from the team
Industry: Renewables & Environment
Company size: 2-10 Employees
Used

Monthly

for

2+ years

Review Source
---
Efficient and transparent decision making for complex systems problem solving
We use it for structuring team discussions so the participants are forced to declare and distill the fundamental criteria that underlie their trade-offs and priorities – the weights and investment priorities that emerge are immediately useful, but the method also builds group cohesion and understanding. We conduct formal Qualitative Analysis of transcripts of the group discussion recorded while the team performs the group experiment, so that outsiders can better understand the rationale behind the choices. Our outputs from 1000minds include formal peer reviewed science journal articles , confidential in-house reports for decision-makers, or sometimes just ways of building social capital in informal sandpit discussions of combatants that leave feeling heard and better about each other!
Pros
1000minds provides an elegant, efficient and transparent way of reaching decisions about 'wicked problems' like sustainability that are contested by multiple 'layers and players' that all want their say. The software is flexible - decisions can be reversed, constraint customized, levels can be interpolated if time constraints forces their exclusion. Design features allow scientific reliability – there are modules for accuracy checking, tracing of the decision path, and filtering out junk responses from random clickers when used by individuals. The simulation module allows the user to design a practical experiment and predict the number of choices in advance. Cell phones can be linked to allow more effective and anonymized voting in group work. The underlying PAPRIKA algorithm makes the choice experiments as fast as possible so that concentration of the participants is maintained, so more trade-offs can be tested in each session. Best of all, the users have confidence in the outcome and process because software has proven credentials after years of use by diverse uses.
Cons
The graphics and data reports produced during group sessions are difficult to read by people at the back of a large meeting room. We usually solve this by taking a pause once the choice experiment is complete in order to transfer the results to PowerPoint (bolder graphics, colored lines and fonts are needed for readability).
Industry: Transportation/Trucking/Railroad
Company size: 51-200 Employees
Used

Weekly

for

Free Trial

Review Source
---
Got the job done amazingly well
Pros
Used this for doing a conjoint study. Setting up the attributes was super easy. Setting up validation & exclusion rules was really intuitive. Post survey analytics were pretty amazing and now I'm much closer to knowing my customer than I was before. Thumbs up!
Cons
Not applicable. Everything was pretty sleek and fast.
Industry: Management Consulting
Company size: 10,000+ Employees
Used

Weekly

for

Free Trial

Review Source
---
The best way to start with conjoint
1000minds really helped me with my thesis, namely customer support. The product is designed to be a tool that helps you and not something you need to worry about.
Pros
Despite being a user-friendly and easy to use software that does not imply the user knowing much about the economic models behind all of it, but allows them to work with them, the customer service is simply the best. No one will feel lost with the care, quick replies and informative answers from the team. 10/10
Cons
Some features like conditional questions could be added.
Industry: Research
Company size: 1,001-5,000 Employees
Used

Weekly

for

2+ years

Review Source
---
A simple to use, low-cost, effective way to get the information you need to make decisions
I have used this software in a wide variety of practical applications. The results have been the same every time. I have been able to survey large (and small) groups of people in a short space of time and gather the information that's needed to make decisions. The feedback from participants has been consistently positive "easy to use", "intuitive", "the results are as I expected"....
Pros
The software has an intuitive design which makes it very easy to use, both from a developer's point of view in creating a survey and from a participant's point of view in completing it. Surveys can be designed to target specific audiences using the customisable options which means that the right information is being collected in a low-cost, efficient way. In-built quality checks ensure confidence in the data and is just one of the features that sets this software apart from others.
Cons
I am yet to come across any cons with the new version of 1000minds.