About TimeCamp
TimeCamp is a 100% free time tracker for teams. Unlimited users for $0. TimeCamp is a cloud-based time tracking solution that enables project managers to collaborate, track billable work hours and monitor project status. This solution assists organizations in calculating billable tasks, creating invoices, time management, and tracking attendance. TimeCamp's timesheets module provides a dashboard of work hours and enables automated time tracking for employees. Besides, project managers can create different sub-tasks in projects and delegate each sub-task within the team. Users can create bills according to complexity, employees assigned, and working hours. TimeCamp's time management feature enables automated tracking of computer usage and generates productivity analyses for each employee. The solution also shares automated weekly emails summarizing work completed, time wasted, productive hours, and lists of time-consuming websites. TimeCamp integrates with numerous applications and comes with add-on features for additional functionality. It is priced on a per-user-per-month subscription basis.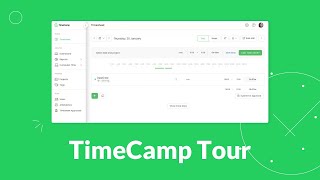 TimeCamp has a free version and offers a free trial. TimeCamp paid version starts at US$7.00/month.
Starting Price:
US$7.00/month
Industry: Internet
Company size: 51-200 Employees
Used

Daily

for

Free Trial

Review Source
---
Great tool for time tracking your projects
We have trying to manage better out time spent in projects and understanding which activities are causing delays or need improvement in order for the team to be more efficient. With TimeCamp we are capable to understand exactly which part of the project require more time so we can find a solution and also the saturation of the team so we can distribute workload in a fair basis.
Pros
I fist tried the trial version of this program which is long enough (30 days) and offers a very good overview of all the features of the tool and how much they can be useful (even when you have not consider them before!). Other similar tools are very restrictive with their features during this period.
TimeCamp allows you to track the time spent on a project by an employee. It allows you to have multiple seats with different permissions and create multiple projects that can be divided in tasks. It is also possible to allocate just some of the team members to a project . It is not only possible to track projects but idle time and attendance.
Reports are are very complete and have many options to filter and present the data you need. The Dashboard allows you to be updated very fast
The tool is very user friendly and can be set up just in a few minutes.
Cons
I have tried the Desktop time tracker, which is a nice idea but you are not able to do many things from the widget so you will often have to come back to the website. It would be nice to have the possibility to switch projects or creates new ones directly from there.
Reasons for Choosing TimeCamp
I made the switch from a similar product because TimeCamp is much more customizable and user friendly
Industry: Graphic Design
Company size: 2-10 Employees
Used

Daily

for

1-5 months

Review Source
---
Time Tracking... Perfected.
TimeCamp is very straight forward and powerful. It shows. It's UI is not filled with the typical "eye candy" some sites have as a means to hook you into their product. TimeCamp took time tracking and everything around it quite seriously and spent a great deal of its development into providing powerful features into its application. Even at it highest subscription level, the costs are amazingly low for all it has to offer. You can change subscription levels as needed, so you can start at the lower levels and increase as needed, including number of users. They offer discounts for paying yearly versus monthly.
Pros
TimeCamp is everything you ever wanted in time tracking, and a whole lot more you never thought you needed or could use. Registering for TimeCamp is free, and you get to use some of its core features for free. They have an emphasis on user experience and it shows. From the moment you register, a setup wizard initiates a process to get you setup for your first time use. It even offers assistance to set you up with more advanced settings and features, at no cost to you.
TimeCamp offers everything competing time tracking sites offer, plus a host of features such as billable hours vs non-billable hours, project status, invoicing. time management, attendance tracking, and so much more. Unlike your conventional time tracking application, which serves one purpose (to track time), TimeCamp can take the place of more than just time tracking. It tracks attendance, project profitability, and more.
TimeCamp has an easy to navigate menu with 6 distinct sections: Timesheets, Approvals, Reports, Projects, Computer Time and Invoices. It's time tracking capabilities are broken down into numerous categories, allowing you to track work against projects, billable and non-billable work, non-project work... all the details that make up a timesheet, including time off, etc. It does not stop there. You can set up a process for approvals, to ensure that the time entered is properly audited. When done, roll-up the billable time so you can track and bill your clients accordingly.
TimeCamp makes project management a breeze and allows you to improve team efficiency and productivity by also tracking computer time: how much time they are away, on breaks, lunch, researching, etc. The level of reporting granularity is incredible with TimeCamp.
Did I mention integrations? Yes, they have a large number of product integrations with leading applications online to help you use TimeCamp to suit your business needs.
Cons
The only Con I could find is the inability to let its users take a deeper look into features they do not have as part of their subscription. Sometimes it is nice to be able to see what you think you might want to use. Other than that, it's features are amazing.
Industry: Marketing & Advertising
Company size: 2-10 Employees
Used

Daily

for

6-12 months

Review Source
---
Finally! Time tracking that works as hard as I do
While I'm working as a freelancer at the moment, I ran a creative agency for many years and managed multiple teams of both internal and remote employees. It was impossible to get an accurate view of how we were spending our time. As a result, our proposal process was always a bit off, billing was inconsistent, and forecasting was a nightmare. We tried most of the online and networked solutions, but they relied too heavily on the individuals manually entering their activity, correctly assigning work to clients and projects according to the structure we set up, and simply starting/stopping the tool.
TimeCamp solves all of these problems with multiple layers of granularity and control, but it's still flexible! For the individuals who are already good at tracking their time, you can dial it down to accommodate their style. For those who need some extra help, the system can be fully automated to capture everything they do and even assign it to the right account based upon their activity and keywords. The thing I like most is the productivity reporting! I'm a pretty 'seasoned' professional, but it showed me A LOT about how I was using my time and where I get bogged down. Now I've started fixing the problems and improving my numbers. It's actually become a kind of fun game for me!
On ease of use, I gave it 4 stars rather than 5 because it is a little labor intensive to get things set up. If there are wrinkles in your timekeeping processes, you'll definitely find them. But once you get the hang of it (it doesn't take long!), the system is kind of amazing. In terms of day-to-day use, there's really nothing easier.
Pros
So flexible: From manual to fully automated, you can decide how to capture time and details.
Cons
A bit tricky and time-consuming in the setup stage, but well worth the effort.
Response from

TimeCamp

Hello Julie,
Thank you so much for this exhaustive review and high rating! We're pleased to know that you decided to track time and increase your team's productivity with TimeCamp after trying many other solutions! We're still trying to make our tool even more efficient and comprehensive because we believe that time tracking is the key to success when it comes to employee time management.
The reporting feature is special, because based on the reports we know how productive we exactly are. That's why they are such detailed.
Wishing you lots of other profitable projects tracked with our tool!
Ola Rybacka, Social Media Manager at TimeCamp

Replied 08/11/2016
Industry: Computer Hardware
Company size: 2-10 Employees
Used

Daily

for

6-12 months

Review Source
---
Timing is everything.
I implemented TimeCamp to track time across my entire team, and was pleasantly surprised by the quality of the product, the price, and the support. Adding team members is a snap, and pricing is more than fair for the product. The integrations with Xero for our billing and Trello for our to-dos is invaluable, and the support team backed it up with brilliant assistance getting the desktop app to work on our Linux workstations. My only issue with the UI is that when you pause a time entry and then restart it later, it appears as two separate time entries rather than one project for the day. I can understand the motivation behind the layout however, and it's not something I'm in a hurry to fix.
The mobile apps are awesome for our on-site work, because the employees can just install the app and hit Start, and an admin approves the time later. The apps are a bit buggy on Android, however, but they do the job they're coded to do.
All in all, I expected a half-assed project by a few amateurs, but what I got was a polished product well worth the investment by a professional team that has your back.
Pros
It's easy to use, has reports coming out of its ears, and is easily deployed across multiple workstations. It scales perfectly and the integrations are top-notch.
Cons
The user interface could use a little work: I'd like separate time entries on the same project in one day grouped by project on the timesheet, so I see the total time spent on the project for the day first and then expand the project to see individual time entries for the day. Too many entries for the same project all in a list look cluttered after some time.
I also found myself hunting for exactly the report I wanted, and coming across a few that I wasn't after before coming to the one I wanted. Perhaps better organization of all the reports would be nice.
Response from

TimeCamp

Hello Nico,
Thanks for the high rating and a long, comprehensive review! All your tips you've mentioned here are valuable - thanks to them we can focus on the mistakes and develop those features who are the most important for our users.
Pleased to see that you're aware of how much time management should be important in our lives. For this reason it's great to know that you're tracking time with our tool!
Thank you so much for letting us know about bugs in Android apps, we'll try to do our best to fix them.
Wishing you lots of the profitable projects tracked with our tool,
Ola Rybacka, Social Media Manager at TimeCamp

Replied 04/11/2016
Industry: Information Technology & Services
Company size: 2-10 Employees
Used

Daily

for

6-12 months

Review Source
---
Great product, still a few kinks, but improving daily
TimeCamp is very good software and I find the window title tracking as a good tradeoff for tracking everything I and my employees do without getting too invasive. It is especially useful since much of the work I do is hourly under contract, so if I switch tasks and forget to change my tracker, I can always adjust and reconstruct later based on window tracking.
They offer many useful integrations with software use including Google Calendar, JIRA, Trello, Zendesk and more.
There are still a few kinks in their platform, but they are working hard to improve it and are very helpful and accommodating when I've pointed out bugs. They even spent a bunch of manual programming time to import 3 years of historical records for me.
I would highly recommend them to anyone looking for a time tracking product, especially one for remote teams who bill hourly.
Pros
It is very easy to use and allows me to calculate timesheets after the fact based on computer usage. The integrations to multiple systems allow me to bill against specific external tasks or tickets which makes invoicing a breeze. I especially like their shared reports feature as I can just email my clients a link with their invoice and they can inspect timesheets, without having to copy them to Excel or give them access to the platform.
Cons
Their software is still buggy in places. Their Linux client is a joke and their mobile app could be more functional. There are also some small bugs in their web frontend. For example, the page refreshes after you add a time entry or randomly while selecting computer activities. They've also had a bit of downtime.
With all that said, they are a small company and are very accommodating. They've assured me they've recently hired new developers and I've already seen it in the quality of their program.
Response from

TimeCamp

Hello Justin,
Thank you so much for the review and your kind words!
We're still doing our best to improve TimeCamp and make it easier and even more intuitive for our users. That's why we're happy to know that you utilize lots of its features and they help you manage time in a better way. About the cons - they are really serious, so thank you for mentioning them. We're working on something special, so please be patient - this will be an amazing change!
Ola Rybacka, Social Media Manager at TimeCamp

Replied 30/08/2016