About Genesys Cloud CX
Genesys Cloud CX™ cloud contact center software transforms your customer experience. It connects data across teams, tools, interactions so you have actionable insights to address customers problems with ease on any channel, at any moment, beyond just the call center. Genesys Cloud CX is trusted by thousands of small, medium and large enterprises and recognized as an industry leader across the globe. With pervasive automation, you can take the right action at the right time to create the best outcome. Give your employees the information they need in one application built to engage your employees and boost your team's performance and is intuitive to use. Use Genesys Cloud CX™ as an all-in-one application, easily add hundreds of packaged integrations, or customize the platform and make it your own. It deploys in days and continually innovates with upgrades each week. With real-time dashboards and up-to-the-second analytics, Genesys Cloud CX™ provides the insights you need to run your business—no matter where your agents are located.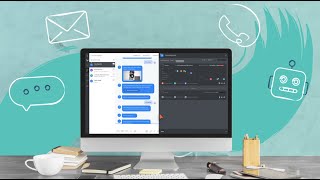 Genesys Cloud CX does not have a free version but does offer a free trial. Genesys Cloud CX paid version starts at US$75.00/month.
Starting Price:
US$75.00/month
Alternatives to Genesys Cloud CX
Industry: Financial Services
Company size: 51-200 Employees
Used

Daily

for

6-12 months

Review Source
---
99% Sunny and Hot with the odd occasional downpour
The overall experience we have had is a great one with a few niggles I would say to describe the downsides. The main experience moving past the building and testing stage into full BAU was another great experience as the support during the early stages was nothing less than exemplary. The issues that abounded with our previous dialler software supplier have now been remedied by our decision to align our business with the Genesys product Purecloud. We are now investing our time and efforts to implement Pureclouds growing functionality to unify our communications Chat, Email, SMS and Social and integrate these with the voice channel to improve the customer journey everytime they wish to communicate with us.
Pros
The ease of use when building the infrastructure to run all the different brands and departments here at Grove & Dean, the stability of the Platform as we are open 24/7 and have only a small team in support of the system. The ease of use, for the agent with the simple yet full featured agent interface and desktop environment. The roll out of new features or improvement of existing ones, the visionary updates from the Genesys senior team and the ability for the users to influence the shape of the platform through the ideas Lab and the fact that they "LISTEN" to the users. Lastly, which is not really a software benefit, the community of users that are sharing their experiences for the greater good for all.
Cons
The support post "LIVE" - Processes too long, lack of knowledge and experience in the first line support team, no immediacy, solutions not always valid and some of the Self Service referral techniques support attempt to use to justify their solutions.
Industry: Insurance
Company size: 1,001-5,000 Employees
Used

Daily

for

1+ year

Review Source
---
A good product that is getting better
Overall we have been pretty happy with the Genesys Cloud application. When we find things that are lacking, we are able to put in ideas for enhancements and some of those ideas have already been implemented.
Pros
We love that the Genesys system provides us with a single system for all our customer interactions. We can handle inbound and outbound calls, chats, emails, and SMS. In addition, all the call recordings and call evaluations are in the same system (or will be when we are done rolling it out).
Cons
I think Genesys has some work to do on enhancing the sorting and filtering capabilities with the various views. I also think there are some issues to work through on the workforce management side, like being able to see a forecasted service level without publishing schedules, or having time off buckets to name a few.
Industry: Entertainment
Company size: 51-200 Employees
Used

Daily

for

6-12 months

Review Source
---
A Step Up From Previous Call Center Software, But Prone To Errors
While PureCloud has had its frustrating glitches, I find that it works far better and more intuitively than previous call center software. Having access to a number of features all in one place, rather than spread out across multiple programs, truly provides ease of mind.
Pros
PureCloud allows fluid communication either across the call center floor, across town, or even across the state or country. It allows multiple utilities that previous software such as Presence did not allow for, such as callback and voicemail functionality, chat features and built in email clients. It becomes a one-stop shop for a call center looking to offer more outreach for customers. Having the ability to work from home, especially in times of crisis, is crucial and this is what PureCloud does best.
Cons
Prone to outages and glitches, though admittedly some of these could be due to network errors within the company. The email client is less than intuitive, and frequently seems to block out valuable attachments, which are important when working in a tech support role.
Industry: Financial Services
Company size: 5,001-10,000 Employees
Used

Daily

for

6-12 months

Review Source
---
Cloud Solutions for Contact Center
The best experience is we get all in one page or in one link. Agent supervisors get agent recordings, reporting and monitoring all in one login to Genesys Cloud CX.
Pros
Genesys Cloud Contact Center routing solutions are easy and implement and use for inbound and outbound calls and also for Chat. We are in middle of the migration process and hopefully we will be migrating complete our contact center from Genesys Engage & Avaya to Genesys Cloud CX
Cons
API integrations with other 3rd party solutions
Reasons for Switching to Genesys Cloud CX
Due to limited functionality and interface in Avaya, we want to go with Genesys Cloud CX for better features and functionality and also many other important features that suite for our requirement.
Industry: Telecommunications
Company size: 501-1,000 Employees
Used

Daily

for

1+ year

Review Source
---
8/10 product for now, as this product gets better will easily be a 10/10 product in the future
I'm happy to be using this product as it becomes better and will be a very strong product to beat in the future
Pros
It was easy to implement and start up. For my company as we had multiple software for our CRM, Genesys Cloud really made it easy as it is all in one software
Cons
Some areas still need to be developed, such as the reporting and the Workforce Management addon
Reasons for Choosing Genesys Cloud CX
Lisence was expiring and the technology wasnt there
Reasons for Switching to Genesys Cloud CX
More companies was using it at the time and the vendor was locally based