About Forma LMS
Forma LMS is an open-source learning management system designed to help businesses provide corporate training to employees based on company needs and processes. Key features include online courses, video conferencing, certification management, custom reporting, blended courses and user management. Teams using Forma LMS can generate certificates in PDF format upon completion of courses through customizable graphic templates. Managers can organize courses in multiple categories, catalogs, course paths and create several editions of the same course with separate locations and inscriptions. Users can also sell their courses using built-in eCommerce features. Forma LMS allows staff members to automatically receive notifications upon course completion, subscriptions and user registrations. Administrators can organize users by groups, organizational charts and roles with special permissions. Forma LMS offers an API, which enables businesses to integrate the platform with existing systems and configure the solution using plugins and custom scripts.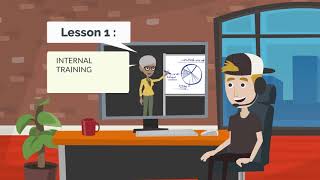 Forma LMS has a free version and offers a free trial.
Alternatives to Forma LMS
Industry: Financial Services
Company size: 1,001–5,000 Employees
Used

Daily

for

1+ year

Review Source
---
Bringing revolution in e learning through Forma LMS. Its the need of the hour for businesses !
Forma LMS is the most comprehensive web based platform for making the e learning and authoring activities seamless without any major trouble. Also, its the savior for businesses as it meets the digital needs and requirements of businesses in most effective manner possible. Cheaper alternative to most of its competitors and stands out of the crowd due to its excellent features and utilities.
The authoring is collaborative and is fully available and functional on lower bandwidth also. The e content are stored in LMS appropriately and suits to the needs of the learners effectively.
Pros
Best open source web based e learning platform and software for strengthened learning for hybrid and remote workforce.
The training and orientation of workforce is done effortlessly though Forma as it is one of the best collaborative tool for professionals and businesses presently.
Talent management is easy and comprehensive through Forma LMS as it helps in selection of candidates through online assessment evaluation and selection.
Online training in post pandemic era has become easiest than ever.
Authoring e content is easy and is securely accessible to target learners.
Cons
No dislikes till date. Keep improving the addition of new features and utilities so that it never become obsolete from the market and stay relevant forever. The premium version should be provided in such a tariff mode so that utilities can be best met in most customizable mode. Rest of the features are superb.
Reasons for Switching to Forma LMS
Forma LMS has huge pros and advantages to be chosen above its other alternatives due to its best performing features and great outcome. It is the best due to its continuous upgradation and restructuring to meet the market demand in most desirable manner possible. We are also using the same for deploying online industry based learning followed by certification which is accurate, timebound and seamless activity . No operational lags or slowdowns in the system.
Response from

FormaLms

Thanks for your review!

Replied 08/09/2022
Industry: Management Consulting
Company size: 51–200 Employees
Used

Daily

for

2+ years

Review Source
---
Highly recommended eLMS software for digital training and online course authoring !
Forma LMS is best in class solution for online learning and online course authoring in the most easy manner without any trouble. It is easily integrated with 3rd party platforms and dashboards. It generates customized reports within fraction of seconds without any hassle. Taking and giving online tutorials and live webinars is easy than ever with this software and you will never face any app integration issues. Its compatibility across any internet bandwidth is just fantastic.
Pros
Work at fast pace and does not slows down while functioning. Also, Forma LMS is widely used for online digital training and hybrid learning. It works with great efficiency and never lags during operation. All the courses can be uploaded through online mode and can be made available to wide masses within fraction of seconds anytime, anywhere. It has huge customization features embedded which helps in generating customized reports and customized functioning. It's a unified platform available to multiple clients in one go. The LMS has great engaging experience with interactive customer interfaces and works well with all kinds of API interfaces of 3rd party dashboards and platforms.
Cons
No problem encountered so far. Worked really well for my team so far. Keep innovating and offer cutting edge best in class online and blended learning features.
Reasons for Switching to Forma LMS
Forms LMS is best of all. It helps in giving online digital training sessions in most cost effective and streamlined manner. It works well with any kind of softwares and platforms due to its high level of efficiency in integration. World class marvelous software for giving online webinars and training orientation in most feasible way.
Industry: E-Learning
Company size: 2–10 Employees
Used

Weekly

for

2+ years

Review Source
---
Stable and reliable LMS platform with an improvable UX
We chose this platform to address the request of our cliente who wanted a low price LMS platform.
After 3+ years of using with 2000+ users, we can say that the choice has not been so wise.
The user support we had to set up and the difficult maintenance of the platform made the costs grow significantly.
Pros
The platform is stable and reliable. It has advanced features and can be integrated with other services.
Cons
The platform is not easy to use and it doesn't have an overall pleasant user experience.
Menus and functionalities are difficult to find and use for users and for the administrators.
Reasons for Switching to Forma LMS
Lower price
Response from

FormaLms

Hello,

thanks for your review, although I think it's a bit unfair. Forma is used by thousands of users and one of the main reasons is that it's much easier to use than Moodle, for example.

Also it's unclear to me what kind of user support you need, we have several installations with thousands of users and barely any support request.

If you think we can help you in any way, let us know.
Max

Replied 15/02/2022
Industry: Retail
Company size: 1,001–5,000 Employees
Used

Weekly

for

1+ year

Review Source
---
Revolutionize Your Online Training with FormaLMS: A Flexible and Customizable Learning...
I have had a generally positive experience with the platform. The software offers a robust set of features and functionality for managing online learning and training programs. I appreciate the flexibility and customization options available, allowing me to tailor the system to meet the specific needs of my organization.One of the things that I like about FormaLMS is the ease of creating and managing courses, as well as the ability to track and analyze learner progress and performance. The platform also supports a variety of different learning activities and resources, including quizzes, surveys, and multimedia content.In addition, I appreciate the level of control and oversight that FormaLMS offers to administrators and instructors. The platform provides detailed analytics and reporting capabilities, as well as features for managing user accounts, permissions, and access.While there are some areas where I feel the platform could be improved (such as the initial setup process and documentation), overall I have been satisfied with my experience using FormaLMS.
Pros
As a user of FormaLMS, what I really appreciate about the platform is its flexibility and customization options. Since it's open-source software, I have the freedom to make modifications and adjustments to tailor the platform to my specific needs.Another great feature that I find very useful is the ability to create and manage user groups. This makes it easy to assign courses and track the progress of learners. The reporting and analytics tools are also quite comprehensive, allowing me to keep a close eye on learner progress and evaluate the effectiveness of my courses.
Cons
There are a few areas where I feel the platform could be improved. One of the things that I find challenging is the initial setup process. It can take some time to get the system configured and fully operational, especially if you're not familiar with learning management systems.Another area that could be improved is the documentation and support resources. While there is a user manual and community forum available, I have found that some of the information is not always up-to-date or comprehensive enough to fully address my questions or concerns.Finally, while the platform is highly customizable, some of the customization options require advanced technical skills and knowledge. For someone without a strong technical background, it can be challenging to make certain modifications or adjustments to the system.
Industry: Management Consulting
Company size: 10,000+ Employees
Used

Daily

for

1+ year

Review Source
---
Online learning & training is easy with Forma LMS. Highly recommended e learning platform for...
Its awesome and worth satisfying. The Forma LMS is the best LMS solutioning in the market. It helped us greatly during pandemic times, when everything was stopped at a point and we ensured that learning and training should not be stopped under any case. For this, we adopted lot of LMS system and evaluated all of them and found Forma LMS as the best. Because of its high efficiency and low cost burdening on part of expense, it was great for all users to use the software at its best. High stability and high replicability of the software across diverse environment made this software favorite of all. Audio and Video conferencing at its best is being experience by Forma LMS.
Pros
Best open source e learning platform for efficient and easy delivery of online training in remote workshops and learning remotely.Video conferencing along with complete tracking management is done easily through Forma LMSCertificate management system for seamless delivery of certificates with end to end bar code tracking is feasible through Forma LMS.Authoring different e courses into different vernacular languages is possible via this amazing LMS .
Cons
We liked all the features and parameters greatly and found the software absolutely great. One of the best open source softwares in the market with lowest costing and is absolutely free for accessing majority of the features. More mobility system can be added into this so that on one login, multiple uses can have access at same point of time without much trouble.
Reasons for Switching to Forma LMS
Forma LMS is an open source software/platform which ensures its availability at zero or lowest costing possible and that's why its has been chosen by majority all over. Due to its low cost expense, it is accepted by all and highly recommended to small and marginal organizations. Startups are using the software to greatest extent. Integration of certificates and deployment across any environment is easiest than ever