About Lightyear
Lightyear is a cloud-based accounts payable solution designed to help businesses automate data entry by extracting details from invoices, credit notes, bank statements and receipts, streamline approvals through customizable workflows and maintain a record of outstanding amounts. Features include messaging, audit trail, statement reconciliation, multi-currency and duplicate auto-flagging. The application's rules automation feature enables accountants to automatically assign line items with general ledger (GL) codes, tax rates, categories or departments. Finance professionals can check product prices against the verified supplier pricing and route bills to relevant approvers. The dashboard lets supervisors view the number of bills processed, signed off, reviewed or awaiting approval. Lightyear offers integration with various third-party applications such as Abcom, MYOB, Xero, Sage 50, Fuelsoft and more. It comes with mobile applications for iOS and Android. It is available on monthly subscriptions and support is provided via documentation, live chat and phone.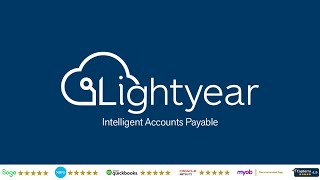 Lightyear does not have a free version but does offer a free trial. Lightyear paid version starts at US$99.00/month.
Starting Price:
US$99.00/month
Alternatives to Lightyear
Industry: Accounting
Company size: 2-10 Employees
Used

Daily

for

2+ years

Review Source
---
Excellent Accounts Payable System
Our clients can see where their AP invoices are at any point in time as well as the value of AP "in progress". The fact that the system picks up duplicates is the game changer for us. Reconciling & "filing" statements is an absolute breeze.
Pros
We love how this product enables our clients to check & approve their invoices before the invoices land in Xero. We know that anything in Xero is checked & ready to be paid. Easy for multiple people to have access & sign off. All AP is in one place & finding historical invoices is a breeze.
Cons
Reading OCR receipts has been a bit behind other competitors but improvement is coming through really quickly.
Alternatives Considered
Hubdoc
Reasons for Choosing Lightyear
Controls are tighter in Lightyear but the product is so easy to use & can easily be customised to the level of control that our clients need. Visibility of the flow of invoices through the approval process is perfect. The Dashboard makes it so easy for our Corporate clients to manage their AP really well and for us to manage the bookkeeping for our clients. All our clients from corporates to sole traders love Lightyear - they can have access to the data they need 24/7.
Reasons for Switching to Lightyear
When we looked at Hubdoc about 18 months ago, Lightyear was already far more advanced than what Hubdoc was offering.
Industry: Accounting
Company size: 2-10 Employees
Used

Daily

for

1+ year

Review Source
---
Game changer
Fantastic, over the couple of years I have been using the program I have had nothing less than outstanding service from the support team and after initially only using it for my larger clients, it has been an easy decision to bring all my clients across to the platform. The program is intuitive to use and easy to implement and scale up or down depending on the client and approvals process needed.
Pros
The invoice approval function was the reason for initially coming across to Lightyear but the statement reconciliation process was a hidden surprise that has enabled my last remaining paper based clients to take the leap to being completely paperless. The integrity of the data being exported to the accounting software is much better than other programs.
Cons
My clients who use purchase orders are currently needing to batch together the PO pdf & supplier invoice images before sending to Lightyear which would be amazing if we could either match them up within the app, or issue PO's direct from the app which are then able to be viewed with the supplier invoice.
Reasons for Choosing Lightyear
My clients needed a program which offered a layered approvals process
Reasons for Switching to Lightyear
It was some time ago now and I can't recall all the other programs we looked at, but Lightyear really came out as the only contender due to the price point and the approvals process.
Industry: Food & Beverages
Company size: 51-200 Employees
Used

Daily

for

2+ years

Review Source
---
Lightyear makes invoice handling very easy and more accurate.
Stone & Wood has a non-corporate and egalitarian culture. Employees are held in trust to do the right thing when purchasing with budgets as a guide. We don't have a purchasing department and we have flexible guidelines on buying stuff. However the board of directors and the auditors want black and white figures and proper accounting standards. I would not be able manage two very different requirements without Lightyear. I would need a lot more staff!
Pros
What I like most about Lightyear is how easy and versatile it is to use. It saves so much time! Invoices come into Lightyear and are identifiable immediately. Important information from the invoice is automatically read and displayed. Invoice details are easily updated, added and authorised in the one program. The beauty of this is that it happens before it reaches our accounting software which makes the process much more flexible and accurate.
All our invoices and statements are stored electronically in this clever filing cabinet and any one granted access can see the actual invoice PDF anytime and quickly. Much easier and more secure than within accounting programs or Outlook.
If a supplier has sent an invoice to lightyear, it doesn't go missing. It can't be lost. if it can't be read by Lightyear, it bounces out to your appointed email.
Lightyear provides a thorough audit trail. Every time an invoices is read, edited, sent, authorised or declined, etc it is recorded.
Cons
As we use SAP accounting software, which is not cloud based, our software integration took a bit longer. The team at Lightyear (then Invitbox) worked with our SAP provider helping them write and produce the integration document.
Industry: Hospitality
Company size: 51-200 Employees
Used

Daily

for

2+ years

Review Source
---
Love it!
I've used the software for years and have always found it to be reliable and the support start are fantastic if ever I need help with something.
Pros
There are so many things I love about Lightyear. The new statement reconciliation feature though is a game changer! Lightyear tells you what invoices are missing and allows you to contact the supplier to request missing invoices direct from the software. Amazing!!!
Cons
There's not much I don't like about the software, and the things that I would like are already in the works.
Reasons for Choosing Lightyear
Invitbox was been owned by Reckon and had not supported or upgraded for some time. The original developers for Invitbox took it back and rebuilt it from the ground up. Invitbox, even unsupported and without upgrades, was an awesome piece of software and superseded the functionality of it's competitors such as ReceiptBank. Since the original team was coming back on board, it was a no-brainer.
Reasons for Switching to Lightyear
With Lightyear, you can delegate approvals into groups, so if you have multiple cost centres like the hotels that we do the bookkeeping for, the Chef isn't seeing bills which need to be approved by the Cellarman. Also, you can have suppliers that you don't want everyone to see, so you can select that only certain people see them. As well as multi-level approvals so the General Manager can check off and I as the bookkeeper can check the data is accurate before bringing it into the accounting software. In conjunction with the integration with Xero happens within seconds so you're not waiting for your bills to come across from one software into another.
Industry: Accounting
Company size: 51-200 Employees
Used

Daily

for

6-12 months

Review Source
---
Great Support
We've been using Light Year for a little while now. It's been a little up and down with the uptake from our clients as some are of a more traditional mindset and do not want to convert to paperless. Some clients also take a little longer to acclimate to the system then others, but once setup and working, each client on light year improves efficiency by about 20%.
More over, the support and continued patience of the team at Light Year, especially Tom, has been astounding. Due to job changes, they've helped train any and all staff as we've seen fit. Have listened to ideas, and implemented workarounds where possible, truly making this a system we can use above other similar products.
They also offer that support to our clients who may otherwise be struggling and are always on hand 24/7 to call, video conference or chat online to anyone who needs assistance.
Pros
The support from the team is fantastic and are always on hand to help and assist.
Feedback and suggestions on the system are welcomed and implemented if possible and useful.
Invoices no longer need manually entering!
Option to automate the process of receiving invoices entirely, doing away with any need to upload - instead just get them emailed directly into Light Year.
Cons
A few of the options appear to be placed on pages I wouldn't expect, but nothing particularly bad.
Reasons for Switching to Lightyear
The other options were either underdeveloped, or offered no a very strict, uncompromising service that did not fit within our company. They also relied too heavily on OCR. Light Year while newer than some of it's competitors, chose a different approach and worked with us to see if their solution could help, and even added and updated features to make it fit more into our company.
Response from

Lightyear

Many thanks for taking the time to leave us a review. Great to hear how that the support team has been fantastic. We will pass this along to them.

Replied 28/05/2020