About SuiteDash
SuiteDash is a business management solution that helps organizations streamline operations related to workflow optimization, subscription management, feedback collection, file storage and more on a centralized platform. The project management module provides a built-in kanban board, which lets employees visualize task status and progress. SuiteDash allows staff members to create online client proposals and automatically convert them into invoices to receive payments. Administrators can track time spent by employees on tasks or projects and generate estimates or bills based on pre-set hourly rates. It offers an internal instant messaging tool, which lets team members establish two-way communication in real-time. Additionally, supervisors can create recurring profiles to auto-populate items, taxes and discounts across invoices generated on a weekly, monthly or tri-monthly basis. SuiteDash facilitates integration with several third-party solutions, such as Zapier, Quickbooks, Stripe, Braintree and PayPal. It is available on monthly and annual pricing and support is extended via documentation, video tutorials, FAQs and email.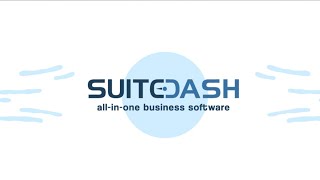 SuiteDash does not have a free version but does offer a free trial. SuiteDash paid version starts at US$19.00/month.
Starting Price:
US$19.00/month
Alternatives to SuiteDash
Industry: Marketing & Advertising
Company size: 2-10 Employees
Used

Weekly

for

6-12 months

Review Source
---
Powerful Business Management Tool For Handling Clients
Overall experience is great & smooth. The support is friendly and gracefully handles all the feedbacks & suggestions. I love when the [SENSITIVE CONTENT HIDDEN] is involved in the support process, because that shows his commitment and dedication to take the tool to next height. So SuiteDash is definitely on the right track, I believe.
Pros
I love the fact that SuiteDash provides a complete solution for managing every step of a client-based business. I don't have to use multiple tools to handle invoicing, project management, file sharing, client communication, feedback cycle etc. Also, the ability to create a separate white-labeled portal for clients to login and check their projects and collaborate, is just awesome feature to have.
Cons
I strongly believe the UI of the tool can be improved. It's good now, but can be much better. Actually, the tool has so many features & setting options, that it gets difficult sometimes to keep track of them. So I would suggest the team to keep working on the interface and UX, so that the workflow can be even faster than now.
Reasons for Switching to SuiteDash
I first came to know about this type of tools from SuiteDash's marketing campaigns. And I was hooked from the first go by the vast opportunity it provides to manage my business very smoothly. Later, I found out quite a few alternatives of tool, but eventually I stuck with this tool because of the humanly support I get from them. Feature-wise, SuiteDash is very competitive with other tools and some of them may have something better, but support-wise, SuiteDash really exceeded my expectations.
Industry: Computer Software
Company size: 2-10 Employees
Used

Daily

for

6-12 months

Review Source
---
Best solopreneur tool
I make my whole business with this tool.
Pros
SuiteDash is my favorite suite tool. I use it daily as a project management tool, and I appreciate the refined and elegant design.
The tool replaces Jira and Confluence I've been using for years, but it is easier to use and take on, especially for customers not used to working with kanban boards.
I particularly like the ability for customers to make work requests.
The customer portal offers an excellent way to inform and reassure customers on project progress.
The portal page tool is an excellent alternative to Confluence, and the rich editor is powerful.
I use the Office part to create contracts that my customers can e-sign. Just wonderful.
As a solopreneur developer, I regularly work with other teams. So I appreciate the ability to promote users as project managers and that contact (CRM) and crew are well separated.
SuiteDash also replaces my chat tool as it offers an excellent email inbox tool and a chat with unlimited channels.
Cons
I want the ability to create articles based on themes i could list.
Reasons for Choosing SuiteDash
I wanted a monolithic suite of tools and something easy to take on for users non used working with Kanban boards
Reasons for Switching to SuiteDash
The tool is very customizable.
Industry: Marketing & Advertising
Company size: 2-10 Employees
Used

Daily

for

1+ year

Review Source
---
A CRM that can't take payments, and an "it is what it is, deal with it" approach from...
Overall it's been good. Despite the infuriating load times and confused design, I like the software and the community. I also quite like the staff.
But this experience, and the response from [SENSITIVE CONTENT] has left me with a very sour taste in my mouth. I'm rather heavily integrated with Suitedash, so upping and leaving is a big decision but I currently can't trust that they have my interests at heart.
Pros
Suitedash is a great platform when it works. Granted, it's slower than a stoned snail and it's not winning any beauty awards anytime soon, but it's open, and there's buckets of potential.
Cons
I'll start small: It's slow, really slow. I'm waiting 10 seconds between page loads. I have fibre broadband and all that good stuff, and have accessed the platform from plenty of other connections, so [SENSITIVE CONTENT] ' repeat potestations that it's fast for them just don't cut it. It's slow, admit it.
It's ugly. The interface smacks of something made by someone who saw a CRM, and without much design experience, decided they wanted to do things differently. There's a custom CSS area, but it feels strange having to add my own code to stop my CRM from looking like a multi-era nostalgia game drank too much koolaid.
But these are just appetisers. After having ploughed time into setup (grinding 10 second load after grinding 10 second load) it seems they have no idea about European credit card requirements, which have left most of Europe, and now the UK, without Stripe payments processing. When SCA enforcement came into complete enforcement, many of us have been left without a reliable way to get paid.
They have known about this for over a year. Some of their clients tried warning them, but were ignored.
The required work to get their Stripe integration up to date clocks in at around 80 lines of code (I've performed this myself on some of my own personal implementations). I've been told the fix is coming in weeks rather than days, and furnished with a rather lengthy "It is what it is, just deal with it" response from the [SENSITIVE CONTENT]
Industry: Legal Services
Company size: Self Employed
Used

Daily

for

1+ year

Review Source
---
Suitedash for my Small Business CRM
I really liked Suitedash for its overall flexibility, we are able to custom tailor each customer's profile to precisely what we need. And that's helpful because we are growing and offering more solutions, working with various types of scenarios. Suiteddash allows us to easily scale and offer really custom experiences for various client types.
Pros
I have reviewed 3-6 various CRM solutions that different companies within the Legal professional world have to offer. I chose Suitedash because it provides the ability to white label the customer experience, so when your customer goes to a portal they are still on your website with their branded portal. It's genius!
Cons
There's a learning curve, you need to be sure to watch the getting started series so that you can get the most out of your suite dash account!
Reasons for Switching to SuiteDash
I felt that I was capable of installing the solution myself and I was interested in the appealing price. There are other solutions out there that will do more of the work for you but you end up with a less customized experience. This solution allows me to spend a few extra minutes making customizations and then hit save. This has been amazing when a customer decides to add additional services to their relationship my business.
Industry: Design
Company size: 2-10 Employees
Used

Daily

for

1-5 months

Review Source
---
Suite Dash is the sweet tool for business management
I have used the same project management system for the past 8 years, and while I was happy with it, SuiteDash just offered so much additional functionality, that it was a no-brainer to change over. While the transition was a little challenging as my old system was quite established, it is not one I would regret. SuiteDash has given me a whole new way of managing my business and clients more effectively and has certainly boosted my profits in the short time I have been using it.
Pros
There is so many great features it is hard to point out what I liked the 'most', but the client portal is certainly a stand out feature, and the LMS add on in the higher package is well worth the additional cost, as I can now provide useful training videos for clients. And the onboarding process in SuiteDash is outstanding.
Cons
Probably the learning curve, as there is quite a lot to set up. However, keeping in mind that SuiteDash offers so much functionality, this is understandable. And there are great training videos provided to help you through each stage.
Reasons for Choosing SuiteDash
SuiteDash offered a lot of additional functions that I previously did not have access to. The Onboarding and CRM and two of the standout reasons I made the change.
Reasons for Switching to SuiteDash
I tried at least 4 other applications, but none offered the complete package that SuiteDash does.