About inFlow Inventory
Looking for an inventory and order management system for your small or medium-sized business? inFlow is used in over 90 countries around the world for manufacturing, wholesale, distribution, ecommerce, and more. It's also simple to set up thanks to its cloud-based Windows, web, and mobile apps. With inFlow you'll have the tools you need to track products quickly and accurately. Inventory features allow you to receive, transfer, or fulfill stock in real time—including from iPhone or Android devices. Manufacturing add-ons enable quick kitting and assembly. Built-in barcode generation and label printing make it easy to adopt barcodes for scanning. Customizable access rights provide team members with only the features they should use. inFlow also has everything you need to stay ahead of orders. Ecommerce integrations centralize sales for simpler tracking and reporting. B2B Portals allow you to send customized prices and catalogs to specific customers. And reorder points help your teams submit purchase orders before you run out of stock. Chat, email, and callback support are included with every subscription.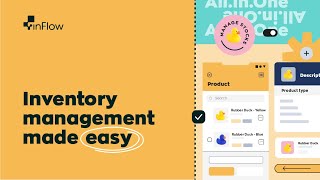 inFlow Inventory has a free version and offers a free trial. inFlow Inventory paid version starts at US$89.00/month.
Starting Price:
US$89.00/month
Alternatives to inFlow Inventory
Industry: Business Supplies & Equipment
Company size: 2-10 Employees
Used

Daily

for

2+ years

Review Source
---
Does what we need it to..
Pros
We switched from the desktop version of inflow.
We use MacOS/IOS as a company and were growing concerned that we would have to switch platforms completely to allow our team "cloud" access to our inventory and invoicing.
The new interface makes the transition very simply and gives us the full functionality we need on our operating systems.
Cons
We would like to see the continued development of the web app
Industry: Hospital & Health Care
Company size: 51-200 Employees
Used

Daily

for

6-12 months

Review Source
---
the one that does it all
Now that we have it working and implemented, it is so much more fun to work with. there is an overview for al you can think of...... all reports you want, but also clear and up to date data
Pros
The programm covers almost everything in 1 program.
from buying, receiving, selling through the web-site build in or external, to delivering and invoicing.
There are a lot of other programs, but only a few with all these functionalyties in 1 programm
Cons
in the beginning we had problems, by picking the goods they forgot to also ship the goods.... in my inventory reports the goods only left after i shipped the orders.
I would love it if there would be a link in the programm to a tutorial page.... if you have questions or doubts...that you can look it up easely.
I think there are to low limits on orders per month and users...the programm will be expensive for us! ( we are not selling, the orders are to deliver what the doctors are in need of..... so no revenue will come out)
Industry: Information Technology & Services
Company size: 201-500 Employees
Used

Daily

for

Free Trial

Review Source
---
First day of product
Overall, don't color me impressed. It has a pretty interface and great functionality in theory. However the design elements are no better than that of an average student at a community college. It crashes and the server stability will leave you waiting to perform inventory.
Pros
In theory this works great. Limited to growth with a company with no API support. Which is unfortunate that they chose this route considering their pricing is on tier with medium size businesses in mind.
Cons
If the servers are down so frequently, the app will automatically opt for you to uninstall if it wasn't able to grab update information. You will also not be able to actively get to your inventory. If users are paying for a cloud service... you might want to get some server stability first. Yes... it's all secure, however this is risk management that should be addressed prior to charging for a product. My investors would have my head if I attempted to charge for such a beast.
Industry: Utilities
Company size: 11-50 Employees
Used

Daily

for

2+ years

Review Source
---
Great Product for the Investment
Using InFlow, we have integrated work orders, inventory, and purchasing into one "place". Great options for reporting and usage. Overall, a simple, easy-to-use inventory management program, should satisfy most small business needs.
Pros
The ease of use and customer service make this product what it is. This software literally does everything we need.
Cons
I really have no "Cons". Maybe a little more user-defined templates, but I have made it work just fine for our use.
Industry: Building Materials
Company size: 2-10 Employees
Used

Daily

for

2+ years

Review Source
---
Inventory Management Power House
Its a satisfactory experience overall.
Pros
Well its an amalgamation of all the correct features.
Cons
I would love to get the pictures in the invoices as well.
There can be a further reduction in price to get more customers.