About Katana Cloud Manufacturing
Katana offers a cloud manufacturing platform that makes daily life easier for your business. Bring your manufacturing operations into a single platform for visibility over everything you do and data to make more informed business decisions.
With integrations for sales, accounting, and shipping, you can run your business using the best software for you and your team without added manual work. There's also our Shop Floor App to work remotely with your in-house team, batch tracking for total traceability, and automation for resources and reorders. You can even use barcode scanning to stay on top of stock takes and minimize physical paperwork with digital alternatives across your business.
Here are a few more of the features Katana offers to make manufacturing management simpler:
Live inventory management - Set up reorder points and prioritize sales and manufacturing orders to optimize your inventory. Track the availability of raw materials and finished goods in real-time. Katana follows stock movements across your entire production cycle in multiple warehouses, allowing you to maintain optimal inventory levels everywhere.
Real-time master planning - Katana automates raw material and product allocation for efficient sales order fulfillment. Katana adjusts your production schedule according to demand, aligning your manufacturing operations to ensure maximum efficiency.
Total shop floor control - Optimize and monitor floor-level operations in Katana's Shop Floor App. Easily create, set up, and remove shop floor operators and receive real-time floor-level insights to easily track manufacturing costs and productivity based on your product recipes or bills of materials (BOMs) and production operations.
Omnichannel order management - Manage your made-to-order and made-to-stock workflows in tandem. Katana supports e-commerce and B2B operations and integrates with a wide range of CRM and e-commerce tools to streamline order fulfillment.
End-to-end traceability - Batch tracking for manufacturing, purchasing, and sales orders, ensures industry compliance and visibility when it comes to tracking your perishable stock. Get end-to-end traceability for your products and materials at all product lifecycle stages.
Visual and intuitive - Katana's color-coded platform allows you to easily stay on top of your business vitals, from sales to manufacturing operations. Get a quick and accurate overview and help when you need it through our Knowledge Base and live support team. You can also enlist the help of a Katana Partner for help with implementation, automation, and more.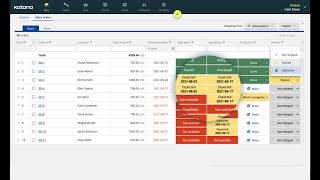 Katana Cloud Manufacturing pricing
Katana Cloud Manufacturing does not have a free version but does offer a free trial. Katana Cloud Manufacturing paid version starts at US$99.00/month.
Starting Price:
US$99.00/month
Alternatives to Katana Cloud Manufacturing
Katana Cloud Manufacturing Reviews
Used

Daily

for

1-5 months

Review Source
---
I learned this product by using it; few hints from the online help. I decided on day one to...
I can now run my business without spreadsheet hell. I can actually make more product. This is not an exaggeration. I was stressed before using this software. I actually could not work out what I needed to order to satisfy our production demands.
Pros
It answers my questions easily, what purchase orders do I need to make to satisfy the orders I have coming in. What should I work on next and when will it be ready for the customer! I can see delays in deliveries and the effect on production. It manages very complex bill of materials for our vast number of products. and it does so with a user experience that is simple and easy.
Cons
Where there has been anything I didn't like about the software, I chat instantly to the development team and they listen, they come back to me with an instant work around; then in the longer term they have provided updates that fix the problem. They are an adorable bunch of people and really want to make this work for our busy little workshop.
Response from

Katana Technologies

Thank you Gaz for all the support!

Replied 09/09/2019
Industry: Machinery
Company size: 2–10 Employees
Used

Daily

for

1-5 months

Review Source
---
First Impression KATANA - perfect fit for smaller companies which do not need a complex...
For our requirements, set-up and company size the best we could find and test!
We will manage inventory/warehouse with 5000+ items, handle products with ingredients & operations, edit quotes, generate sales orders and mark received orders as shipped for automated invoice generation in Quickbooks. The cloud-based concept and the reduced complexity combined with an intuitivbe operatzion makes this SW easy to install and to work with if you have a team in different geographic locatioopns (as we have).
Set-up of KATANA is absolutely simple, mostl yself-explanatory and can be done by any "power-user" without need of (expensive) external ERP-consultants.
Pros
Handling of inventory, items, products, ingredients, sales orders - all this is handled in a very efficient, clear and easy to use way. Makes the difference compared to many alternative MRP-/ERP-systems.
Connector to QuickBooks with automatic trigger for invoices in QB once the products are marked as shipped in KATANA.
Connector to Shopify for on-line sale of spare parts.
100% helpful and open minded customer service - very helpful in helping to understand all features and finding the best workflow for specific situations.
Cons
There are some functions/features which need improvement, e.g. the customization of documents such as Quotations so every company can generate a set of individual template to serve different areas (machines, spare parts, service,..). 3-5 custom fields for Quotes/Sales Orders/Products would be helpful. Althoug KATANA is intended to be a MRP-system it would be helpful to integrate SERVICE-articles (not only MAKE or BUY articles). This would allow to add a possible service portion to a spare parts quote.
Dedicated Delivery Notes (with partial shipments) would be a great feature.
Reasons for Choosing Katana Cloud Manufacturing
Due to a downsizing in manufacturing we decided to look for a faster, more flexible, less complicated MRP-system which is cloud-based and would have good and propven interfaces to a standard accounting SW and to an on-line shop (spare parts).
Reasons for Switching to Katana Cloud Manufacturing
Simplicity with at the same time well covered basic features, ease of use, intuitive, cloud-based.
Response from

Katana Technologies

Thank you! Glad you are getting value out of Katana.

Replied 28/12/2020
Industry: Transportation/Trucking/Railroad
Company size: 2–10 Employees
Used

Weekly

for

1-5 months

Review Source
---
Promised so much delivered far short of what we hoped
Disappointed. They are pretending this software is the best thing since sliced bread and its more like a stale baguette.
Pros
It works on a basic level for stock management and also bills of materials.
Cons
It fails to have any sort of calender or gantt chart. It also fails terribly with time planning/recording of how long a task can take. For example you can't even put into the system that you start your working day at half past the hour only full hours are allowed. Further to the time planning side you can not block out time for holidays or meetings. Making this software useless to plan your time and give acreate lead times to customers.
Reasons for Choosing Katana Cloud Manufacturing
In the middle of the switch but it seams to offer far more options and cross capability.
Response from

Katana Technologies

Hi Daniel! Thank you for your honest feedback. We are continuously working on improving on the points of time planning and will be ready with better capabilities in the coming months already.

Replied 09/03/2022
Industry: Computer Software
Company size: 10,000+ Employees
Used

Monthly

for

6-12 months

Review Source
---
Streamlining Our Operations
Katana Manufacturing ERP software generally receives positive reviews for its ease of use, affordable pricing, real-time inventory management, and efficient production planning and scheduling capabilities. Additionally, I appreciate the software's ability to integrate with other business systems and automation tools, as well as its responsive customer support team. I have suggested areas where the software could be improved, such as offering more customization options and advanced reporting featuresOverall, the feedback from me is that Katana Manufacturing ERP is a reliable and efficient solution for businesses looking to streamline their operations.
Pros
Katana Manufacturing ERP software include its intuitive and user-friendly interface, real-time inventory management, efficient production scheduling and planning, multi-channel sales integration, and affordable pricing plans. Additionally, the software's ability to integrate with other business systems and automation tools, as well as its responsive customer support team, are some of the key advantages of using Katana Manufacturing ERP
Cons
Lack of customization options: I have found that the software's customization options are limited and they would like more flexibility to tailor the system to their specific business needs.Limited reporting features: I have suggested that the software's reporting features could be more comprehensive and customizable, allowing for more in-depth analysis of business operations.Occasional glitches: I have reported occasional glitches or bugs in the software that can affect its overall performance
Industry: Retail
Company size: Self Employed
Used

Daily

for

1-5 months

Review Source
---
Cannot recommend this app enough
Honestly has changed my life for the better. I'm no longer running out of supplies and having to do emergency orders (hello, extra shipping fees!). This keeps me organized and helps me to better my time management. I can see every open order that I need to fulfill and planning out supply orders is a breeze. I've recommended this app to every other maker I know because I am that in love with it. I'll use this app for the rest of my life because it is the best thing that's happened to my business in a long time.
Pros
This software legitimately changed the way my business runs. It keeps me accountable for the hundreds of supplies I use on a daily basis and keeps me organized in a way that no lists, or other apps, ever have.
Cons
I can honestly say nothing, this app works so seamlessly and wonderfully. Maybe the load speeds can be a little laggy, but that's mostly because I have a lot of materials I've input. Definitely not an app downfall or issue at all.
Response from

Katana Technologies

Thank you for the support!

Replied 02/06/2020