About Hubstaff
Whether businesses are starting up a new team or looking for a better way to manage employees, Hubstaff has everything required to run teams confidently. With the innovative and robust time tracking and task management solution, enterprises can track their team's time with in-depth timesheets, GPS tracking and project management using the tasks module. As employees track time with the lightweight desktop, web, iOS and Android applications, enterprises will be able to monitor their activity with time tracking, optional screenshots and app tracking, mouse and keyboard usage and even on-site time with geofences. Hubstaff allows team leaders to view detailed reports, send client invoices and even pay employees directly based on their work hours and customizable pay rates. With over 30 application integrations like Basecamp, Trello, Asana, Github and Paypal, Hubstaff seamlessly fits in with multiple businesses, meaning users can work without any interference in their day-to-day operations.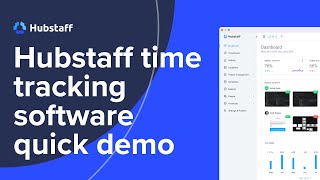 Hubstaff has a free version and offers a free trial. Hubstaff paid version starts at US$7.00/month.
Starting Price:
US$7.00/month
Industry: Online Media
Company size: 11–50 Employees
Used

Daily

for

2+ years

Review Source
---
The best Employee Monitoring Software in Market for Remote Employees
It was a great experience, the software is scalable and affordable. It only adds cost upon usage which is critical.
Pros
As a company with lots of employees working remotely for us, we need strong software to monitor employees' performance and act according to the efficiency analysis. Its best feature is idle time management which helps you know if some employee is sitting idle.
Cons
Customer support is delayed a bit. We sometimes faced problems with Windows computers, this is somewhere Hubstaff needs to work it more user-friendly for Windows.
Industry: Computer & Network Security
Company size: 11–50 Employees
Used

Daily

for

2+ years

Review Source
---
Hubstaff App Review
This app, is the best of it's kind and I believe that, I'll use it for a long time.
Pros
The app is very easy to use.
The ability to take screenshot of worker's screen is great.
Very customizable.
I like the fact that it's free for a single user.
Cons
At a point in time, it gives different recorded times. A different time sent via email from the actual recorded times.
Reasons for Choosing Hubstaff
Toggl was not working to my expectations...
Reasons for Switching to Hubstaff
Per reviews, hubstaff was the best so I decided to give it a try.
Response from

Hubstaff

Hello Paul, thank you for providing your input regarding our product.

When it comes to the daily emails that get sent out automatically by our system, there are a couple of reasons to consider for why they can appear to be incorrect.

Firstly, the hours displayed in those emails are always in the organisation's timezone, and not in the member's own one. So, if there is a big time difference between the two, for example organisation having EST (New York) and user CST (Shanghai), then the hours tracked can appear to be incorrect due to the big difference between timezones.

Also, if the user's Hubstaff tracker has not been able to upload all of its tracked data as intended, then the summary report will only display hours tracked and uploaded to our servers at the time of the email being sent out.

We do encourage the usage of the timesheets area to more accurately see the hours worked by the members of your team. On there, information can accurately be seen in both timezones.

Replied 25/04/2022
Industry: Consumer Goods
Company size: 2–10 Employees
Used

Daily

for

6-12 months

Review Source
---
Incredible and the strong application for remote work time observing with screen captures tool
This is perfect to monitor representatives who don't work in the workplace. We can undoubtedly separate each single work time cycle and further foster it for improvement. This tool is valuable to the point that I would endorse it to anybody who's expecting to expand their efficiency and assist you with developing. Yet, to get certified use consequently you need the remuneration variation, not the free one. Furthermore, you might get some resistance from workers to utilize this, yet I would say, the people who despise it, have been deceptive. Most are totally fine with it!
Pros
Hubstaff is one of the most outstanding activity trackers for hourly-based work. Particularly, while you are a paying freelancers hourly and considering the movement you can perceive the sum you have worked. It is easy to comprehend and simple to utilize, it isn't inclined to mishaps or bugs, you can work without stress over time being clocked and it's not difficult to get and realize about it with practically no struggles. Time has unequivocally followed the software which surveils the employee movement and takes screen captures, you comprehend what individuals are chipping away at, and when! It makes your activity amazingly productive. The efficiency score is refined into a fundamental keyboard and mouse movement however it is the most un-intricate and clear technique to follow action and it assists the management with checking the comprehensive picture. There are heaps of blends and the assistance is awesome. One savvy thought is the day-to-day notice email that is sent with time worked, and level of activity.
Cons
Hubstaff at times adversely affects productivity. Representatives should recreate activities to work the entire hours, regardless of whether they can complete a venture quicker. I find the date selection genuinely burdensome and furthermore find it hard to recall where the specific reports are that I would like. Hubstaff ought to offer more customization choices to tweak the working of the application as indicated by the environment/nature of the workplace and work for instance setting a dormant break, screen capture recurrence, and so on. Our work is reliant upon the web, however, when the web is off, it actually tracks time, albeit the group isn't working around then, so there ought to be a choice to change these settings. The time fizzles when you utilized Hubstaff on your phone, and of the time it didn't match up with the Hubstaff on your PC. The screen capture is an excess of in some cases multiple times in succession without notice might save undesirable screens as well.
Industry: Retail
Company size: 11–50 Employees
Used

Daily

for

1-5 months

Review Source
---
Way too complicated/complex.
Time-consuming. It's just an extra job to do.
Pros
I don't like anything about it. It's aimed at management/HR/payroll which means it's too complicated for other staff to navigate.
Cons
Everything is way too over-complicated, too many things to choose from, titles irrelevant to me, adds seconds to my timesheets but we have to correct this by removing them so why have them there in the first place - I don't get paid by the second! Needs to be SIMPLIFIED to suit the users' needs. It has basically created extra work.
Response from

Hubstaff

Hello Esther,

Thank you for providing us with your honest feedback about Hubstaff.

It is true that there is a bit of a learning curve when it comes to using Hubstaff and it can seem a bit daunting at first to figure out how to make the most of the usage of the platform.

Should you have any further need for assistance, we do recommend that you reach out to our support team. Alternatively, you can visit our extensive knowledge base - https://support.hubstaff.com/ - on which there are hundreds of guides and articles about how to get the most out of the platform.

Replied 27/02/2023
Industry: Marketing & Advertising
Company size: 2–10 Employees
Used

Daily

for

1+ year

Review Source
---
Unlock Efficiency & Maximize Productivity with Hubstaff Software!
Yes, I have had a great experience with Hubstaff. It is one of the most efficient and easy-to-use management tools that I have ever used. The web-based dashboard makes it very simple to track employee hours, projects, tasks, and more in one central location. Additionally, the reporting capabilities make it easy to review progress and identify areas of improvement. The customer service team has also been very helpful and responsive to my questions. All-in-all, Hubstaff is a great tool that I would highly recommend.
Pros
My team really appreciated the intuitive user interface and easy to understand features of this software. We found it very helpful in streamlining our workflow and making tasks easier to complete. Additionally, we liked that the software was highly customizable, allowing us to tailor it according to our specific needs. Furthermore, the customer support team was available 24/7 which provided us with great peace of mind. Overall, we found this software to be a great solution for our business needs.
Cons
The pricing of the software is on the high side, and some of the features appear to be a bit advanced for my needs. Additionally, I find the interface difficult to navigate and understand at times.