About Hubstaff
Whether businesses are starting up a new team or looking for a better way to manage employees, Hubstaff has everything required to run teams confidently. With the innovative and robust time tracking and task management solution, enterprises can track their team's time with in-depth timesheets, GPS tracking and project management using the tasks module. As employees track time with the lightweight desktop, web, iOS and Android applications, enterprises will be able to monitor their activity with time tracking, optional screenshots and app tracking, mouse and keyboard usage and even on-site time with geofences. Hubstaff allows team leaders to view detailed reports, send client invoices and even pay employees directly based on their work hours and customizable pay rates. With over 30 application integrations like Basecamp, Trello, Asana, Github and Paypal, Hubstaff seamlessly fits in with multiple businesses, meaning users can work without any interference in their day-to-day operations.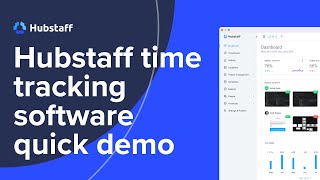 Hubstaff has a free version and offers a free trial. Hubstaff paid version starts at US$7.00/month.
Starting Price:
US$7.00/month
Pricing Details:
Pricing starts at $7/month for 1 user on the simple plan. Bigger packages are available for bigger teams. Premium plans include additional features to the simple plans, like integrations, automatic payroll, app, online timesheets, url tracking and more. Premium plans start at $10/month for 1 user.
Industry: Entertainment
Company size: 2-10 Employees
Used

Daily

for

1-5 months

Review Source
---
The best solution for integrated task management and thorough time tracking and reporting.
Very happy I moved from Time Doctor to Hubstaff. Huge improvements on all areas and a satisfying product to use. The experience is so good that I find myself wanting to stay with Hubstaff regardless of whether my need for time tracking reduces.
Pros
- Integrated Task Management platform (Hubstaff Tasks) allows for agile style task management that feeds appropriate tasks to user's timers.
- Nice user interface
- Good reporting functions
- Thorough tracking options
- Client/project budgets
- Very good Customer Support
Cons
- I discovered some bugs during usage (which the developers have ironed out)
- Time off / holiday allowance policy function is a great addition, but doesn't allow enough granularity as decimals of hours (or minutes) can't be used.
Reasons for Choosing Hubstaff
More accurate and granular control of task management needed. Also felt that Time Doctor was outdated from a UI perspective.
Reasons for Switching to Hubstaff
Combination of functionality (thorough time tracking and agile task/project management), pricing, user experience and reviews.
Industry: Nonprofit Organization Management
Company size: 2-10 Employees
Used

Daily

for

1+ year

Review Source
---
Productivity booster
It is a great product if you spent some time explaining the advantages to your colleagues. Otherwise, I might be seen as a tool that violates personal privacy and narrowly measures company productivity.
Pros
easy to use, stable desktop app, great visualizations and statistics, many possibilities for integration with another tools
Cons
some functionalities within this product are not fully customizable (e.g. idle time is set to min of 5 minutes), more flexibility would be great (e.g. you can`t enable or disable idle timer or disable manual adding/editing records within specific project/task.
Response from

Hubstaff

Hi Dejan,
Thanks for your feedback!

We absolutely agree that it is important to have a conversation with your team in regards to the software and its capabilities to ensure they are on the same page and do not feel that it invades their privacy.
We understand that this type of conversation can be difficult and time consuming so we put a guide together to help with the transition https://support.hubstaff.com/transition-your-business-to-hubstaff/

If you have any questions feel free to reach out to our support team and we will be happy to help.

Thanks again!
Sarah

Replied 05/08/2019
Industry: Information Technology & Services
Company size: 2-10 Employees
Used

Daily

for

2+ years

Review Source
---
Lightweight and trustworthy time tracker
Pros
The time tracker app is very lightweight and works well on Windows and Linux.
It tracks time very well and the hours get billed correctly. Overall it's a very trustworthy platform.
Cons
The Dashboard is a bit difficult to use and understand.
Industry: Marketing & Advertising
Company size: 51-200 Employees
Used

Daily

for

1-5 months

Review Source
---
Constantly Rated As Poor Productivity Even When Working Hard
My overall experience with this software is a very poor one. While I appreciate what you're trying to accomplish with the software, especially for remote employees such as myself, it just isn't working out for me personally. As I said earlier, it's going to wind up costing me my job because the software is telling my management that I'm not working when I am. The software also doesn't account for things like needing a lavatory break or taking our (legally required) paid time breaks. If I were to take my 30 minute paid time breaks every day, my productivity would just sink into the teens. There's also no way to account for meetings or times I am on the phone where I am still being productive and working but since I am not clicking anything or typing it thinks I am sitting doing nothing.
Pros
I like the way Hubstaff is designed. It's intelligent and user-friendly. It's sleek and very polished and up-to-date with modern design standards and as a user I am easily able to access the dashboard and different features and see the differences in productivity from minute to minute, see the screenshots, see the tracking points, etc. From the perspective of direct user experience, it's ace.
Cons
However, my qualms with Hubstaff far outweight its superior design structure. The program, to me, is broken. No matter how hard I work, I have never had a day above 40% productivity - and that only happened once. I am usually rate in the mid to high 20s, even on days when I am busting my butt to get work done. I don't know why I am having these problems with the software, because I know I am working, I know I am getting work done, but why am I being rated so poorly? This software is going to wind up costing me my job, and that makes me furious.
Response from

Hubstaff

Hey Diane,

Sorry you aren't having a good experience. Let me explain how Hubstaff tracks activity, and if you still think you should be getting a higher score, please contact our 24/7 support team at [email protected]

Your activity levels may be lower or higher depending on your responsibilities. Manual and mobile time tracking can also lower your productivity levels so include a note to your employer letting them know what you were working on. Here is a helpful article about how activity levels are tracked: https://support.hubstaff.com/how-are-activity-levels-calculated/

Replied 08/02/2019
Industry: Architecture & Planning
Company size: 11-50 Employees
Used

Daily

for

1-5 months

Review Source
---
Time tracking for architects & engineers
Pros
Time tracking, HR features, url /app tracking, project management, good gps tracking, great 1 on 1 customer service.
Cons
Customization of PTO replenishment can be improved since some of employees PTO are based on contract date. Screenshot on ipad / tablets needed.
Reasons for Choosing Hubstaff
Need better project management software with hrl & app tracking.
Reasons for Switching to Hubstaff
Good time tracking, HR features, url /app tracking, project management, great 1 on 1 customer service.