About Hubstaff
Whether businesses are starting up a new team or looking for a better way to manage employees, Hubstaff has everything required to run teams confidently. With the innovative and robust time tracking and task management solution, enterprises can track their team's time with in-depth timesheets, GPS tracking and project management using the tasks module. As employees track time with the lightweight desktop, web, iOS and Android applications, enterprises will be able to monitor their activity with time tracking, optional screenshots and app tracking, mouse and keyboard usage and even on-site time with geofences. Hubstaff allows team leaders to view detailed reports, send client invoices and even pay employees directly based on their work hours and customizable pay rates. With over 30 application integrations like Basecamp, Trello, Asana, Github and Paypal, Hubstaff seamlessly fits in with multiple businesses, meaning users can work without any interference in their day-to-day operations.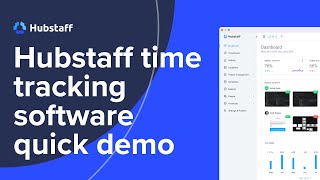 Hubstaff has a free version and offers a free trial. Hubstaff paid version starts at US$7.00/month.
Starting Price:
US$7.00/month
Industry: Entertainment
Company size: 2-10 Employees
Used

Daily

for

1-5 months

Review Source
---
The best solution for integrated task management and thorough time tracking and reporting.
Very happy I moved from Time Doctor to Hubstaff. Huge improvements on all areas and a satisfying product to use. The experience is so good that I find myself wanting to stay with Hubstaff regardless of whether my need for time tracking reduces.
Pros
- Integrated Task Management platform (Hubstaff Tasks) allows for agile style task management that feeds appropriate tasks to user's timers.
- Nice user interface
- Good reporting functions
- Thorough tracking options
- Client/project budgets
- Very good Customer Support
Cons
- I discovered some bugs during usage (which the developers have ironed out)
- Time off / holiday allowance policy function is a great addition, but doesn't allow enough granularity as decimals of hours (or minutes) can't be used.
Reasons for Choosing Hubstaff
More accurate and granular control of task management needed. Also felt that Time Doctor was outdated from a UI perspective.
Reasons for Switching to Hubstaff
Combination of functionality (thorough time tracking and agile task/project management), pricing, user experience and reviews.
Response from

Hubstaff

Hey Ewan, hope all is well with you and thank you for the kind words. You can now request time off exactly down to the minute. Cheers!

Replied 31/01/2022
Industry: Design
Company size: 11-50 Employees
Used

Daily

for

2+ years

Review Source
---
Using Hubstaff for 5 years more. Seem it has improved!
Really just fine. What more should I look for as a freelancer who just need to track time for a project. Then send a a simple invoice at the end. As far as I'm concerned, I have a good experience with the app. If I have to suggest, maybe as a UX/UI Designer, they can enhance the looks an feel of the software to make it more professional and appealing to users.
Pros
Straightforward. Just the thing you need, you'll find it. Pretty much like any other time tracking software - as freelancer it has screen capture, invoicing, offline tracking and all...
Cons
It's just straight forward. Maybe they can add quick chat for client. Instead of additional login to browser when you need to quick communicate with your client.
Response from

Hubstaff

Hey Roldan, thank you for submitting this review for Hubstaff! We are happy to hear that you are enjoying using Hubstaff for your time tracking needs.

We want to continually improve the platform and our offerings, so we do welcome all feedback onboard. Please feel free to go to https://roadmap.hubstaff.com/ and add any ideas for features to be implemented.

Replied 29/03/2022
Industry: Media Production
Company size: 2-10 Employees
Used

Weekly

for

2+ years

Review Source
---
My experience with Hub Stuff for over 4 years
Pros
Ease of use, flexibility and availability at all times
Cons
The large amount of reports and their presentation format :)
Reasons for Switching to Hubstaff
I work on both systems, but for remote work I rely on Hapstaff
Response from

Hubstaff

Hello Abdullah,

Thank you for leaving us this review for the platform. Indeed, at the moment, we do have a large number of different reports that are used to provide detailed information about a specific aspect of the time tracked on the organisation.

However, please keep in mind that we are in the process of releasing Hubstaff Insights, which is a paid add-on for Hubstaff, that offers analysis of various different reports together, using parameters set up by the organisation that utilises this add on. I believe this will be of great benefit to both yourself and other users, or organisations, that are wanting to have a quicker and easier way to analyse the information recorded by Hubstaff.

For more information about the add on, we do have the following support article here - https://support.hubstaff.com/hubstaff-insights-add-on/

Replied 14/11/2022
Industry: Health, Wellness & Fitness
Company size: 51-200 Employees
Used

Daily

for

2+ years

Review Source
---
API Support Needs some work
Like eating cold left overs
Pros
The Application User Interface is nice and it looks good
Cons
I recently attempted to use your API to link my CRM to employee availability and it is absolute trash and the support team has been everything except helpful. I ask for server logs from your end and they dont have access to them, I ask for data and they tell me they cant see it. I can provide a timestamp from my server, why cant you? They even asked me to record a video so they could see what im doing instead of offering to set up a call and watch! What kind of dev asks for a video when they can look at the server log? Just the worst service I've had in years and thought you might care to know. I'd love for Hubstaff to continue to meet our needs.
Industry: Education Management
Company size: 201-500 Employees
Used

Daily

for

6-12 months

Review Source
---
A great software for time tracking!
Pros
Hubstaff is great software for the time tracking. I am just a user but when comparing it to other time- tracking software I've used in the past, Hubstaff is less complicated and easy to handle/manage, especially when it comes to adjusting time. It can be intimating at first, but using it on a daily basis proved to be easy.
Cons
Sometimes it doesn't reset after 24 hours so the time for the new day gets added to the previous day.
Response from

Hubstaff

Hello Kissara,

Thank you for taking the time to provide us with this detailed review of Hubstaff, we are happy to hear that overall your experience has been a positive one on the platform.

When it comes to the time tracker not having its time reset at the start of each day, the most likely cause for that is a temporary connection issue - affecting the connectivity between your time tracker and our servers.

Typically, the time tracker will refresh at the start of each day, at midnight local time. If, however, this doesn't happen, it will mean that the time tracker is in an offline state. That's not too much of an issue, though, as Hubstaff is well equipped to track time in an offline state as well.

Your time will be accurately recorded and uploaded to our servers, the next time the connection can be made. Feel free to reach out to our support team, should you have any prolonged issues with the time tracker itself.

Replied 14/11/2022