About CANVAS
Canvas LMS from Instructure is a cloud-based learning management system (LMS) specifically designed for K-5 on up through higher education institutions. Canvas LMS is a scalable platform that can be used by educational institutions of all sizes and types, from individual classrooms to large universities to companies with a blended or fully virtual learning environment. The Canvas platform offers complete LMS functionality for online learning including standards-based grade books, customizable student assessments, course content authoring, mobile communication, plus more. Canvas LMS can integrate with an educational institution's existing SIS and other teaching tools. Additionally, the Canvas App Center offers mobile-ready teaching tools that can add new functionalities to the platform. Over two hundred different LTI tools allow educators to customize courses and monitor engagement with classes or individual students. Canvas also offers native mobile apps for iOS and Android devices, allowing educators, students, and parents to view key information, share and receive updates, or submit results from anywhere at any time. With these tools, Canvas LMS offers comprehensive, high-quality mobile learning experiences.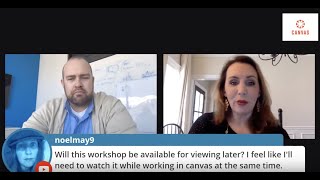 CANVAS has a free version and offers a free trial.
Industry: E-Learning
Company size: Self Employed
Used

Daily

for

1+ year

Review Source
---
My favorite academic LMS
Pros
There are so many great things about Canvas LMS. It's about fit of course, so I would never use it for corporate L&D... but as an academic LMS, it ranks at the top. I love the community forums (you can find help for literally anything), and the numerous tools that are 1) either provided by Canvas, or, 2) integrate nicely with Canvas.
I also like the ease of use. It might seem overwhelming at first, but learning to build and administer courses on Canvas becomes easier by the day. So at first it may seem tough, but stick with it! It gets much easier - quickly!
Cons
In order to upgrade the look and feel of it, without hiring a team of graphic designers, you need to use design service that integrates with Canvas.
Reasons for Switching to CANVAS
I started using Canvas as a student! Way back. When I became an eLearning developer, I already had the familiarity of it from university :)
Industry: Higher Education
Company size: 10,000+ Employees
Used

Daily

for

2+ years

Review Source
---
The best LMS I've used so far (much better than Brightspace/D2L)
Overall, Canvas is the best I've used so far (1000x better than buggy/feature-impoverished D2L). It's generally nice to work with, plays well with most other online resources (especially Google Drive which I use a ton for teaching), it's fairly easy to explain to students, and it makes it easy to transfer materials between courses each semester.
Pros
One thing I love is that unlike Brightspace/D2L, Canvas has continued to develop and gain new features as long as I've used it. I also like how easy it is to transfer course materials from one course to another so that classes I teach each semester, or every other semester, can be easily copied over.
Cons
Some of the more advanced/useful features aren't always easy to use, and there isn't great documentation from Canvas. In fact, most of the documentation I've found has been from other university's websites.
Industry: Education Management
Company size: 1,001-5,000 Employees
Used

Daily

for

2+ years

Review Source
---
Canvas
Pros
I have used canvas as a teacher and a student in college. I love the ease of use and setup.
Cons
The only thing is some assessments that students complete I am unable to see them on my end to grade.
Industry: Education Management
Company size: 1,001-5,000 Employees
Used

Daily

for

2+ years

Review Source
---
Canvas for Online Learning, Teaching & Assessment: OK but...
Best valuable features: Share to Common, Import/export content i.e., transport/transfer files from past year or another course. It saves time, not reinventing the wheel.
Assignment Due date is very cruel to learner as 1 second late submission may cause a heavy penalty. Recently due to COVID-19 my learners in UK and International faced difficulties. I suggest to add a feature giving some window instead of a fix hh.mm.ss timestamp.
Pros
Learning & Teaching: Various useful features, e.g., upload/download files, page creation, announcement and discussion and valuable apps containing ubiquitous tools, like MS Team meetings, Panopto, Vimeo, YouTube, Dropbox etc.
Assessment: Huge variety of Quizzes, secured quizzes, quizzes SWOT statistics, lockdown browser, Assignments, anti-Plagiarism tools, Moderation, Marker Allocation, Grades,
Research: Conferences, collaborations, Canvas digital forum support.
Cons
Assessment of students: sorting may not be sync'd with local university database. i.e., downloaded grades and university's marksheet contains names of students starting differently. Imaging if you have 300+ names! this causes sorting issues while assessing online.
Quizzes are great but cannot create duplicate questions, some time academic need this feature. Also because quiz question can be an Essay therefore, this type of assessment must include anti-plagiarism tool (i.e., Turnitin etc), not available in Quizzes but only in Assignments.
Reference Manager and Library tools are not available but can be added, e.g., Talis, StudyNet etc. These features are necessary for cognitive learning and cresting your own Library does help. I need to use either Endnotes or Mendeley as an external app on my desktop or on cloud.
Its good to use integrated Email tool but its not linked to outlook or other email app. I cannot send email to other people outside my module, i.e., cannot do cc to manager, examiner etc but I need to permanently add in the list of people.
Also cannot add images etc in text but can attach files. Also cannot format the text but just plaintext is allowed. You cannot add http link to a text.
Industry: Biotechnology
Company size: 1,001-5,000 Employees
Used

Daily

for

2+ years

Review Source
---
Canvas
Pros
It is very easy to navigate around Canvas and know where things are. You have access to a calendar which shows all of the due dates for your assignments. You can join a classroom through Canvas if your course requires it. The grade book is helpful for knowing what your grades are for each course.
Cons
I think getting logged out frequently gets annoying.