About CANVAS
Canvas LMS from Instructure is a cloud-based learning management system (LMS) specifically designed for K-5 on up through higher education institutions. Canvas LMS is a scalable platform that can be used by educational institutions of all sizes and types, from individual classrooms to large universities to companies with a blended or fully virtual learning environment. The Canvas platform offers complete LMS functionality for online learning including standards-based grade books, customizable student assessments, course content authoring, mobile communication, plus more. Canvas LMS can integrate with an educational institution's existing SIS and other teaching tools. Additionally, the Canvas App Center offers mobile-ready teaching tools that can add new functionalities to the platform. Over two hundred different LTI tools allow educators to customize courses and monitor engagement with classes or individual students. Canvas also offers native mobile apps for iOS and Android devices, allowing educators, students, and parents to view key information, share and receive updates, or submit results from anywhere at any time. With these tools, Canvas LMS offers comprehensive, high-quality mobile learning experiences.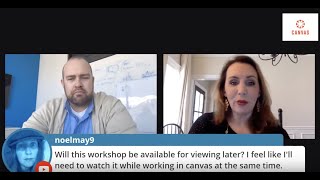 CANVAS has a free version and offers a free trial.
Industry: Information Technology & Services
Company size: 10,000+ Employees
Used

Daily

for

2+ years

Review Source
---
CANVAS offers us the opportunity to acquire its services through trials.
CANVAS is one of the main programs that we put on to increase education and knowledge of the area with the staff of the company, thanks to the ease and good interface that this program has, it allows us to provide you with an adequate master's degree and impart the most relevant information of the company. which will be of great help for future activities, CANVAS offers us the opportunity to acquire its services through trials and free versions, thanks to this platform we can use them at all times and expose our content through methods and activities on the web that It will be very helpful, in order to speed up with these tests the learning of the work methodology and how to achieve profit for the company.
Pros
This platform provides the best tools to expose information and constantly train our support staff, it is these students who benefit from the easy integration of CANVAS that allows them to understand much of the information guide that we want to teach them, there are many benefits when you have a program that would train you with the new co-workers who request an opportunity to operate within the company, imparting the knowledge that could be reinforced thanks to the support of this program, I really like how practical and dynamic each one of the projects that are taught by this means, this with the aim of approving the student body to reinforce their skills in this area, CANVAS is undoubtedly one of the best spaces where it allows us to teach order and administrative efficiency when working and performing in our company.
Cons
This program may be a bit basic, this is because the tutorials and guides for its users may be very limited, having the opportunity to further expand its functions in other areas, that is, it may be a bit more versatile for the training of other types of more complex programs that require more practice and theory before implementing them in the company, the potential that this program has is very great, although it also does not have the integration of more common programs in the use of administrative offices, this can be a great point that play against them.
Industry: E-Learning
Company size: 5,001-10,000 Employees
Used

Daily

for

2+ years

Review Source
---
Canvas
My overall experience with Canvas has been very positive. The LMS is easy to use for instructors and learners and offers the options for multi-media, classroom management, and student record keep as many of the other costly LMS.
Pros
Canvas is an affordable, ease to use LMS that offers the opportunity to level the educational playfield bu=y providing a cost-effective systems for offering online learning. It offers the same features as costly LMS such as D2L.
Cons
The Canvas Studio is glitchy at times with reported problems uploading videos by learners.
Reasons for Switching to CANVAS
Cost---Much less expensive than other systems.
Industry: Higher Education
Company size: 10,000+ Employees
Used

Weekly

for

2+ years

Review Source
---
Useful and powerful, if you can figure it out
Pros
Canvas has numerous features that do make it very powerful. The ability to create entire courses, modules within each course that connect the assignments/tests/etc. into one place, pages that can be used to provide information, including embedding videos & lessons are all phenomenal. The ability for the system to automatically score and calculate grades real-time for students is also fantastic.
Cons
The software is not intuitive. I used Canvas as an undergraduate and graduate student and have used it to teach college courses in the past, over the past several years, and I am still unfamiliar with numerous features (e.g., integration). If I haven't used a specific feature in a while, it is often really hard to try to figure out how to do it. I often end up having to search a video tutorial to figure it out. I do appreciate Canvas posting tutorial videos on social media sites to teach how to use the software.
Industry: Biotechnology
Company size: 1,001-5,000 Employees
Used

Daily

for

2+ years

Review Source
---
Canvas
Pros
It is very easy to navigate around Canvas and know where things are. You have access to a calendar which shows all of the due dates for your assignments. You can join a classroom through Canvas if your course requires it. The grade book is helpful for knowing what your grades are for each course.
Cons
I think getting logged out frequently gets annoying.
Industry: Education Management
Company size: 5,001-10,000 Employees
Used

Weekly

for

6-12 months

Review Source
---
With CANVAS learning like a game.
My overall experience with this program was very practice.
Pros
We are using this for my little sister from high school she study with CANVAS after school if she doesnt understand her daily lesson exactly.With regularly using her success increase everyday.
Cons
I'm happy that using CANVAS so i haven't any bad aidea about it.