About Glasscubes
Glasscubes offers cloud-based collaboration solution for businesses. It provides for file sharing, collaboration and document management, making it accessible from devices with an internet connection. Glasscubes' file sharing module lets users store their documents in the cloud, while it's online community facilitates knowledge sharing. Users can upload any type of file they want without size restriction and can share files with people who are not subscribed to Glasscubes by sending them a password-protected link. This software features a "whiteboard" tool, where team members can jot down notes and attach images and links on a shareable whiteboard. Glasscubes also offers a buildable knowledge base, allowing team members to share information and questions in one location. Users can attach conversations to documents and make sure the relevant documents are associated with a project. Pricing is based on the number of users per month. Telephone and live chat support are offered.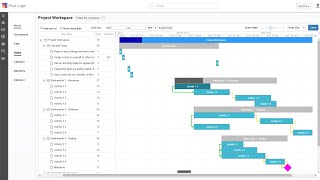 Glasscubes does not have a free version but does offer a free trial. Glasscubes paid version starts at US$35.00/month.
Starting Price:
US$35.00/month
Alternatives to Glasscubes
Industry: Nonprofit Organization Management
Company size: 2–10 Employees
Review Source
---
The online collaboration space that users actually use and embrace.
Among all the varieties of online collaboration software that I and the global networks I advise have used to try to build on-going, strong, virtual communication between our users, Glasscubes has been embraced and used more deeply, persistently and effectively than any other platform. Use the dashboard of recently added/changed/commented-upon to discover all the action throughout your Glasscube instance. It's an easy way to stay right on top of all developments. It gives confidence to users that their new contribution won't get lost deep in the site somewhere.
Pros
It has intuitively well-placed modules (dashboard of recent content; very functional workrooms - each with separate document/comments and more; effective tagging; and global search are most-used and appreciated.
Cons
I would find it advantageous for Glasscubes to widen its array of pricing options.
Industry: Management Consulting
Company size: 2–10 Employees
Used

Daily

for

1+ year

Review Source
---
Growing our Community
Great, it has helped
Pros
Helps coordinate a growing community of practice
Cons
Getting things set up and getting people to initiate interactions (it still requires some management from us)
Reasons for Choosing Glasscubes
needing to get things into one space as our community grows
Reasons for Switching to Glasscubes
Integration of zoom and means of setting up sub groups easily
Industry: Law Practice
Company size: 11–50 Employees
Used

Daily

for

6-12 months

Review Source
---
Intranet
Improved communication within the business.
Pros
Central location for all employees to access company information.
Cons
Menus can be tricky to navigate but the search facility works well.
Used

Daily

for

6-12 months

Review Source
---
My experience with glasscubes has been that it is very simple to use with a few downfalls.
A huge benefit that I received from this software was the ability to share files, manage documents, and create my own personal content in one place. Whereas in the past, I would have had to use several different types of software to get all of these things done in a timely manner.
Pros
The thing that I love the most about this software is that I can easily share files and manage documents without worrying about security concerns. I also am a fan of the fact that I can create my own personal content within the software making it possible for me to use just one software compared to the many that I used to use.
Cons
The thing that I like least about this software is the fact that sometimes it can be very difficult to review documents while in the native viewer setting. Another thing that I am not a huge fan of is the fact that most features are add-on software that is available to you at a higher cost that can be very expensive when added with the initial cost of the software.
Industry: Gambling & Casinos
Company size: 2–10 Employees
Used

Weekly

for

1-5 months

Review Source
---
More Features for Collaborating across different businesses
Pros
I feel transferring files between different people and businesses is very easy and seems very secure to use.
Cons
I feel you can create things such as teams where if there are different companies collaborating on this then it will notify more than one person from the other company. As this is something that has been highlighted during my use of this software as my colleague would receive notifications and I would not. So maybe a feature where it would be easier for companies to collaborate to transfer the files easier.