About Flock
Flock is a cloud-based tool that facilitates team communication. It is suitable for businesses of all sizes across a variety of industries and offers video and audio calling, screen sharing, text chat, integration with other business applications and more. Flock's collaboration tools include tagging colleagues in comments and to-do lists, uploading documents, images and videos, setting reminders and due dates, email alerts and more. Users can create projects, tasks and teams, set up email reminders and search for specific comments or files. Video and audio calls can be scheduled and carried out within the app, and the screen sharing tool allows users to show colleagues what they are working on in real time. Polls, code snippet sharing and group discussions are available, and Flock integrates with other apps such as Trello, Github, Google Drive and Asana. Support is provided through an online portal. Pricing is per user per month.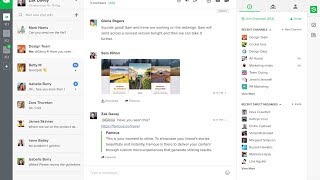 Flock has a free version and offers a free trial. Flock paid version starts at US$6.00/month.
Starting Price:
US$6.00/month
Industry: Computer Software
Company size: 51-200 Employees
Used

Daily

for

Free Trial

Review Source
---
The best Slack alternative, and I prefer it over Slack
Exceptional. While I'm not a huge believer in the importance of these chat products vs. those of the past, of the ones in the market today, Flock is my preferred chat tool. I've used Slack, Flock, Glip, and others. This one is easy to use, adds more features than Slack, and is far more stable and quality than Glip.
Pros
I never understood the hype around Slack. Marketed as an "e-mail killer," we all know that's true. There are still so many things it cannot do that email can do. Not to mention, it's just another internal chat tool. In fact, the only core differences between Slack and your typical enterprise grade chat client are silly emojis and power user abilities that 99% of your employees don't know how to use, and won't use. Flock, while generally speaking works the same way, at least adds some productivity concepts in the app. For example, in different channels and private chats, I can have working to-do lists with assignments and due dates. I can pin documents and files in a conversation or channel that are relevant to the conversation. Also, for some reason, things just feel cleaner in Flock. My entire team was confused why we switched at first, but those types of features were my reasons. And now they love it, no going back.
Cons
Not as many integrations as Slack. But not a deal breaker. Almost all the tools we use integrate.
Industry: Nonprofit Organization Management
Company size: 2-10 Employees
Used

Daily

for

Free Trial

Review Source
---
Make Your Flock Communicate With Ease
When compared with the competition, particularly Slack, it is better in many aspects. It is visually more appealing and communication is more transparent. It is also an easy to use tool and a recommendable alternative to Slack.
Pros
I love the clean and appealing user interface so much! I always troubled with communication tools that are super functional but the UI somehow creates clutterish feeling -- you are getting lost in all the exchange, you miss important info in a chat that seems to suddenly disappear. Flock
Cons
Maybe some less taxing ideas about notification. Sending an email following a missed message is crowding my inbox. But overall, I can't think of any serious dislikes.
Industry: Media Production
Company size: 11-50 Employees
Used

Daily

for

1+ year

Review Source
---
Just Telegram or Whatsapp with some integrations!
Flock is really good, I recommend it to small IT or ITes company as most of the apps made available for keeping developers and programmers in mind. Whereas for rest it's better to use Telegram with IFTTT and Zapier or Try Workplace by Fb and MS Teams then switching from Slack to Flock.
But those who're already using Slack, Flock is like Bullock cart Vs Bently (Slack) and sooner or later either you'll upgrade to Slack or Workplace by Facebook or Teams by MicroSoft.
Pros
- Easy to use
- Affordable then Slack but not anymore after entry of Workplace by Fb and MS Teams (as they're almost free)
- Best in class Support and they're always there to assist you
Cons
- A complete dearth of apps and integrations, NOT EVEN the 100 essential apps (by Slack) and must have Integrations are available on Flock, literally you'll regret and repent if you're switching from Slack. As just 54 App integrations are available that too without full functionality.
- You can search a file but couldn't click or access it.
- A Big NO for Media or Marketing Company as it may take years for you to find the image your teammate posted just 3 months back.
- Slowest, let me repeat slowest app development I've ever seen in my life so far. No need to feature requests or app integration suggestions
Industry: Accounting
Company size: 5,001-10,000 Employees
Used

Weekly

for

1-5 months

Review Source
---
Management project solution
It's perfect for small teams and projects
Pros
For the planning and management of flows, I chose Flock. for its many features such as teamwork for example. the interface is very simple and it adapts to the mobile.
Cons
It is limited in terms of functionality. but it's still okay
Alternatives Considered
Twist
Industry: Hospitality
Company size: 51-200 Employees
Used

Daily

for

1+ year

Review Source
---
Great for multi users
Simple install, seamless to use and very helpful when working with a large office. It's great for productivity opposed constantly having to physically gather to share information.
Pros
This is very easy to use and great for multiple users!
Cons
I'd love to use it as a multiuser for loved ones if there were a free version.