About Podio
Citrix Podio is a project management and social collaboration tool. It allows businesses to create custom applications to best meet unique business requirements and preferred workflow—without the need for technical skills or development resources. The Podio App Market grants users access to hundreds of free apps, pre-built by Podio users to satisfy a range of industry-specific requirements and project management functions, such as task management, project portfolio management and issue management. There are also apps for functions such as customer relationship management (CRM) and applicant tracking. Across all apps, Podio offers a range of social collaboration features, including Facebook-esque "likes" and file-sharing anywhere within the system, as well as internal instant messaging and video chat. Podio's app-building capabilities make it a good fit for smaller organizations that require a high degree of customization—particularly those looking to manage multiple business processes within a single system.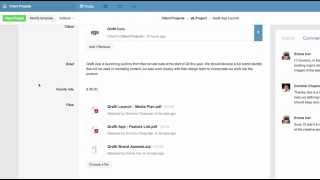 Podio has a free version and offers a free trial. Podio paid version starts at US$9.00/month.
Starting Price:
US$9.00/month
Industry: Computer Software
Company size: 1,001–5,000 Employees
Used

Daily

for

2+ years

Review Source
---
Podio is the best tracking software for the multiple projects.
Podio is the best to keep track all of our important emails, tasks and projects in a simple manner. Podio is an outstanding software for the project and management. I can share all of my important projects with my friends and team members but one by one. It really allow me to manage all of my important tasks and store the important information in a one place such as assign projects. My project management activities are easily handle by the extreme planner software. Wen I complete all of my tasks assignment and multiple projects, then I always choose the Podio software. Podio is the great for the project and tasks assignments. I would recommended this software to everyone.
Pros
Podio is the great customizable software. The best thing about the Podio software is that we can track all of our important tasks and multiple projects at a one time and it is the only possible through the Podio software. We can easily collaborate with our team members and colleagues in a more efficient way. I can always use this efficient software for better manage my personal projects.Podio is one of the best project management software. The another great advantage of this software is that we can easily organized all of our important projects and assignment tasks in a group and colleagues. This software has outstanding features such as it has the great ability to create the custom folders in a more efficient way. Through this software, it is so easy for us to create a tasks and store a large amount of information in a project software.
Cons
The disadvantage of this software is that for the new users that they faced a lot of problem about the sharing of the multiple projects with our colleagues and team members at a one time. Hence, sharing of projects is so difficult for the beginners and users. This software lack a lot of features which is very essential for the new users. Podio software is not so easy to use. For the beginners, it is a little challenges for us to create a tasks and better manage our projects . It is so difficult in learning to use many of the features in a properly manner. But otherwise it is very simple for us to create a tasks to the specific projects.
Industry: Professional Training & Coaching
Company size: 11–50 Employees
Used

Daily

for

2+ years

Review Source
---
Customization is the key
You can build a whole information system to support all your organization's areas in the same platform. Obviously, in a service with so many possibilities, everything can be as good as an average solution. If you need a specialized CRM, there's a more expensive alternative and the same is true for email marketing, database manager, webform embeds, etc. The upside of Podio is having it all in the same place, which makes it really convenient.
Pros
Podio is like a canvas that comes blank and can be as deep as your imagination goes. It's extremely customizable and that makes it more than viable to any organization. It's a platform that can go in any direction you need, you just have to learn javascript to get it's full potential.
Cons
Platform outages are more common than i'd like. Every month there are at least 2 or 3 incidents that make reliability the goal Citrix should be after.
Reasons for Switching to Podio
Price. The licensing model used by Podio works better for us.
Industry: Construction
Company size: 2–10 Employees
Used

Daily

for

2+ years

Review Source
---
NOT recommended for any mission-critical uses due to frequent slowdowns & outages
Pros
We like the versatility of Podio: it really enables you to build a full-feature CRM with pretty complex workflow automation (using Globiflow) without having to code.
Cons
The frequent slowdowns & outages. We use Podio every minute and find that it is slow at the best of times (for instance, loading a simple message template takes 10-15 seconds) but often suddenly slows down to the point that tasks take 3-4 times as long. Podio then disables certain functions in a way that we cannot control. And sometimes (like today) Podio stops working altogether for a few hour, killing our business activity completely. It looks like they are chronically short of server capacity: the severity of the problems has fluctuated over the years but we are now at the point where we'll probably have to migrate.
Industry: Computer Software
Company size: 501–1,000 Employees
Used

Daily

for

1+ year

Review Source
---
Extensive review from my Podio experience
My overall experience with Podio has been great. It is a very intuitive and user-friendly platform that is easy to use and navigate. With its robust feature set, it is a great tool for managing projects, tasks, collaborations, and more. I have found it to be incredibly helpful in streamlining my workflow and keeping my team on the same page. Additionally, the customer support is top notch and the resources provided are extremely helpful. Overall, I'm very pleased with my experience with Podio.
Pros
Podio is a perfect software for teams that need to collaborate and work together on projects. It is an intuitive, user friendly platform designed to help teams manage their projects and tasks in one place. Podio allows teams to communicate and collaborate, plan and track tasks, manage files and documents, and review progress. It is also great for tracking individual tasks and setting goals. Podio provides a secure and organized platform for teams to manage their projects and tasks in one place. It is easy to use and helps teams stay organized and on top of tasks. It also offers great reporting tools that allow teams to review progress and make sure deadlines are met.
Cons
Podio offers limited customization options, which makes it difficult to tailor the platform to fit the specific needs of a business.
Industry: Real Estate
Company size: 2–10 Employees
Used

Daily

for

2+ years

Review Source
---
Simplistic Database and Project Management System
Podio has acted as a database for my company for many years and I have no reason to switch to any other software
Pros
I like that this software can be accessed from mobile and from computer, while keeping a simple functionality.
Cons
The software is not overly user friendly. It is effective for what it is, but- not much to it.