About Moosend
Moosend is a cloud-based marketing automation software designed to help businesses manage subscriber lists, customer segmentation, product recommendations, landing pages and subscription forms. Key features include lead management, campaign management, multi-channel marketing, website visitor tracking, lead scoring, contact management and spam checking. The email marketing solution allows teams to create and personalize campaigns, segment audiences based on website or email behavior and build business strategies according to analytics gathered by tracking clicks, opens, social shares and unsubscribes. Users can create automated workflows by using the drag-and-drop builder and customizable templates. Additionally, Moosend lets marketers set up events, filters and actions that will act as triggers for automating various workflows. Moosend helps managers generate reports on upselling and cross-selling, abandoned cart, replenishment and more to facilitate decision making and increase sales performance. It offers an API, which facilitates integration with existing systems and third-party applications such as Zapier, Integromat, MailChimp, Magento, WooCommerce, Drupal, Google Contacts, Unbounce and more.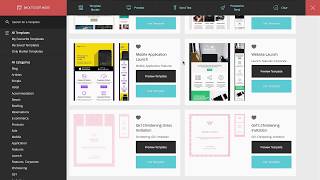 Moosend has a free version and offers a free trial. Moosend paid version starts at US$9.00/month.
Starting Price:
US$9.00/month
Industry: Marketing & Advertising
Company size: Self Employed
Used

Daily

for

1-5 months

Review Source
---
If you're looking for the best ESP, LOOK NO FURTHER.
I'm confident I will be using Moosend for the very long-term. Moosend offers everything I'm looking for and are eager to improve. Support is AMAZING, top notch, I've been blown away with the reporting features, the platform is super easy, intuitive and FUN to use,.. . I could keep going! I'm seriously happy with my experience.
There are these businesseses/software providers that make running my business a pain, difficult, stressful. I try to stay away from these or switch to something else ASAP when I come across them.
Then there are businesses/software providers like Moosend. That make my life easier, running my business more profitable, more fun and overall BETTER. I've been using Moosend for about a month and this is more than enough to know that I will be using them for a very, very long time and that they're the best ESP for my business. I could go on and on. If there are any negative reviews, ignore them. Just try them out for yourself, if you have an agency, switch one of your clients or something to test it out and you'll see for yourself.
Pros
- The free subaccount feature with basic whitelabel functionalities, all for free or included even in the most basic paid plan.
- The top notch, first class, friendly support team. Seriously, this is worth gold. I would never ever use another software in my business that doesn't offer great live chat support. This is a must. Whenever I have a question, I don't waste any time. I just ask and usually I have a response within 5-30 minutes. Sometimes straight away. Especially when a conversation is rolling.
- The report features. I was blown away when I realised how detailed the reporting is, even in the basic version. And then there's premium reporting available which I don't have yet... I can only imagine how fantastic that must be.
- Their willingness to implement new features and how they listen to user feedback!! This is a really important thing. I've never come across a service provider that is as eager to implement new features as Moosend. They have already scheduled tons of new updates and features. They even have a Trello board where customers can come in and upvote feature requests as well as post their own. Absolutely amazing.
- Their pricing. Super affordable, fair. From experience I can say that this type of pricing structure is superior to having to pay for sending x amount of emails per month. IF it's affordable at least. Not like some other, bigger providers. This is a really big and important plus.
- There's probably even more I'm forgetting right now!
Cons
Nothing, really. Except that the whitelabel functionality currently has some holes that need to be filled. I was assured though that they have lots of changes lined up in this regard. So I'm just patiently waiting for those to be implemented. If they nail the pricing structure on those plans as well, Moosend will be the PERFECT solution for both agencies as well as individuals.
Reasons for Switching to Moosend
- Better pricing - Better (and free!) white label functionalities - Much more attractive, easy to use interface - More features - Better reputation in regards to deliverability and support - Live chat (must for me) - ...
Industry: Marketing & Advertising
Company size: Self Employed
Used

Weekly

for

1+ year

Review Source
---
Moosend Customer Service is Excellent
Overall in terms of value, I highly recommend using it especially for people who have a larger list and don't send email frequently.
Pros
I recently experienced an error with a Zapier app and their customer service resolved the issue in under 12 hours. They even reached out to me telling me to retry. With larger companies, you often have to contact them for a status update.
Cons
They are frequently making updates to the functionality and UI/UX. It doesn't have the polish or simplicity that I liked with Mailchimp but it is getting better. Creating a message in their automation tool is different from their main campaign builder so it isn't as user friendly.
Reasons for Choosing Moosend
I have experience using Mailchimp, HubSpot, and SendFox for email marketing. I moved to Moosend from Mailchimp after they changed their pricing model making it too expensive for a non-frequent sender.
Reasons for Switching to Moosend
The monthly pricing for my list size was the most affordable. I also liked how they offered email automation.
Industry: Professional Training & Coaching
Company size: Self Employed
Used

Weekly

for

2+ years

Review Source
---
Excellent Email Marketing Software
My overall experience has been very good with the software. They have updated a lot since the beginning and it is so much easier to use. I simply hop on and update my weekly emails, proof them, and send.
Pros
Ease of use, nice templates, and walks you through the needed steps, gives nice emails to arrive in their inbox. Also allows you to do landing pages for events and promos.
Cons
No real cons - could add a few modern templates for emails (although this is not a complaint as much as preference).
Reasons for Choosing Moosend
I picked up Moosend as a LIfetime deal and have never left.
Reasons for Switching to Moosend
I took a chance on Moosend and am glad I did. It's been well worth it.
Industry: Architecture & Planning
Company size: 11-50 Employees
Used

Weekly

for

1-5 months

Review Source
---
Cheap and Easy email marketing software with Automation
I discovered MooSend while searching for email marketing software here. I was mostly interested in the automation feature as I had a few email marketing ideas I wanted to test out, and while I could do that on Sendinblue, I wanted to be notified when a subscriber made an action that triggered the automation.
MooSend free plan comes with 2000 credits, each email recipient costs one credit. So, with 2000 credits you get 2000 emails sends. Which while limiting was fine for the campaigns I intended to run.
On signing up I was prompted to create a list and import contacts into it, I'm not sure what would happen if I didn't have a list of emails to import. Moosend Automation allows 8 workflows.
Subscriber Registered: An automatic email is sent when a subscriber registers. This to me would be great for welcome emails or to welcome subscribers who have signed up to attend an event.
Campaign opened: An automatic email is sent when the campaign is opened.
Campaign not opened: An automatic email is sent when a campaign remains unopened for a specific amount of time. This would be a great way to engage inactive subscribers.
Link clicked: An automatic email is sent when a link is clicked.
Link not clicked: An automatic email is sent when a link remains unclicked for a specific amount of time. This would be great to remind subscribers to take an action such as registering or an event, purchasing something etc.
Custom field date: An automatic email is sent when a specific date is reached. This would be great to remind subscribers a day to an event or an hour of an event.
Anniversary: An automatic email is sent every year on a specific date
Custom field value changed: An automatic email is sent when the specified custom field is set to the specified value. I'm still trying to figure this out.
Given the wide range of automation abilities and the fact that I wasn't planning a drip campaign, Moosend was the perfect alternative to SendinBlue, however, creating a subscribe/ signup form is tricky, as the form has to be embedded somewhere such as a website/ blog/ landing page.
I expected to be able to create a signup form with a link [Such as Mailchimps's eepurl.com/xxxx] I could share on social media to get people to join the list and trigger the workflow. The lack of this feature is a major letdown.
While I'm glad that a subscription form can be added to a campaign, I'd like to be able to create a subscription form with a shareable link.
Pros
Eight Workflow options
Cheap with an amazing free plan.
Cons
While I'm glad that a subscription form can be added to a campaign, I'd like to be able to create a subscription form with a shareable link I can use to get people to join a list without having to embed it somewhere.
Industry: Information Technology & Services
Company size: 201-500 Employees
Used

Daily

for

2+ years

Review Source
---
Moosend is Amazing!
Moosend has revolutionized our internal comms. Previously we used to depend on standard form emails or wait for a design expert to assist us but now we design our own emails.
Pros
The best thing is their customer service, it is unparalleled. Another amazing thing is the lack of restrictions for free users.
Cons
The fact that they do not have a mobile app yet or that their website is not mobile friendly.