About Notion
Notion is a digital workspace that lets small to large businesses streamline and manage notes, tasks, projects, records, calendar and more. Key features include portfolio tracker, designer templates, database management, documentation and data export. Deployed on a web-interface or on-premise platform, Notion provides businesses with a product roadmap, task lists and repository patterns, streamlining project workflows, from initiation to completion. It provides mobile applications for iOS and Android devices, which let users view and manage completed, in progress and not started tasks, even from remote locations. Additionally, it allows businesses to collaborate and perform team tasks, share meeting notes, update project expense report and maintain benefits/vacation policies. Notion comes with an application programming interface (API), which lets businesses integrate the system with several third-party integrations such as Google Sheets, Twitter, Figma and more. Pricing is available on a monthly subscription and support is extended via email, phone and documentation.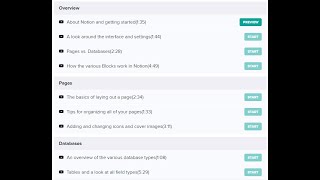 Notion has a free version and offers a free trial. Notion paid version starts at US$10.00/month.
Industry: Design
Company size: 2-10 Employees
Used

Daily

for

1+ year

Review Source
---
"Notion makes the transition from unpolished notes to polished documents quick and efficient!"
Overall and crucially, Notion makes it simple for team members who identify as "non-technical" to participate from various departments. It hasn't caused a stir way other "unintuitive" gadgets with a steep learning curve have.The backup option is comforting; it's not something you consider before you sign up, but you'll need it later if your data is even tangentially important to you.Support has typically been quite beneficial to me and my numerous questions throughout the years. Sometimes they'll confuse things by requesting extra information on a simple, obvious issue, but I know they're only doing it to find out more. Right, it's better to err on the side of overcommunication:
Pros
I was introduced to Notion by a coworker, and ever since I edited that tiny seedling of a first page, I've used it frequently, grown, and even produced the literary equivalent of several novels in it. It has combined aspects I've used in other programmes and improved on them greatly.In the past, I used to become annoyed at how badly my formatting was messed up by Google Docs, Zendesk, and other services. I could essentially clear up the debris by copying and pasting it into Notion. Additionally, a page supports live editing, thus there is no separate "publish" phase! (If necessary, you can always perform a "staging/test" on a different page.) Additionally, it's very simple to target shares or make pages public.Project management for task tracking (through card columns), thorough user documentation (and the process of translating it from internal external consumption), and concept presentation are some of the business uses of Notion that I have. At home, my wife and I also used it to draught and revise our wedding vows, document items in need of repair, and other things. In other words, there were moments when I was interacting with another tool before going — "Why, Notion is capable of that already! Use Notion only!" Keeping track of my musical productions with Notion is one of my favourite uses. I serialize them with annotations so I can see what's almost finished, what has to be delivered, and what I might just be messing about with.
Cons
I wish we could add more bespoke styling. I'm not talking insane custom colours, but solid background colours and text with precise RGB values would make a huge impact with matching branding. Though having everything integrated seems really basic, I am aware that there are third-party applications that seek to cover these demands and things like custom domain names.Additionally, as of my most recent check, there was no way to view the original IFRAMES code, which seems incredibly cumbersome because it requires me to store that code elsewhere (perhaps in a separate Notion page) or risk it being obscured. Anyone using widgets with special embed parameters, such as those from Bandcamp and SoundCloud, should be aware of this.But overall, Notion has been fantastic!
Industry: Real Estate
Company size: 1,001-5,000 Employees
Used

Daily

for

2+ years

Review Source
---
Perfect Solution for Task Management, Project Planning and Goal Setting
As someone with ADHD, Notion is the perfect solution for setting up my own unique and personal workflow. Being able to customize my workspace and plan projects in a way that makes sense to me has made me so much more productive and organized. Although the learning curve is a bit steep, Notion provides many resources and articles that provide enough instruction to figure most things out.
Pros
Notion is an endlessly customizable platform that is somehow simple at the same time. I use Notion as a database, task manager, project planner, and overall life planner. I am able to set goals for myself and have those goals plastered on the homepage within Notion so I am constantly reminded of where I need to direct my focus and attention. Since using Notion I have successfully been able to track my goals and have accomplished many things that I never would have thought possible.
Cons
The software can be glitchy and updates from the web version don't always transfer automatically to the app and vice versa. The task management functionality leaves much to be desired and recurring tasks and reminders are not a built-in function of the platform.
Industry: Design
Company size: Self Employed
Used

Daily

for

6-12 months

Review Source
---
I wish I had Notion in college
If I had a Notion in college, it's safe to say, I would've gotten better grades. Since discovering this product, I have been 100x more productive because I can customize my workspace to my exact needs in a friendly, aesthetically pleasing platform. In order to make Notion work for you, you need a creative and problem-solving mind, and a few days to learn it. That's where I have the most fun creating the templates and workflows, and my team members make me feel like a productivity wizard.Working with databases is seamless, integrations work great, and my notes look and feel amazing. I use Notion for my tracking and planning my daily life, as well as my small business. After setting up the templates and workflows, my team members rave about how easy and centralized the projects are. They even started to learn how to create templates and workflows of their own since being introduced to it.Despite the lack of advanced styling, I love having a digital workspace that caters to our exact needs.
Pros
Notion is super easy to use, the interface is beautiful, and the possibilities are endless. I enjoy making templates that actually help me be more productive and get things done. There is also a native marketplace full of free and paid templates that I love getting inspiration from and experimenting with. Notion also has one of the most helpful and motivating communities where templates and productivity ideas are shared. I enjoy using this to organize my projects as a digital business.The pricing plans are reasonable, and they also offer credits when you complete certain tasks. It is best paired with Google Chrome Extensions. There are many extensions that make the Notion experience even better like customizing the theme colors, adding buttons, etc.
Cons
My nit-picky con isn't all that important when it comes to productivity, but visually notion lacks native advanced customization. The downside of using Chrome Extensions to customize the look and feel of my notion pages is that it doesn't apply across browsers and on the desktop and mobile app. There's too much space around the margins, which can be valuable real estate for the page content. I also wish the page properties didn't take up half the page with the right side of it empty. I also wish that text could be aligned right and centered.Another downside I have is having to use Notion in Google Chrome most of the time to take advantage of the style customization extensions.
Industry: Information Technology & Services
Company size: 51-200 Employees
Used

Daily

for

2+ years

Review Source
---
All in one Editor
Using it as my go-to tool for note-taking, project tracking, and sharing a common knowledge base across people. Use it for personal use cases for tracking my startup growth.
Pros
Excellent note-taking tool. Good for document storage and sharing. It also has a feature profile management, for personal and company usage. Files can be shared and made available publically. Good pre-defined setup for project tracking and management. My personal favorite is the Page icon and the cover icon of the page. Amazing community and pre-defined templates available for all general use cases.
Cons
It just can't be used directly, and comes with a decent learning curve. More integrations with tools needed, also support for more coding languages.
Reasons for Choosing Notion
Amazing UI and UX of notion and a very big and active community.
Industry: Information Technology & Services
Company size: 2-10 Employees
Used

Daily

for

2+ years

Review Source
---
My second brain, Now I can remember all I learn thanks to notion
The program known as Notion has a very high degree of adaptability. Because of their databases, which allow for a variety of displays, including calendar, Kanban, table, and list formats. It was quite easy to understand and enjoyable to use, in my opinion. It is entirely comprehensible to me how this might take the place of something like Google Docs and serve as a hub for your team. The very thought of it is astounding. My life is going to be lot simpler from now on. If only I had this concept while I was in school, I would be an encyclopedia right now.
Pros
The way notion links up and create connections between your knowledge is spectacular, you would think you are using a relational database management software. It is easily customization and also has powerful functions that you can use to extend its capability. Notion has a great community who have developed templates for almost anything conceivable and most of these templates are for free.
Another thing is the seamless integration with the mobile app, its like you are actually working on the same device
Cons
Notion has limited fonts and styling. The most painful part of notion is the inability to set recurrent tasks in notion, it is a pain, you have to buy addons to be able to achieve this