About Webex
Webex brings together Calling, Meeting and Messaging modes of collaboration into a seamless, engaging, inclusive and intelligent experience. Seamless collaboration across devices, locations and organizations • Use any computer, tablet, phone, browser or Cisco devices to connect • Collaborate with people outside your organization as easily as those inside • Minimize app switching with bi-direction integrations with other popular business apps Make collaboration more interactive and engaging • Reduce disruptions with background noise removal and voice enhancement • Enable audiences to share their reactions with animated emojis and gesture recognition • Improve audience engagement with next-gen dynamic polling and Q&A by Slido • Customized the stage layout to focus on the content and people that matters most Make collaboration more inclusive • Remove language barriers with real-time language translation into 100+ languages • Ensure everyone's voice can be heard with anonymous polling/Q&A by Slido • Encourage everyone to participate with breakout rooms that enable smaller group discussions Let Webex help you work smarter • Make meetings more productive with automatic transcriptions, notes and highlights • Utilize spaces to schedule team meetings and have recordings and transcripts automatically stored in the spaces for easy access • Monitor and manage your work-life balance and professional relationships with personal insights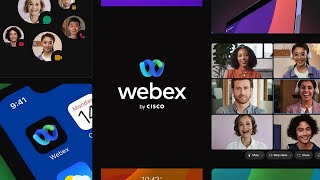 Webex has a free version and offers a free trial. Webex paid version starts at US$25.00/month.
Starting Price:
US$25.00/month
Industry: Information Technology & Services
Company size: 10,000+ Employees
Used

Daily

for

2+ years

Review Source
---
One of the best, could be better
So far, the experience with the application is really good compared to other ones which I have used. So thanking the team for this and hope they still update it better than what it is today so it can reach the level which we expect from it in upcoming years.
Pros
> The primary option which I liked really in this software is connectivity from other sources like mobile phone or other for audio connections which helped me a lot whenever I was stuck in the less internet connection speed.
> Webex is so far the best one I have ever seen where the speed and ease of use is on the stake here. The ease of use as I mentioned really applies to this since as soon as the connection has been done, the options to join the meeting and the security it applies to the meeting is the one I like the most.
> Other than that, the speed as mentioned before, even in the low internet speeds, the lack of any lag makes this application the most I used ever.
Cons
There is really less things which I don't like about this software which is desktop application readiness. Whenever I always connect through the desktop application, sometimes it takes a lot of time to join the meeting which would result in some of the escalations which you can get in your professional life. I hope this would be made better in the upcoming versions.
Reasons for Choosing Webex
We actually made the switch since we had some meeting with the outside of the organization which is better in case of webex compared to the one we previously had i.e., Skype. So we had to select the one which helps the team during the important external calls.
Reasons for Switching to Webex
The versatility and the easiness which the application suggests is really important and made us pick this application in front of so competitive other ones.
Industry: Education Management
Company size: 501–1,000 Employees
Used

Weekly

for

2+ years

Review Source
---
Enhancing Academic Collaboration With Webex
Webex is a valuable tool for academic institutions looking to conduct virtual classes, meetings, and webinars. Its scalability, security features, and integration with other tools make it a popular choice for teachers.
Pros
Webex is a video conferencing and collaboration platform that is widely used by academic institutions around the world. It allows teachers to conduct virtual classes, meetings, and webinars with students and colleagues, enabling remote collaboration and communication.One of the major advantages of using Webex is its scalability. It can accommodate large numbers of users, making it ideal for conducting webinars or online classes with a large number of participants. Additionally, it has various features such as screen sharing, recording, and interactive whiteboards that make it easy to collaborate and present information effectively.Another benefit of using Webex is its security features. It provides end-to-end encryption for meetings, which ensures that conversations and data shared within the platform are protected from unauthorized access. This is particularly important for academic institutions, which deal with sensitive data such as research papers and student records.
Cons
It offers a free version with limited features, but, the full-featured version comes with a significant price tag. Webex provides a wide range of features, it can be difficult to navigate for users who are not familiar with the platform. This may require additional training.
Industry: Civic & Social Organization
Company size: 2–10 Employees
Used

Daily

for

Free Trial

Review Source
---
Easy but flawed
Flawed but has the right idea
Pros
It had things all organized and easy to navigate
Cons
It kept. Cutting out and video wasn't working
Industry: Events Services
Company size: 11–50 Employees
Used

Daily

for

1+ year

Review Source
---
Effortless File and Screen Sharing: Streamline Collaboration with Webex
I like Webex because of its wide range of features and ease of use. It allows for easy collaboration between colleagues, even across different countries. With the ability to set up a meeting in minutes, it eliminates the need for long setup times before meetings. The interface is also incredibly user friendly and intuitive which makes it easy to learn how to use quickly. Additionally, I really appreciate that it offers both video conferencing and instant messaging capabilities, allowing users to have more than one way of communicating with each other. Webex has robust security features such as built-in encryption and password protection which give me peace of mind when using the platform for sensitive conversations or data sharing. Finally, I love that Webex integrates with many third-party tools like Dropbox or Google Drive so teams can share documents easily during their virtual meetings without having to switch applications constantly. All in all, Webex is an excellent tool that enables efficient remote collaboration while keeping everyone secure at the same time!
Pros
1.Easy and convenient file sharing.2.Seamless screen sharing during meetings.3.Remote access and control capabilities.4.High-quality video conferencing.5.Reliable and stable platform performance.6.User-friendly interface and intuitive controls.7.Interactive collaboration tools & Robust security features.8.Integration with other productivity tools and applications.9.Excellent customer support and technical assistance.
Cons
Webex's seamless experience and robust features have significantly improved my ability to collaborate, communicate, and engage with others, making it an invaluable tool in my professional endeavors.
Industry: Electrical/Electronic Manufacturing
Company size: 1,001–5,000 Employees
Used

Daily

for

1+ year

Review Source
---
WebEx brings us closer to all our customers
We implemented it throughout the organization and it supports everyone's videoconferencing needs. Particularly during this viral pathogen epidemic. We need a lot of it and it is still the only way to join audio and video meetings and screen share in less than 60 seconds. He described the conflict between too many hardware and software alternatives that confused novice users. Currently, the only source we have available to everyone in the business is this, and as users use it more, they are moving away from our older technologies, such as Skype for Business and Teams, and instead using WebEx Meetings for all their conferencing needs.
Pros
The way devices and programs communicate with each other seamlessly. The installation of conference rooms that support the Cisco WebEx service has been a great improvement for users, enhancing the conference room experience. In fact, we received positive feedback reaching 80 percent, in contrast to before, when we had Skype rooms, we were below 50 percent. The video is clear and helps get the message across, lacking only the human part that we look for in conversations. WebEx video conferencing has restored the lack of video meetings.
Cons
I would like to see the value of the units decrease. They are priced a bit high, but it really pays off. Before the pandemic, we had low-cost Skype rooms that didn't work, but now we have high-cost WebEx rooms that do. Back-end administration can be confusing. However, it is effective once all the parameters are set. It was more difficult than I thought it would be.